Bulls select Denzel Valentine with 14th pick in the draft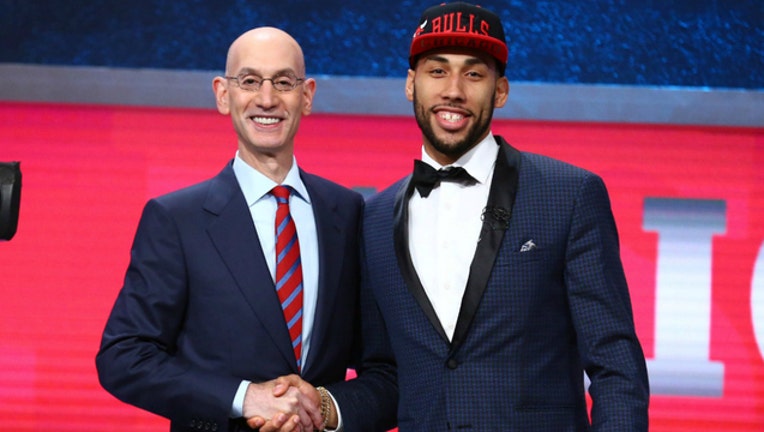 article
CHICAGO (AP) — The Chicago Bulls found their Valentine after trading away their Rose.
The Bulls took Michigan State shooting guard and small forward Denzel Valentine with the 14th overall pick in the NBA Draft on Thursday, opting for a wing player rather than a point guard after trading former MVP Derrick Rose to New York.
The 2015-16 Associated Press national player of the year, Valentine joins a team in transition after sending its former franchise player to the Knicks. The Rose deal brought one of the most successful and disappointing periods in the organization's history to an end.
It also left them with a void at point guard, something general manager Gar Forman said they will try to address this summer.
Forman acknowledged the Bulls had talks about moving up in the draft and that they liked Providence point guard Kris Dunn, who went to Minnesota at No. 5. He also denied reports that the Bulls were in talks to send Jimmy Butler to either Minnesota or Boston for the No. 3 pick.
"There was no discussion during the entire draft this evening as far as Jimmy Butler was concerned," Forman said.
He said the Bulls have "never" made a call offering Butler. But he also said other teams called about the two-time All-Star.
"When you have a special player like Jimmy, in order to take a really hard look at something, it's got to be something you think's gonna knock your socks off, something that you think is really special," Forman said. "We never felt we were presented with anything where we would consider moving Jimmy."
The Bulls are trying to get younger and more athletic, though Valentine is not as athletic as others in the draft and is more of a hard-working leader. He missed four games last season because of torn cartilage in his left knee. But an operation on his right knee in high school apparently led to long-term concerns among NBA teams. The Bulls, however, see him as a fit for coach Fred Hoiberg and his open offense.
Forman also said the team's medical staff is "very, very comfortable" with Valentine's health status.
"I think (Spartans coach Tom Izzo's) exact quote was, 'Denzel will play dead.' He just absolutely raved about him," Forman said.
Valentine, who like Rose is represented by former Bull B.J. Armstrong, insisted he is healthy and dismissed concerns about his knee.
"I've been healthy my whole career pretty much, and I'm healthy right now," he said. "I may have a little bit of wear and tear just like everybody else will, so I'm just excited to get going, and happy to be with the Bulls."
Valentine averaged 19.2 points per game, 7.5 rebounds, 7.8 assists and shot about 44 percent on 3-pointers last season to lead the Spartans to a No. 2 seed in the NCAA Tournament. And he played 144 of a possible 148 games in four college seasons.
"In my place, being a senior, I just got better every year. And why is that gonna stop now?" he said. "I feel like when I get to the next level, I'm just gonna keep on getting better."
Chicago, which also took German forward Paul Zipser with the 48th pick, is rebuilding after missing the playoffs for the first time since 2008 in its first season under Hoiberg. The Bulls sent guard Justin Holiday and a 2017 second-round pick with Rose to New York in exchange for center Robin Lopez and guards Jose Calderon and Jerian Grant in the Rose trade.
But more than anything, dealing the Chicago product was a turn-the-page moment for the Chicago product and the team. It also underscored just how far a franchise that saw itself as a contender is from knocking off LeBron James and the Cleveland Cavaliers in the Eastern Conference.
"We've begun that process," Forman said. "I don't think it happens all at once. We've got to take steps in that direction. But I think the last week we've started to take some steps in that direction."