Chicago's Cutler adjusts to life with different receivers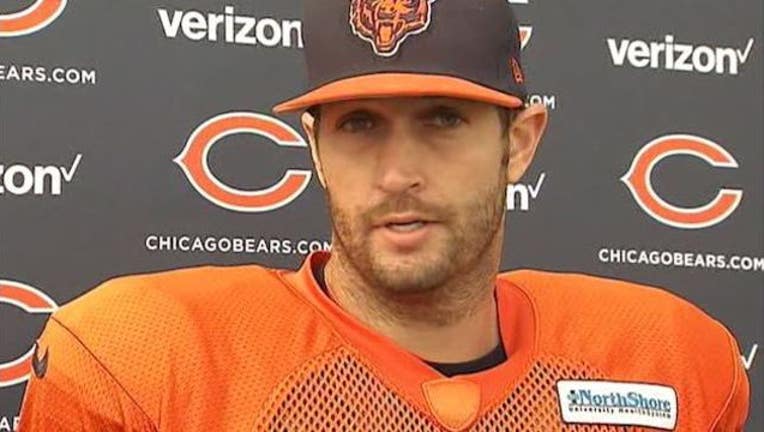 article
LAKE FOREST, Ill. (AP) — Chicago Bears quarterback Jay Cutler has become well acquainted with his wide receivers, right down to the very last one.
With Alshon Jeffery still missing practice time due to a hamstring strain and both Eddie Royal and Josh Bellamy nursing ankle injuries, the Bears wide receiver corps Thursday looked a lot like the one the team had in preseason.
Cutler has become very familiar with receiver Marc Mariani, Cameron Meredith and Marquess Wilson as the Bears prepare to play Sunday in Detroit.
"The last four or five weeks with these other guys kind of floating in and out of the lineup and getting a lot of reps at practice, we've got a lot of confidence in a lot of guys all the way down the line," Cutler said. "When Alshon does get back, it will take a load off of some of those guys. But we'll also be able to stay fresh and rotate guys in."
While Jeffery is practicing on a limited basis this week, he also did so last week and found he couldn't play. Jeffery said the injury feels "better than last week."
Jeffery hasn't played since the season-opener, and the question of when he'll return is vexing for the Bears.
"That's a great question," Cutler said. "I wish I knew, but I don't know."
Coach John Fox this week expressed frustration for the first time over Jeffery's continued inability to play.
"It's pretty black and white as far as he's healthy or he's not," Fox said. "When he's deemed ready, he'll be out there."
In the meantime, Royal has 18 catches to lead the receivers, and Wilson has 15 catches after two years in the shadows. Wilson had a career-high 80 yards receiving against Oakland two weeks ago and 85 against Kansas City last weekend.
"He's really stepped up in some big situations," offensive coordinator Adam Gase said about Wilson, who caught a key fourth-quarter touchdown pass against the Chiefs. "I feel like him being consistent catching the ball and getting open, that always makes you feel better as a play-caller. I think Jay, his experience with (Wilson) over the past couple years, that made it real easy for him, knowing that he's going to be in the right spot, that he's going to make the play when we need him to make the play."
Gase saw more than just a group of backups when he worked with the receivers in training camp, though the offense hasn't exactly exploded with them in play. Cutler needed late scoring drives in both games for wins.
"You know, those guys are doing everything we're asking them to do," Cutler said. "They're playing hard. They're in the right spots. It's just a matter of us putting a few third downs together and getting on a little bit of a roll."
Despite the contributions from other receivers, coaches still anticipate a big boost when Jeffery does return.
"I think we're going to be able to open things up a little bit," Gase said. "We haven't really been able to attack down the field. A lot of our guys, (Wilson), has tried to do a good job with what we ask him to do. I know Alshon is a special cat. The way that he goes up and gets the ball, it's rare to see."