Cubs find themselves in familiar spot, facing elimination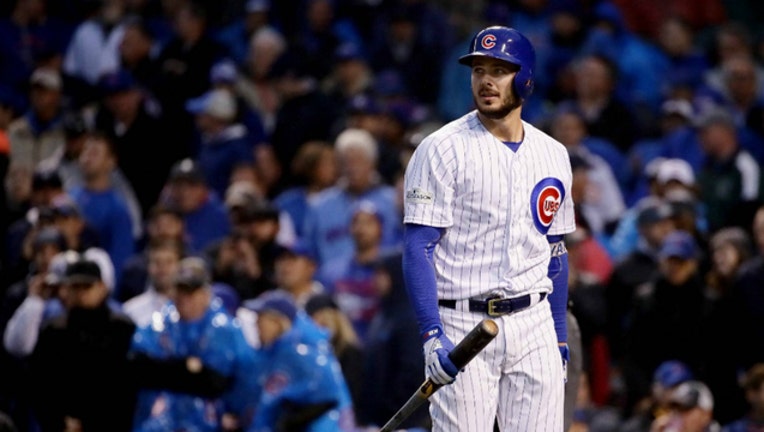 CHICAGO (AP) - Jon Lester had the roaring crowd shaking Wrigley Field to its foundation.
Turns out, his rare pickoff late in the game was about all the Chicago Cubs gave their fans to celebrate.
With a chance to knock the Nationals out of the playoffs, the defending World Series champions got shut down by an ailing Stephen Strasburg in a 5-0 loss on Wednesday.
That sends their NL Division Series back to Washington for a decisive Game 5 on Thursday. Lose that one, and the Cubs can forget about another parade.
"I don't think anybody likes having their backs against the wall," Lester said.
But the Cubs have been there, done that and come away with the biggest prize of all.
They trailed 3-1 against the Indians in the World Series last fall, only to bring home their first championship since 1908. To do that, they had to win Games 6 and 7 in Cleveland. And that ultimately meant pulling out a rain-interrupted, 10-inning classic to set off a celebration more than a century in the making.
They'll send Kyle Hendricks to the mound for Game 5, hoping he can turn in another dominant outing after winning the opener. Nationals manager Dusty Baker would not say who will start for Washington, with Gio Gonzalez or Tanner Roark likely to get the ball.
The winner heads for Los Angeles to play the Dodgers in the NL Championship Series beginning Saturday.
"We've had our backs against the wall," Cubs starter Jake Arrieta said. "We had a chance to go up 2-0 there, came up a little short. Won Game 3 here, with a chance to put it away tonight. We have to deal with the circumstances and put it behind us and come out ready to play tomorrow night."
The Cubs, of course, were hoping it wouldn't come to this. But their toughness is being tested again after Strasburg answered questions about his.
He shook off an illness and struck out 12 while pitching three-hit ball over seven innings.
Other than a long fly to left by Addison Russell in the second that almost certainly would have been a two-run homer had the wind not knocked it down, the Cubs never threatened.
Russell also booted a grounder to shortstop by Ryan Zimmerman with two outs in the third, allowing Trea Turner to score the first run.
Arrieta, limited down the stretch because of a strained right hamstring, held Washington to an unearned run and four hits in four innings. But he walked five and threw 90 pitches.
It was Lester who gave the fans a rare chance to cheer.
He took over for Arrieta and retired his first 10 batters before walking Zimmerman with one out in the eighth. Then, the left-hander did something no one had any reason to anticipate.
Despite his well-documented issues throwing to first and holding runners, Lester picked off Zimmerman.
That drew the loudest cheers of the game. But in a flash, the Nationals silenced them.
Daniel Murphy chased Lester with a single, and the Cubs' troubles mounted from there.
Carl Edwards Jr., who gave up a tying, two-run homer to Bryce Harper in Game 2, seemed to have trouble gripping the ball in the wet conditions. He walked Anthony Rendon and Matt Wieters to load the bases, then missed badly outside on the first pitch to Michael A. Taylor.
At that point, manager Joe Maddon brought in closer Wade Davis. The move backfired when Taylor drove a 1-1 fastball to the basket in right field for a grand slam. Just like that, it was 5-0.
Now, the series goes back to Washington. The Cubs find themselves in a familiar position, trying to avoid elimination when they already had a chance to close out this series at home.
"It was just last year," Edwards said. "We can't really not think about last year. We came back as a team. We came back as one. That's something we've been doing all year long."
___
More AP baseball: https://apnews.com/tag/MLBbaseball