Cubs get Cole Hamels in trade with Rangers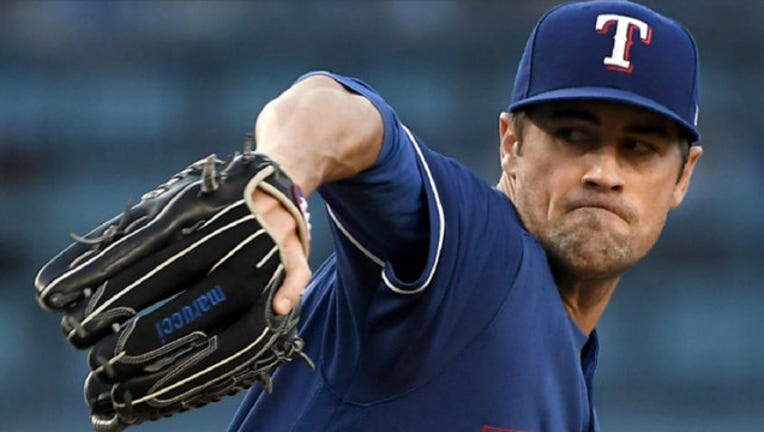 article
CHICAGO (AP) - The Chicago Cubs are gambling a change of scenery and a pennant race will help Cole Hamels return to form.
The Cubs acquired the veteran left-hander from the Texas Rangers on Friday for right-hander Eddie Butler, minor league pitcher Rollie Lacy and a player to be named. The Cubs are responsible for paying Hamels $5 million.
As part of the deal, Texas will send Chicago $2,862,903 to cover a portion of the $7,862,903 remaining in Hamels' $22.5 million salary this year. If the Cubs decline his $19 million option for 2019 and pay a $6 million buyout, the Rangers would pay the Cubs an additional $6 million.
Hamels is in the midst of perhaps the worst year of his career, going 5-9 with a 4.72 ERA in 20 starts with last-place Texas. He is 1-3 with an 11.12 ERA in four starts in July.
But the 34-year-old Hamels is an experienced playoff pitcher with a history of success at Wrigley Field. He was the NL Championship Series and World Series MVP when Philadelphia won the title in 2008. He is 7-6 with a 3.48 ERA in 16 career postseason starts.
"To be able to change kind of the mindset, now to go on a first-place team, there's something inside of you that sparks when you get in those situations," Hamels said at the Rangers' ballpark after the trade was announced.
Hamels, who had been scheduled to start for Texas on Saturday in Houston, will instead travel then to join the Cubs for the rest of their series in St. Louis. The lefty said he wasn't sure yet when he would make his first start for Chicago.
"I think teams know he's better than he's pitched recently. We certainly know that," said Rangers general manager Jon Daniels, adding that the Cubs were one of four teams he had serious discussions with about Hamels on Thursday.
Cubs manager Joe Maddon was in Tampa Bay's dugout when Hamels led the Phillies past the Rays for the championship 10 years ago. He wouldn't commit to a starting date for Hamels, but said he had an idea.
"I've seen this guy only good so hopefully that continues," Maddon said. "Really good in the World Series back in the day. He's pitched really well at Wrigley Field. Just a tremendous competitor. I know the guys are really jacked up about it and it's one of those guys that makes you better and noticeably better."
The Rangers clinched the AL West title on the final day of the 2015 regular season when Hamels threw a three-hitter against the Los Angeles Angels. Texas won the division again in 2016, but both times lost to Toronto in the AL Division Series.
"It's always that chase for that World Series, you start to realize how difficult it is to achieve," Hamels said. "That was something I wanted to be able to do in Texas, and it didn't happen. ... Going to Chicago, set up pretty nicely to be able to do so, I'm really excited to just kind of move right in and be a part of that."
Hamels is 3-1 with a 1.76 ERA in six career starts at Wrigley. The San Diego native struck out 13 while pitching a no-hitter at Chicago's iconic ballpark in his final start with the Phillies in 2015. He was traded to Texas six days later.
The Cubs were on top of the NL with a 60-42 record entering Friday night's game at St. Louis, but they haven't received much length from their starting pitching. All-Star Jon Lester and Mike Montgomery, who began the year in the bullpen, have been their most consistent performers.
Yu Darvish, who signed a $126 million, six-year contract in February, is on the disabled list with a right elbow impingement and inflammation, and it's unclear when he might return. Tyler Chatwood, another free-agent pitcher who signed with Chicago over the winter, leads the majors with a whopping 85 walks in 94 innings.
Jose Quintana was winless in June, but the Colombian lefty is showing signs of coming around. He is 3-0 with a 1.89 ERA in his last three starts.
Quintana was acquired in a costly trade with the crosstown White Sox last July that included touted prospects Eloy Jimenez and Dylan Cease. The Cubs emptied their once-rich farm system on the way to three straight NLCS appearances and a historic championship in 2016, hurting their chances of making a major trade this year.
Darvish became friends with Hamels when the two were teammates at Texas.
"The way I think of him is, the bigger the game is, the better he'll perform," Darvish said through an interpreter. "So hopefully when he joins here he'll perform very well."
The deal for Hamels is the Cubs' second trade with Texas in the past couple weeks. Jesse Chavez was acquired in a July 19 trade for a minor league pitcher, and the veteran reliever pitched five scoreless innings over his first four appearances with Chicago.
Butler will join the Rangers during their series this weekend in Houston. Lacy, an 11th-round pick in last year's draft out of Creighton, was assigned to Class A Down East. Butler is 1-1 with a 4.08 ERA in eight appearances this year. He was activated from the 60-day disabled list Tuesday after being sidelined by a right groin strain.