Darling leads Blackhawks to 2-1 win against Hurricanes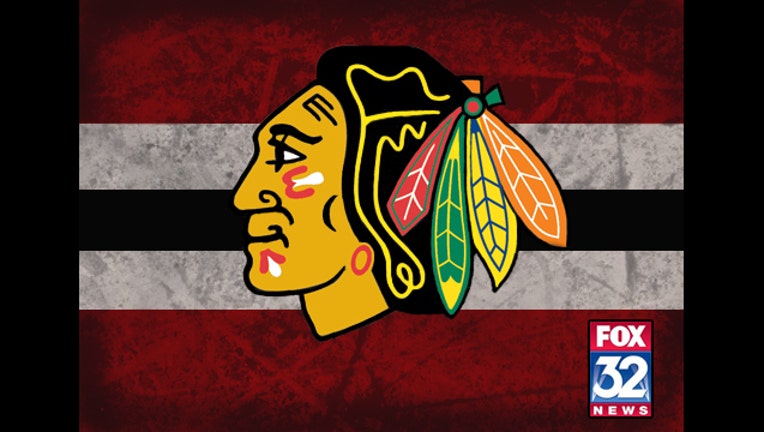 article
CHICAGO (AP) — Scott Darling's 6-foot-6 frame was awfully handy Friday night.
Darling had a season-high 39 saves, kicking out his long legs for a couple key stops, and the Chicago Blackhawks beat the Carolina Hurricanes 2-1 for their second straight win.
Jonathan Toews and Artemi Panarin scored for Chicago, which was coming off a 4-3 overtime victory against Buffalo on Thursday night. The consecutive wins against the Sabres and Hurricanes come in the aftermath of a 1-4-1 slump.
"We needed to get back to our winning ways," said Darling, who backs up Corey Crawford. "It's not fun to lose. We want to have fun and win. It was a fun two nights."
Cam Ward made 22 saves in his 15th straight start for Carolina, which won 4-2 at St. Louis on Thursday. Victor Rask had Carolina's goal, connecting against Darling on the Hurricanes' 31st shot with 4.2 seconds left in the second.
The Hurricanes have dropped three of four.
"A huge tribute to our goaltender for winning there and coming up with two points," Toews said.
Panarin's 16th of the season stopped a six-game drought. Toews got his seventh goal.
Carolina beat Darling and Chicago 3-2 in Raleigh on Dec. 30 in their only other regular-season meeting. But the Hurricanes felt Darling was the difference in the rematch.
"I think I've played against him since I was 20 years old in the AHL and he keeps getting better and better every year," said Ty Rattie, who got his first point with the Hurricanes in his second game with his new team. "It's going to be scary how good he gets as his career goes on.
"He covers 95 percent of the net to begin with and then he's quick."
Carolina controlled much of the first period, but the Blackhawks led 1-0 after 20 minutes. Toews finished off a crisp passing sequence with linemates Marian Hossa and Vinnie Hinostroza, scoring from the low edge of the left circle at 12:13.
The Hurricanes got 19 shots on goal in the first, and Darling stopped every one of them. Chicago killed off two Carolina power plays, with Darling making a sliding right pad stop on Justin Faulk's shot from the left circle with 5:30 to go in the period.
"We need to get one in the first," Carolina coach Bill Peters said. "We had a lot of chances in the first, we had some odd-man rushes, we had couple of power plays."
Ward stopped Patrick Kane's backhander on a breakaway a minute into the second. Darling made another lunging right pad save to deny Jordan Staal on a short-handed, 2-on-1 break at 3:13.
Panarin's power-play goal from the left circle with 6:31 left in the second made it 2-0. After Duncan Keith narrowly held the puck in the Carolina zone, Kane swept a cross-ice pass to Panarin, who beat Ward low on the glove side.
Rask cut it to 2-1 in the closing moments of the second with his 11th goal, finishing a close-in flurry. After Darling kicked out Jeff Skinner's shot from the left wing and stopped Rattie from the slot, Rask swept in the rebound from the right side of the crease.
Carolina's Derek Ryan hit the left post with a shot 3:05 into the third. The Blackhawks checked well — Carolina had nine shots in the period — and Darling was sharp the rest of the way to preserve the lead.
NOTES: The Blackhawks sent D Gustav Forsling and F Spencer Abbott to Rockford of the AHL. The 20-year-old Forsling played in 32 games with Chicago and had a goal and three assists while averaging 14:49 minutes of ice time. Abbott had been called up for Thursday's win over Buffalo. ... Veteran Chicago D Brian Campbell played after sitting out Thursday's game. ... Rattie was claimed on waivers from St. Louis on Wednesday. ... Carolina LW Teuvo Teravainen, Chicago's first-round draft pick in 2012, played his first game at the United Center since his trade to the Hurricanes last June. LW Bryan Bickell, sidelined with multiple sclerosis, also went to Carolina in the deal that netted the Blackhawks two draft picks.
UP NEXT
Hurricanes: Host Boston on Sunday in the opener of a four-game homestand.
Blackhawks: Host Nashville on Sunday in Chicago's third home game in four nights.