Forsling's goal late in OT lifts Blackhawks over Sabres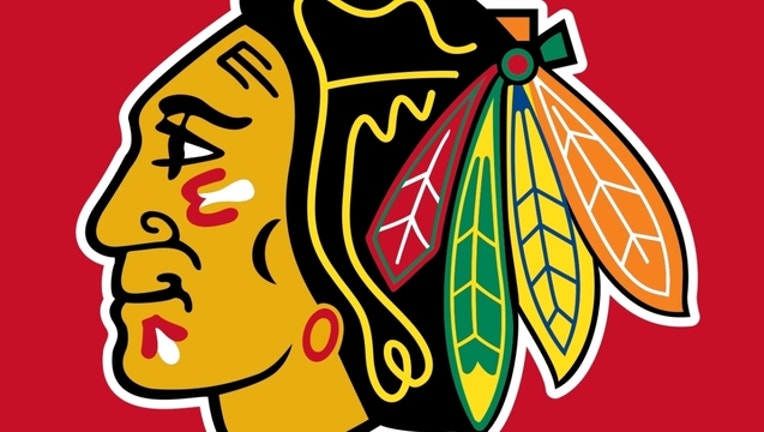 article
CHICAGO (AP) - Gustav Forsling certainly had an eventful night, and the 21-year-old Blackhawks defenseman capped it by giving Chicago a much-needed win.
Forsling scored on a screened shot from the blue line with 4.9 seconds left in overtime, and the Blackhawks rallied past the Buffalo Sabres 3-2 on Friday to snap a five-game losing streak.
Forsling, who had two assists in regulation, fired a low drive between Robin Lehner's pads with Buffalo defenseman Rasmus Ristolainen blocking the goalie's view.
"It's a great feeling," Forsling said. "I heard from the bench - they were screaming there were some seconds left. So, just get the shot through."
Lehner made 48 saves and kept Buffalo in the game as Chicago eventually took charge. But he missed the Blackhawks' last attempt.
"Risto maybe could have gotten out of the way, but it's one of those things," Sabres coach Phil Housley said. "A seeing-eye dog that just went through his pads and it's unfortunate."
Forsling's game-winner made up for a play that nearly cost the Blackhawks minutes earlier.
Sabres star Jack Eichel failed to score on a penalty shot at 1:31 of overtime when Corey Crawford dropped and made a stick save. The attempt was awarded after Forsling held and hooked Eichel from behind as the Buffalo forward used a burst of energy at the end of a shift to break in.
"I didn't think he had so much left in his legs, but he was stronger and came through," Forsling said. "(Crawford) made a big save. It was a great feeling after the penalty (shot)."
Chicago's Tommy Wingels scored a short-handed goal with 3:22 left in the third period to tie the game at 2. Blackhawks rookie Alex DeBrincat scored his 12th goal in the second period.
Wingels' late goal gave the Blackhawks a chance after they started slowly against lowly Buffalo.
"Are we completely satisfied? No," Wingels said. "We know we can be better in a lot of areas."
Crawford blocked 26 shots in his return after missing three games with a lower-body injury.
Jason Pominville and Kyle Okposo scored in regulation for the Sabres, who failed to hold on as they tried to win a second straight game for only the second time this season.
"We sit back and we have leads," Eichel said. "We did it today, too. We're all guilty of it.
"I had a chance to win the game in overtime and I didn't do it."
Pominville's power-play goal late in the first ended Buffalo's string of 30 straight failed chances with the man advantage.
Okposo had just one goal in his previous 12 games, an empty-netter versus Edmonton on Nov. 24.
Pominville opened the scoring with 18 seconds left in the first on a nifty tip-in, giving Buffalo its first power-play goal since Nov. 14 at Pittsburgh. He cruised into the slot and used a backhand deflection of Eichel's pinpoint feed from the right wing to send the puck over Crawford's right shoulder.
DeBrincat's power-play goal, at 8:30 of the second on Chicago's 20th shot of the game, tied it at 1. He beat Lehner from the left circle with a quick shot and Brandon Saad screening at the edge of the crease.
It was just the Blackhawks' second power-play goal in their last 23 chances.
Okposo put the Sabres back in front 2-1 just 2:30 later on a quick shot from between the circles. Alone in the slot, Okposo took Scott Wilson's feed and fired over Crawford's left shoulder as Forsling blocked the goalie's view.
Moving through the slot, Wingels knotted it at 2 late in the third on Chicago's 40th shot of the game when he tipped Forsling's shot from the left point.
Chicago outshot Buffalo 17-7 in the third. With Lehner down, Patrick Sharp hit the post on a shot from a goalmouth scrum with 22 seconds left in regulation.
NOTES: To make room for Crawford, the Blackhawks sent G Jean-Francois Berube to Rockford of the AHL. ... Chicago recalled C Vinnie Hinostroza from Rockford and assigned C Tanner Kero to its farm club. The 23-year-old Hinostroza led the IceHogs with 22 points in 23 games. On Friday night, he centered a line with Sharp and veteran wing Richard Panik. ... Chicago RW Ryan Hartman, who doesn't have a goal in 15 games, was a healthy scratch for the second time this season. ... Buffalo C Zemgus Girgensons and Ds Josh Gorges and Nathan Beaulieu were scratched for the second straight game.
UP NEXT
Sabres: At the St. Louis Blues on Sunday in the finale of a four-game trip.
Blackhawks: Host the Arizona Coyotes on Sunday.