Fox again says he's not worried about future as Bears coach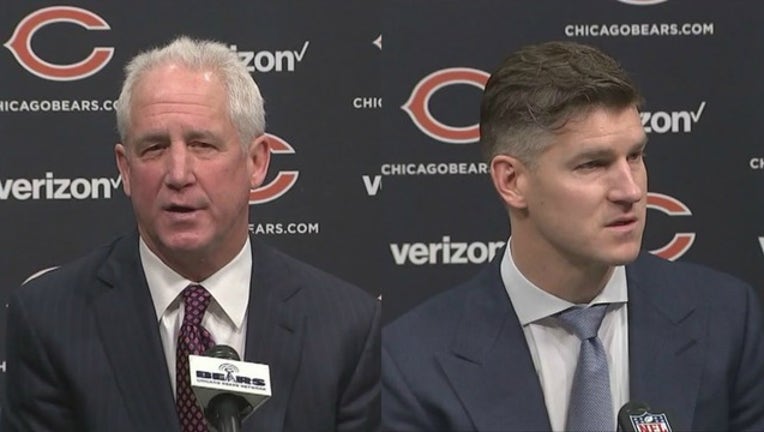 article
LAKE FOREST, Ill. (AP) - Chicago Bears coach John Fox once again insisted he is not worrying about his future.
A 31-3 loss at NFL-leading Philadelphia on Sunday only added to the speculation that Fox will be fired at the end of the season if not sooner.
"I don't do this as a job," Fox said Monday. "I do this as a profession, so I don't really worry about job security, time and all that. It's obvious we're in a performance-based business; I get that part. I'll just try to control what I can control."
These are tense times at Halas Hall, with the Bears (3-8) on a four-game losing streak and guaranteed to finish no better than .500 for the fifth straight season.
A loud argument between players erupted in a hallway adjacent to the media room on Monday afternoon. It was not clear who was involved.
There was also a terrible stench in the building, though it had nothing to do with the team's record. Apparently, sushi served last week was not properly disposed.
"I most definitely feel like you can feel the frustration within the team, but I feel like that's natural as a competitor," running back Benny Cunningham said.
The Bears' freefall comes on the heels of a promising stretch that saw them approach the .500 mark. They won two of three prior to their bye, posting back-to-back wins for the first time since 2015 before a tight loss to New Orleans.
But they've been fading fast since then, with ugly losses and questionable decisions piling up.
They couldn't beat a Green Bay team missing Aaron Rodgers even though they had two weeks to prepare. The most notable play in that game was a replay challenge by Fox near the goal line that wound up resulting in a turnover by the Bears.
Against Detroit a week later, Chicago lost by three when Connor Barth's 46-yard field-goal attempt in the closing seconds sailed wide right.
And against Philadelphia, the Bears never had a chance.
They managed just 6 yards rushing, 140 in total offense and didn't even get a first down until the second half.
Mitchell Trubisky got overwhelmed by a dominant defense. He was 17 of 33 for 147 yards, threw two interceptions and was sacked twice.
Jordan Howard, who came in leading the NFC in rushing, ran for 6 yards on seven carries.
It was also a rough day for the defense, with the Eagles going off for 420 yards and Carson Wentz throwing for three touchdowns.
"We're a prideful group," defensive end Mitch Unrein said. "Our defense as a whole. So that hurt yesterday. We didn't play up to our standard."
The Bears host San Francisco on Sunday. But even beating a team with a 1-10 record is hardly a given.
Fox and general manager Ryan Pace have restored some professionalism in the three years since they replaced former coach Marc Trestman and GM Phil Emery.
But Chicago is 12-31 since then. Fox's 279 winning percentage is barely better than the franchise-low .274 Abe Gibron posted while leading the Bears to an 11-30-1 mark from 1972-74.
It's certainly not what Chicago anticipated after Fox oversaw quick turnarounds that led to Super Bowl appearances with Carolina and Denver.
"I think if you start looking at our football team from when we arrived to now, I think you see basically almost an entirely new football team," Fox said.
"This year, making the (change) at the quarterback position. So I just see how they work, I've been through a few of these buildings. I think guys are working to get better. Now we just have to prove it."
Injuries the past two years certainly have not made things any easier, exposing a lack of depth.
But even so: Are the Bears under-coached or underachieving? Fox sidestepped that question.
"I've never been big on finger-pointing," he said. "Right now we're 3-8 and that's what we are."
Three of the Bears' five remaining games are against teams that currently have losing records, including Cincinnati and winless Cleveland. They also play Detroit and NFC North leader Minnesota again.
"There's two numbers," Fox said. "There's 3-13 and there's 8-8. That all starts on Wednesday when we start preparing, you get this out of your system and then you start getting ready for San Francisco."
___
For more NFL coverage: http://www.pro32.ap.org and http://www.twitter.com/AP_NFL