Fox responds to McCarthy's comment: We plan to 'kick Chicago's a**'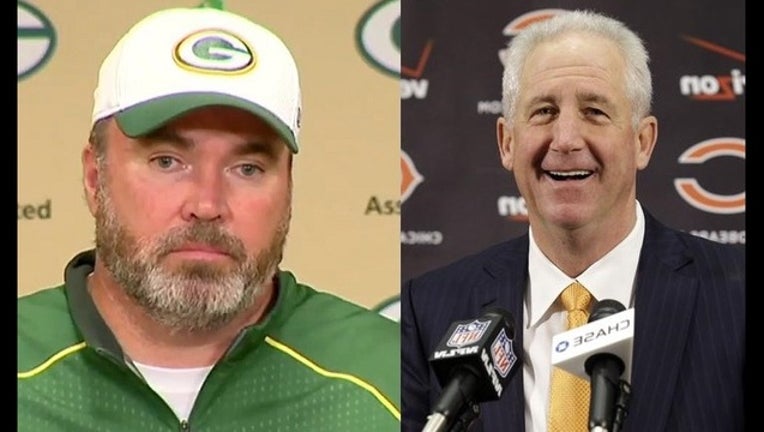 article
CHICAGO (FOX 32 News) - Bears' coach John Fox has now responded after Packers' coach Mike McCarthy said last week that Green Bay plans to 'kick Chicago's a**' in week 1.
McCarthy made the comment during an annual 'Welcome Back Luncheon.'
"We will proudly stand as the 95th team in the history of the Green Bay Packers when we kick Chicago's a**," McCarthy said.
Last November, Aaron Rodgers toched the Bears with six touchdowns in a 55-14 victory.
Coach Fox referenced that game when responding to McCarthy's comment.
"I looked at the tape," Fox said. "They should be confident."
In his Monday news conference in Green Bay, McCarthy said the comment was meant solely out of respect for the Bears organization. The teams meet Sunday at Soldier Field.
"I don't really talk to our football team the way I talk to the Chamber of Commerce. It was all in fun, but I think it's really just an example of why you shouldn't say things like that in public," McCarthy said. "The reality of it is, it is really the way the game is looked upon. It's a great rivalry. I'm sure a lot worse is said in private about the opposing teams and so forth, but it is with great respect.
"It's the oldest rivalry in the National Football League. In my opinion, I think it's the best rivalry game that I've played in. So playing down there opening day, it's going to be a lot of fun. It's a big challenge," McCarthy added.
In recent years, the Packers have dominated the Bears, winning 11 of 13 games. But Chicago leads the all-time series 92-90-6.
This coming Sunday, Green Bay travels to Chicago for the season opener. The Packers haven't lost at Soldier Field since 2010.
WHAT DO YOU THINK?