Fox says he's not worrying about future coaching Bears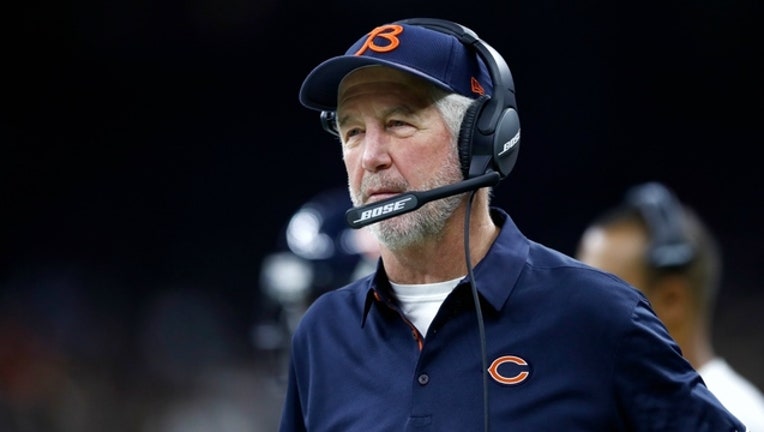 article
LAKE FOREST, Ill. (AP) - Chicago Bears coach John Fox insisted he is not worrying about his future.
With a 14-33 record in three years, Fox might be coaching his final game for the Bears when they finish the season at NFC North champion Minnesota on Sunday.
"I don't worry about it," Fox said Tuesday when asked about the speculation. "I've never had trouble getting employment in this league and I'm not going to start worrying about it now."
He would not say if he has had any discussions with management.
"If I did, I probably wouldn't talk about it here, (in) fact I think I'd be pretty positive I wouldn't," he said. "But really, those things are for the offseason and that's always been my approach every season and that part won't change either."
The Bears beat winless Cleveland on Sunday after dropping six of seven games. It ensured Fox won't finish the season with the lowest winning percentage in franchise history. It belongs to Abe Gibron, who was 11-30-1 (.274) from 1972-74.
Beating the Vikings would give the Bears wins in three of their final four games. But that's little consolation for a franchise with no playoff appearances since 2010.
Chicago is finishing up its fourth consecutive losing season -- and fourth in a row with 10 or more losses. The Bears haven't finished above .500 since they let Lovie Smith go following a 10-6 finish in 2012.
The 62-year-old Fox is 133-122 in 16 seasons as a head coach. He helped orchestrate quick turnarounds in his previous stops with Carolina and Denver and joined Don Shula, Bill Parcells, Dan Reeves, Dick Vermeil and Mike Holmgren as the only coaches to lead two franchises to Super Bowl appearances.
But it's been a different story in Chicago. Has this been a tougher job than he envisioned?
"You don't really know until you dig in," Fox said. "I think we've definitely made a lot of changes. Like I said many times, we've gone from the oldest roster in football to one of the younger ones now. I don't know exactly where we rank. I think we've got a good, young, talented roster. I think we still have holes. But at least we're kind of -- I don't know -- to me, we're at a level playing field now.
Hired shortly after the Bears brought in general manager Ryan Pace, Fox helped restore some of the professionalism in the locker room that was missing under former GM Phil Emery and coach Marc Trestman. But any strides made by the Bears haven't shown in their record, with Chicago going from six wins in 2015 to three in 2016 to five heading into the Vikings game.
Injuries exposing a lack of depth have been a major issue since the regime change. 
The Bears have had some big hits in the draft such as star running back Jordan Howard (2016, fifth round) and notable misses such as oft-injured receiver Kevin White (2015, first round). They have had a shaky record in free agency and struggled to replace some key players no longer with the team such as receivers Brandon Marshall and Alshon Jeffery, tight end Martellus Bennett and kicker Robbie Gould. 
Mike Glennon -- signed to take over for Jay Cutler as the starting quarterback -- got benched after struggling through the first four games this season. That forced Chicago to go with No. 2 overall draft pick Mitchell Trubisky and abandon the plan to use this as sort of a redshirt season for a player with just 13 college starts at North Carolina.
Fox's conservative approach and some questionable decisions during games have also been sore spots since his arrival in Chicago. And there's a good chance the Bears will be in the market at least for a new coach if not a general manager.
"It's not my first rodeo, you know I've been doing this for 28 years and 15 as a head coach so this is par for the course in this league, I think there's a lot of speculation every year, and this year is no different."