Kane's goal and 2 assists help Blackhawks rout Red Wings 5-2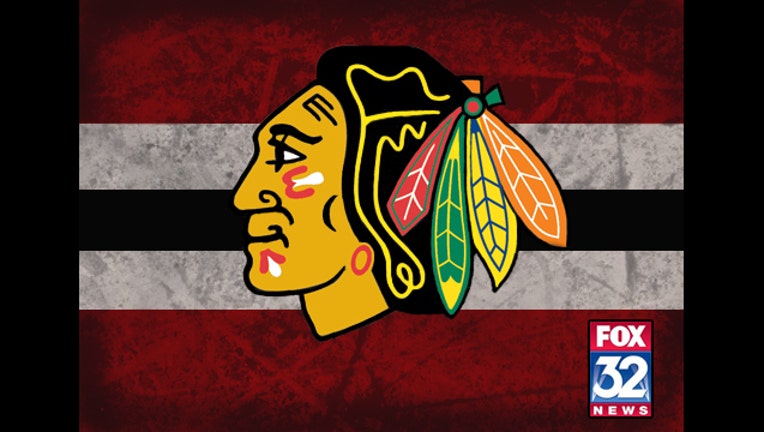 article
DETROIT (AP) — Patrick Kane had a goal and an assist 1:24 apart on power plays in the second period and Artemi Panarin scored twice, helping the Chicago Blackhawks rout the Detroit Red Wings 5-2 on Wednesday night.
Kane assisted Panarin on a 5-on-3 goal and scored with a one-man advantage to give Chicago a 3-0 lead. Kane finished with three points, extending his NHL-leading total to 88 to match his career high set during the 2009-10 season.
Corey Crawford didn't give up a goal until midway through the third period when Brad Richards scored.
Andrew Ladd restored the three-goal lead in the third period in his second game back with the Blackhawks. Panarin scored his second goal 35 seconds later from the top of the left circle off a cross-ice pass from Kane.
Detroit's Gustav Nyquist scored a relatively meaningless goal late in the game.
Petr Mrazek stopped 28 shots for the Red Wings, who had won three straight.
The Western Conference-leading Blackhawks were coming off a win against NHL-leading Washington.
And, they looked sharp from the start at Detroit and didn't let up.
Brent Seabrook scored from the top of the right circle, trailing on a play that started with an odd-man rush. Erik Gustafsson tapped his stick on the ice to get the puck passed back from Teuvo Teravainen and Gustafsson set up Seabrook, a fellow defenseman, for the game's first goal.
Kane made an across-the-crease pass to assist to Panarin from the bottom of the right circle to the bottom of the left while Jonathan Toews provided a distraction in front of the net. The four-time All-Star got into open space a little more than a moment later and flicked a wrist shot from the inside of the left circle that Mrazek simply couldn't stop.
NOTES: The Blackhawks had nine players and Detroit had seven named to World Cup of Hockey rosters Wednesday. ... Christian Ehrhoff played in his first game for Chicago since it acquired the defenseman last week from the Los Angeles Kings for Rob Scuderi. ... Mrazek played after sitting out the previous game, an overtime win at Dallas, with a groin injury. ... Panarin leads NHL rookies with 24 goals and Detroit's Dylan Larkin is second with 19. ... Kane has an NHL-high 32 points on power plays. ... Red Wings captain Henrik Zetterberg became the 11th player in franchise history to play in 900 games.