Keenum leads 3 scoring drives, Vikings beat Bears 20-17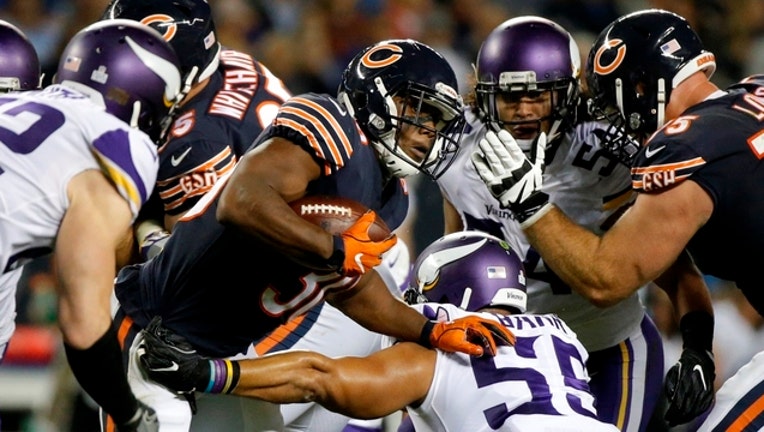 article
CHICAGO (AP) -- Case Keenum gave the Vikings the lift they needed, and that was just enough to spoil Mitchell Trubisky's highly anticipated debut.
Keenum led three second-half scoring drives after Sam Bradford's troublesome left knee flared up again, and the Minnesota Vikings beat Trubisky and the Chicago Bears 20-17 on Monday night.
Kai Forbath kicked a 26-yard field goal in the closing seconds after Harrison Smith intercepted Trubisky , and the Vikings (3-2) came away with the win after dropping two of three.
"I didn't know (if I would play)," Keenum said. "That's something I've tried not to think about. I tried to approach the week like I was starting. I did the same thing I did the previous four weeks. I did the same thing I've done every week I've been in the NFL. I've tried to prepare like I've been the starter."
Called on after Mike Glennon struggled in the first four games, Trubisky played like he belonged . The No. 2 overall pick was 12 of 25 for 128 yards with a touchdown.
The interception came after the Bears (1-4) took over on their 10 with 2:32 left in the game. Smith picked off a pass intended for Zach Miller on the right sideline at the 22.
The Vikings got the ball at the 28, and Forbath booted the winner with 16 seconds left.
Sidelined the previous three games because of swelling and soreness in his surgically repaired left knee, Bradford aggravated the joint when he was tackled in the first half.
With limited mobility, he completed just 5 of 11 passes for 36 yards and was sacked four times -- including a safety by Leonard Floyd. Bradford was listed as limited in practice during the week, though coach Mike Zimmer said there was "no doubt" he would play.
He wasn't sure how much more time Bradford will miss.
"We wouldn't put him on the field if he wasn't healthy enough to play," Zimmer said. "He was very confident about it. He felt good about it. The medical people felt good about it. Everybody. We practiced on turf for two days this week, too, so that's even a little bit harder on the legs. But I don't think there was any doubt whatsoever he was ready to go."
Keenum replaced him with 25 seconds left in the first half and went 17 of 21 for 140 yards and a touchdown.
Jerick McKinnon had a 58-yard touchdown run. Everson Griffen contributed a strip-sack against Trubisky that led to a field goal, and the Vikings beat Chicago on the road for just the third time in 17 games.
The Bears simplified their offense for Trubisky, with fewer receivers and extra blockers at times. But he still showed the mobility and arm strength that convinced general manager Ryan Pace to trade up a spot with San Francisco to grab him on draft night.
"I was trying to just (elevate teammates) with my presence, how much I love this game and how much I love this team," he said. "I think they have faith in me. They believe in me when I'm in that huddle and when I'm making plays."
Jordan Howard ran for 76 yards. Pat O'Donnell threw a 38-yard touchdown to Benny Cunningham on a fake punt. Floyd had two sacks.
SECOND-HALF SCORES
Minnesota was leading 3-2 when Keenum hit Kyle Rudolph for a 13-yard touchdown midway through the third quarter. The Vikings celebrated by playing duck-duck-goose in the end zone -- a play Rudolph called in the huddle before the TD.
The Bears lined up to punt on a fourth down at the Minnesota 38 on the next possession. But O'Donnell passed to a wide-open Cunningham, who spun around Marcus Sherels on the way to the end zone, cutting it to 17-9.
Chicago used another trick play to tie it.
The Vikings' Andrew Sendejo tipped a pass right to Zach Miller in the end zone for a 20-yard touchdown. The trickery came on the two-point conversion.
Trubisky handed the ball to Howard, who gave it to Miller. Miller then pitched it to Trubisky, who ran it in on the right side to tie it at 17-all with 12:24 left in the game.
TRANSACTION
The Vikings released running back Stevan Ridley after only five days to make room for receiver Michael Floyd, whose four-game suspension from a drunken driving arrest with Arizona last year expired.
INJURIES
Bears: LB John Timu left with a knee injury early in the third. He was hurt trying to tackle Latavius Murray and had to be helped off the field. ... LB Willie Young (triceps) and cornerback Marcus Cooper (back) were inactive.
UP NEXT
Vikings: Host Green Bay on Oct. 15.
Bears: Visit Baltimore on Oct. 15.