La Stella's pinch-hit homer carries Cubs past Braves 5-4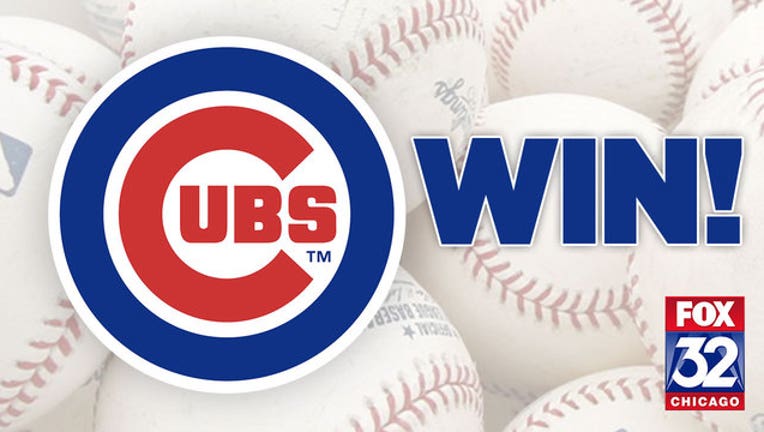 article
ATLANTA (AP) - Tommy La Stella is used to coming through off the bench.
The homer was something new.
The first pinch-hit homer of La Stella's career tied a franchise record and carried the Chicago Cubs to a 5-4 victory over the Atlanta Braves in a matchup of NL division leaders Thursday night.
"I don't get to play much," said La Stella, who homered against the team he started with in the big leagues. "I definitely appreciate the opportunities when I get them."
Chicago stopped off at SunTrust Park for a single game before starting a regularly scheduled 10-game road trip, making up a contest that was washed out May 17.
La Stella made it a fruitful layover, tying the team record with his 20th pinch hit of the season. After Atlanta went ahead with a three-run fifth, the infielder launched a two-run shot off Mike Foltynewicz that nearly reached the Chop House restaurant above the right-field seats .
"He's always ready to hit," manager Joe Maddon said. "He sees one pitch he can hit, and he crushes it."
Chicago won for the eighth time in nine games, maintaining its 4 1/2-game lead in the NL Central.
Freddie Freeman had three RBIs for the Braves, who lost for the fourth time in six games but still lead the East by three games.
Foltynewicz (10-9) was roughed up after an otherwise dominating August in which he went 3-1 with a 1.38 ERA over his first five starts. The right-hander surrendered six hits and five runs (four earned) over six innings, grooving a fastball to La Stella.
"I went two curveballs there and I was trying to go up over the bat," Foltynewicz said. "I think I might have missed right down at his belt there, and he got a good swing on it obviously."
Mike Montgomery came off the disabled list to make his first start for the Cubs since Aug. 7, going 4 2/3 innings.
Brandon Kintzler (2-3) claimed the win by getting the final out of the fifth. Pedro Strop worked the ninth for his 11th save.
BAEZ'S WILD RIDE
Chicago shortstop Javier Baez wreaked havoc in the dugout after striking out in the seventh.
But he put that tirade behind him in the ninth, making a brilliant over-the-shoulder catch while running flat-out with his back toward home plate to help preserve the victory.
"That was as good a catch as you'll see," Maddon said. "The important thing is they don't carry defeat at the plate out with them on defense."
HEYWARD HURT
Cubs center fielder Jason Heyward had to leave the game in the fifth after diving for Freeman's opposite-field liner. Heyward stretched out but failed to get a glove on the ball, which rolled all the way to the wall for a two-run triple .
Heyward had tightness in his right hamstring but was able to walk slowly off the field, getting a hug from former teammate Freeman on his way to the Cubs dugout. Maddon said his player will need further evaluation but is expected to miss at least the next couple of games at Philadelphia.
FOLTY'S BALK
Foltynewicz wasn't sure why he was called for a balk in the second inning, which contributed to a two-run inning for the Cubs.
"All I really did was just spit," he said. "I'd take it like a man if it was really a balk, but I know in that moment I didn't really do anything."
Shortstop Ozzie Albies also made a huge mistake in the second, unleashing a throw that bounced far in front of the plate for an error while trying to get Heyward breaking from third.
DUDA ARRIVES
Lucas Duda is suddenly part of a playoff race after spending most of the season with a team going nowhere.
The slugging first baseman joined the Braves on Thursday after being acquired from the Kansas City Royals. He instantly went from a team that was 37 1/2 games behind in the AL Central to first place.
"I'm happy to fill my role and help the team in any way I can," said Duda, who flied out in the sixth as a pinch-hitter in his first Atlanta appearance.
The Braves optioned infielder Rio Ruiz to Triple-A Gwinnett.
TRAINER'S ROOM
Cubs: 3B Kris Bryant (shoulder) struck out twice Thursday while batting leadoff during a rehab stint at Iowa. He'll likely rejoin the big league club this weekend. ... LHP Brian Duensing (shoulder) is also expected back after the rosters expand on Saturday. He's been sidelined since Aug. 3.
Braves: The bullpen could be rather crowded for the final month of the season. RHPs Shane Carle (shoulder), Peter Moylan (forearm) and Brandon McCarthy (knee) are rehabbing at Triple-A Gwinnett with no apparent issues. Closer Arodys Vizcaino (right shoulder) is set to throw a batting practice session on Friday, which could be a precursor to his rehab stint in the minors. RHP Jose Ramirez (shoulder) is showing signs of improvement after missing much of the season.
UP NEXT
Cubs: Chicago travels to Philadelphia to face another playoff-contending team in a weekend series. LHP Jose Quintana (11-9, 4.33) will get the nod in Friday's opener against Phillies RHP Nick Pivetta (7-10, 4.76).
Braves: RHP Anibal Sanchez (6-5, 3.05) takes the mound for the opener of a three-game series against Pittsburgh at SunTrust Park. The Pirates will counter with RHP Jameson Taillon (10-9, 3.49).
___
Follow Paul Newberry on Twitter at www.twitter.com/pnewberry1963 . His work can be found at https://apnews.com/search/paul%20newberry
___
For more AP baseball coverage: https://apnews.com/tag/MLBbaseball and https://twitter.com/AP_Sports