Lester allows no earned runs as Cubs rout Braves 13-2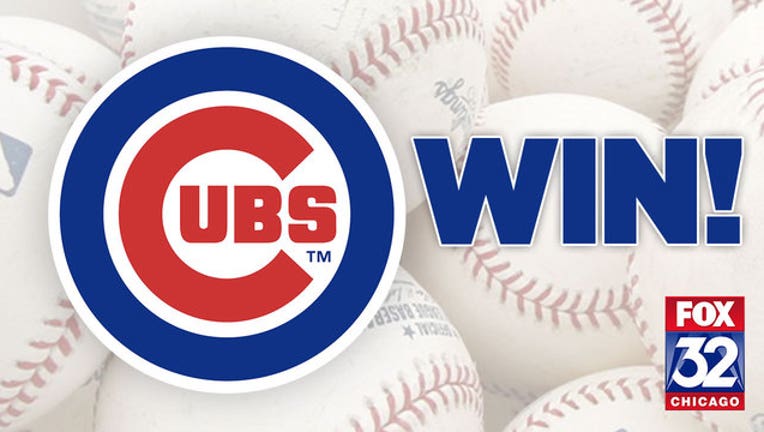 article
ATLANTA (AP) - Jon Lester stopped himself as he started to say he hoped the Cubs could keep winning at their current pace.
That would be asking for too much.
Lester earned his fourth straight victory after allowing no earned runs in seven innings as Chicago beat the Atlanta Braves 13-2 on Sunday to win their final series at Turner Field.
The Cubs (43-18) have won 14 of 18 and improved to 39-2 when scoring at least four runs. They moved 25 games over .500 with their best record through 61 games since 1907, when they won the World Series.
"It's been fun to be a part of and hopefully we can just keep ... obviously the pace we're on is pretty crazy," Lester said. "Not a lot of us have answers for what's going on. Enjoy it while we can."
Lester (8-3) also is on an impressive personal run. He has allowed only one earned run with no walks in three wins this month, lowering his ERA to 1.89. He gave up five hits to the Braves, his high mark of the month, with seven strikeouts.
"That's three in a row he's been outstanding," said Cubs manager Joe Maddon. "Never tired. His stuff was still good at the end. He's pitching with a lot of confidence right now."
Maddon also had difficulty finding perspective for the Cubs' strong record.
"Listen, I have nothing to complain about," Maddon said. "I have been on a team with this kind of record in the minor leagues. Never in the majors."
Chicago outscored Atlanta 21-4 in winning the final two games of the three-game series.
Javier Baez hit a three-run homer off Chris Withrow to cap the Cubs' six-run eighth inning.
Anthony Rizzo drove in three runs with three hits. David Ross had two hits and also drove in two runs, one on a base-loaded walk from Alexi Ogando in Chicago's three-run seventh.
Jason Heyward, who began his career with the Braves, had three hits, two walks and scored three runs.
The Cubs matched their season high with four errors. The first of two throwing errors by Ross, on a double-steal by Freddie Freeman and Chase d'Arnaud, allowed d'Arnaud to score Atlanta's only run in the first inning.
The Braves (18-44) have the majors' worst record. They are 7-25 at home.
Braves rookie right-hander John Gant (0-1), making his first start after seven relief appearances, allowed three runs, two earned, in 4 1/3 innings. Gant gave up four hits with four walks and left the game trailing 3-1.
"He battled through a lot and did a good job of keeping the game there against, obviously, one of the best teams in baseball," said Braves interim manager Brian Snitker.
Withrow gave up six runs while recording only one out.
UNUSUAL SLIDE RULE CALL
A review determined Ross violated the slide rule — even when he didn't slide into second base. Ross hit a grounder to first baseman Freddie Freeman, who threw to shortstop Erick Aybar in the sixth inning. Ross ran past the bag as Aybar was forced to alter his throw back to first. The throw was late and Lester initially was safe at first until the review resulted in a double play.
WAIVER CLAIM
The Cubs claimed right-hander R.J. Alvarez off waivers from Oakland. Alvarez, who has been recovering from surgery on March 29 to remove bone chips from his right elbow, was assigned to Double-A Tennessee. Alvarez has a 7.39 ERA in 31 combined games with San Diego and Oakland.
TRAINER'S ROOM
Braves: Aybar came off the 15-day DL and started after missing 14 games with a bruised right foot. IF Daniel Castro was optioned to Triple-A Gwinnett.
UP NEXT
Cubs: RHP Kyle Hendricks (4-5, 2.90), who has allowed no more than two runs in four straight starts, will try to even his record when Chicago opens a series at Washington on Monday night.
Braves: RHP Aaron Blair (0-4, 7.13), originally scheduled to start Sunday before given an extra day to rest, will look for his first win in Monday night's opening game of a four-game series against the Reds.