Mack off to good start, Bears try to rebound against Seattle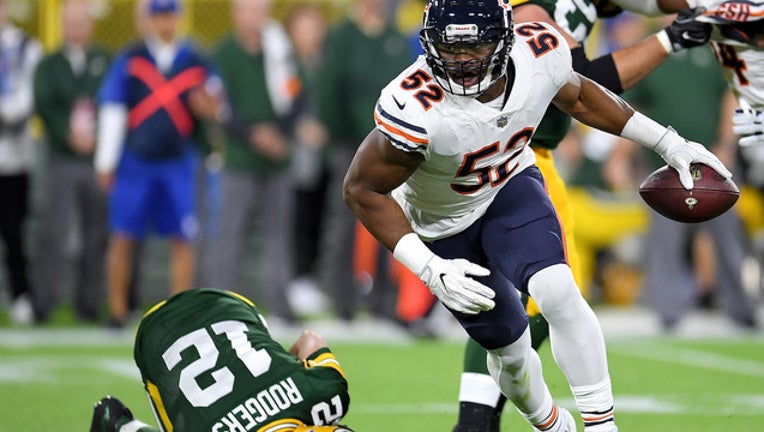 article
LAKE FOREST, Ill. (AP) - Khalil Mack sat out offseason workouts and the preseason, had just one week to learn a new system following a blockbuster trade, and still managed to dominate in his debut for the Chicago Bears.
The two-time All-Pro performed exactly as envisioned in a prime-time opener.
The Bears hope for more of that when they host Russell Wilson and the Seattle Seahawks on Monday night. They'd just like a different outcome.
Chicago blew a 20-point lead in the second half against Green Bay on Sunday night, with a hobbled Aaron Rodgers leading the Packers to a 24-23 victory that spoiled Matt Nagy's coaching debut. But before that rally, Mack was the one stealing the spotlight.
"Obviously he's stepped in very well," defensive coordinator Vic Fangio said. "But I think everybody likes to overanalyze things - how much can you play a guy that's just come in like that, no training camp, no nothing, hasn't played since whenever his last game was last season? But I think with special guys, you throw that stuff out the window. He's a special player. He did special things under special circumstances."
Mack held out the entire offseason and preseason with Oakland while seeking a long-term contract extension rather than play under the final year of his rookie deal. The Raiders finally traded him two weeks ago. And the Bears gave Mack the richest deal ever for an NFL defensive player: a six-year, $141 million extension that guarantees $90 million.
Some long sessions getting up to speed with outside linebackers coach Brandon Staley followed.
"I've been ready for the grind, been waiting five months to feel the grind," Mack said. "Yeah, we've definitely been doing that."
Mack sure looked ready against Green Bay.
He had no trouble getting around Bryan Bulaga for a strip-sack against DeShone Kizer that led to a turnover. With Kizer hit by Roy Robertson-Harris as he unleashed a short pass, Mack returned an interception 27 yards for a touchdown near the end of the first half.
But that wasn't all.
He was closing in from the edge when Robertson-Harris came through the middle and landed on Rodgers' left leg while sacking the two-time MVP in the second quarter. Rodgers left the field on a cart, only to return in the second half.
Mack also had pressure on Kizer when Roquan Smith got a sack on his first NFL play.
"He wasn't always in the best position, but he still could come up and make a play or make something happen," Seahawks coach Pete Carroll said. "To be as good as he is, to be the (2016 NFL Defensive Player of the Year), you have to have all the attributes and he has them. Speed, strength, explosion, savvy, motor - he has all that stuff. He's just getting in shape too, so he's going to get better."
It's the second time in as many games the Seahawks (0-1) will be facing an elite edge rusher. They had to contend with Von Miller at Denver. And Seattle had its difficulties in a season-opening loss .
The Broncos got six sacks, though some could be blamed on Wilson for running into trouble. Miller had three of them, and the Seahawks are facing another difficult challenge going against Mack.
"Both of them are very dynamic players," tackle Duane Brown said. "Von is just a different kind of athlete. Very, very quick. Very fast off the ball, which Khalil has the same abilities. I think he uses strength a little bit more. He plays extremely hard. He's a factor in the run and pass game; someone you have to account for. I put those guys as 1A and 1B in the league on the edge."
The Bears see Mack as a player who can turn a solid defense into an elite unit and help them break a string of losing years. They have four straight last-place finishes in the NFC North and just one playoff season since the 2006 team made the Super Bowl.
It helps that Mack appears to be getting a quick grasp on Fangio's system. He said he knows "95, 99 percent" of the playbook. He also felt "great" following last week's game, adding his body "missed getting beat up."
He is also looking forward to playing at Soldier Field for the first time as a member of the Bears. In his only other game there, with Oakland in 2015, Mack sacked Jay Cutler on the final drive. But Robbie Gould kicked a 49-yard field goal in the closing seconds to give the Bears a 22-20 victory.
"I don't know what it's going to be like," Mack said. "I've seen what it's like to play there, but I don't know what it's going to be like to be a part of the home team this time around. But I'm looking forward to it."