MacKinnnon's OT goal lifts Avalanche over Blackhawks 2-1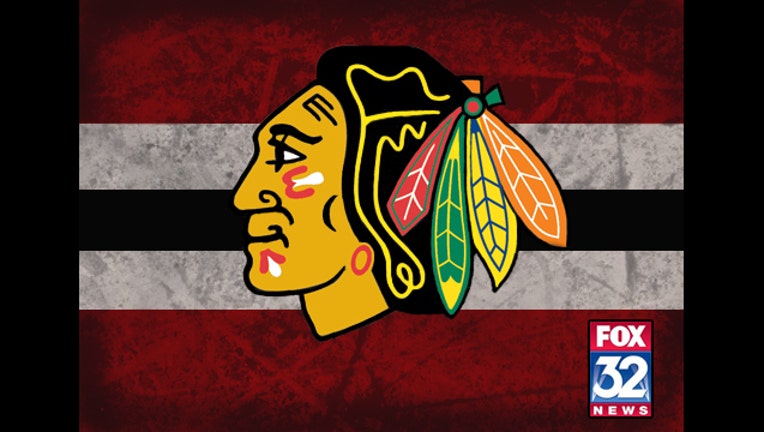 article
CHICAGO (AP) - The offense-challenged Colorado Avalanche finally scored not just one, but two goals in a game.
And the Avs connected when it really counted against one of the NHL's top teams.
Nathan MacKinnon scored 25 seconds into overtime to lift Colorado to a 2-1 victory over the Chicago Blackhawks on Friday night.
Cruising in with Tyson Barrie on a 2-on-1 break against Chicago's Niklas Hjalmarsson, MacKinnon beat Corey Crawford with a high shot that ticked off the post and ended the Avalanche's five-game losing streak.
"I just trusted my instincts," said MacKinnon, who was stopped on prime chances earlier in the game. "I wasn't thinking too much; I just wanted to shoot it.
"We know they slide over on the 2-on-1, their D, so I just wanted to get a shot off. It might have caught Crawford off guard a little bit."
Mikko Rantanen scored on a deflection at 5:42 of the third period for the Avalanche's first goal in 167:43 - a franchise record drought. Colorado was shut out in its previous two games, including a 6-0 loss to the Toronto Maple Leafs on Thursday.
Until Rantanen connected, Colorado hadn't scored since Jarome Iginla's power-play goal with 2:01 left in the third period of a 4-1 loss at Winnipeg last Sunday.
"We were skating better than we've skated in probably a month," coach Jared Bednar said. "To get that equalizer, it was a sense of relief on our bench.
"Goals are hard to come by. It was no different tonight."
Calvin Pickard made 38 saves while the Avalanche's No. 1 goalie, Semyon Varlamov, remained in Denver to have his groin injury assessed. Pickard kept Colorado in this one until the late scoring came through.
"I just had that feeling we were going to tie it up in the third," Pickard said. "We had a lot of good chances."
Varlamov started Colorado's loss to Toronto on Thursday, but left at 8:42 of the second after allowing five goals on 18 shots. Last-place Colorado won for just the third time in its last 15 games.
Chicago captain Jonathan Toews stopped a 13-game drought with his fifth goal of the season. Toews' power-play score midway through the second was his first since Nov. 5, a span that includes missing nine games with a back injury.
"He had the puck a lot and that's going to be good for him going forward, getting those greasy goals like he did tonight," coach Joel Quenneville said.
Crawford had 32 stops in his return from an appendectomy. He missed 10 games following surgery on Dec. 3.
Crawford said it wasn't hard to get back in a groove.
"I was just trying to feel good right from the start," he said. "Reading plays and reacting after that."
Artemi Panarin extended his point streak to seven games with a nifty setup on Toews' goal. He has five goals and eight assists in the run.
Chicago played without forwards Marian Hossa and Artem Anisimov due to upper-body injuries. Hossa leads the team with 16 goals, and Anisimov has 14. They could return Tuesday against Winnipeg.
The Avalanche got off to a fast start after they were drubbed in Denver on Thursday night, running up an 8-1 shots advantage early in the scoreless first against the Blackhawks. Crawford made several alert saves, including a sprawling stop on MacKinnon's backhander about 6 minutes in.
Toews' power-play goal at 11:52 put Chicago in front. After Pickard stopped Duncan Keith from the slot, Panarin fired the rebound across the front of the net from the left side.
Toews, hovering at right side of the cage, smacked in the puck from midair.
Rantanen responded at 5:42 of the third, redirecting Barrie's shot from the right point.
Crawford stepped up again midway through the third, giving the Blackhawks a chance for at least a point. He stopped Gabriel Landeskog and Barrie in close, and then denied Blake Comeau on a breakaway.
NOTES: There is no timetable for Varlamov's return. Colorado recalled G Spencer Martin from San Antonio of the AHL to back up Pickard. ... F Vinnie Hinostroza missed Chicago's morning skate with an illness, but was in the lineup and skated with fellow rookies Tyler Motte and Ryan Hartman. ... Chicago's healthy scratches were Ds Michal Kempny and Michal Rozsival. Colorado's were D Patrick Wiercioch and LW Cody McLeod.
UP NEXT
Avalanche: Try to snap an eight-game home losing streak (0-7-1) when they take on Calgary on Tuesday night. Colorado's last win at the Pepsi Center was on Nov. 15.
Blackhawks: Host Winnipeg on Tuesday night.