Mitchell Trubisky shakes off loss as a lesson learned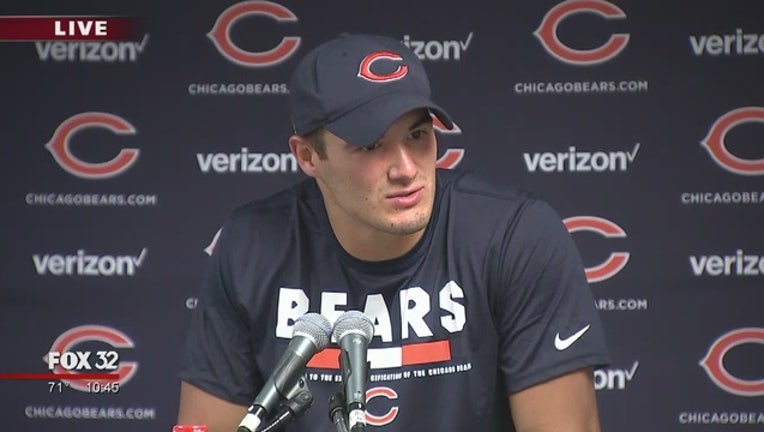 article
LAKE FOREST, Ill. (AP) - A fourth-quarter mistake and defeat in his NFL debut did little to deter Mitchell Trubisky's willingness to take a gamble.
Trubisky said on Wednesday he is preparing for the Baltimore Ravens in a short workweek with the same mentality as before his fourth-quarter interception led to Monday's 20-17 loss to the Minnesota Vikings.
"You can't be scared," Trubisky said. "You've got to think every time the ball is in your hand that it's going to be a completion, my guys are going to come down with it.
"So when you're extending plays you're not thinking negatively, you're being aggressive and you're playing the game."
Trubisky's fourth-quarter throw on the run to tight end Zach Miller was picked off by Harrison Smith and it set up the winning Minnesota field goal.
Trubisky went 12 for 25 for 128 yards with a touchdown and interception in his first game.
While Trubisky said his approach to the game remains unchanged, his knowledge about when a completion is possible against NFL-caliber defenses is improving.
"I think that's part of learning what throws I can make and can't make in the NFL," Trubisky said. "I think you get away with more of those in college, scrambling, throwing deep, extending, making plays.
"Here, sometimes it's going to happen, sometimes it's not in the NFL. So I think it's part of the learning process.
"But I think extending plays is part of my game and I think we're going to need that and I think it helps. So I've just got to learn when I'm extending plays that it's a for-sure completion or when I just need to eat it and play the next play."
Some Trubisky gambles paid off such as the 20-yard TD pass he threw on the move to Miller.
So how does he know when gambling is the right decision?
"If he catches it, it's the right decision," Trubisky said. "If he doesn't catch it and it gets picked off, it's the wrong decision. Simple as that."
Offensive coordinator Dowell Loggains said mistakes as in Monday's game have to be lived with while a young quarterback learns.
"There's a fine line, because you don't want to take the best part of him away," Loggains said. "He's had success doing it. So we're just going to keep telling him to trust the play, let the play come to you."
Coach John Fox and Loggains are at least as concerned about getting the surrounding cast playing efficiently around Trubisky.
Penalties have made for longer down and distance and pressured the Bears quarterbacks, whether it was Trubisky or opening day starter Mike Glennon, who was benched.
A holding penalty on wide receiver Markus Wheaton wiped out a 42-yard TD run by Jordan Howard. Also, dropped passes have been a problem for receivers.
"This kid's going to be special and we've got to do our jobs around him, keep getting in the right spot, make plays and catch the football, and making sure we're keeping him outta first-and-17s," Loggains said. "We have a lot of faith and confidence in Mitchell."
Fox on Wednesday met with players and told them to stop dragging down their new passer with mistakes.
"I think a lot of it is in preparation," Fox said. "It's making sure we don't have that occur in practice. It's not like we haven't emphasized it.
"Some of the same things I talked about last week popped up again. So we just continue to work at it. In some cases we change people. In some cases we change how we practice."
One change for Trubisky this week will possibly be throwing to wide receiver Tanner Gentry.
Veteran receiver/returner Deonte Thompson was cut and Tanner, an undrafted rookie from Wyoming, was brought to the 53-man roster.
"He knows how to go up and get the ball," Trubisky said. "He's a good vertical threat and has shown what he can do, and I think they've given him a great opportunity this week just bringing him up.
"We've developed good chemistry ever since rookie minicamp just throwing with each other and being on the same page."
___
For more NFL coverage: www.pro32.ap.org and www.twitter.com/AP_NFL