Mitchell Trubisky takes final rookie step against Vikings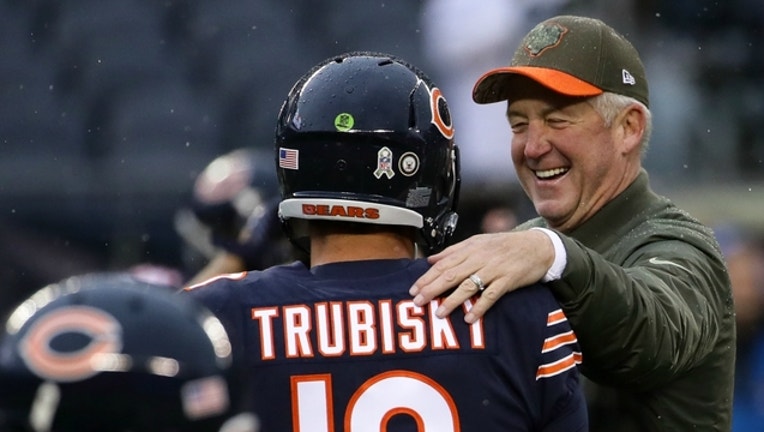 article
LAKE FOREST, Ill. (AP) - Quarterback Mitchell Trubisky never expected to line up under center only five games into his rookie season with the Chicago Bears.
With one game left, Trubisky would now like nothing better than to provide tangible evidence of how far he has come since first stepping into the starting lineup.
Against a backdrop of uncertainty over the coaching staff for next year, Trubisky on Sunday closes his first season against the Minnesota Vikings, the same team he lost to 20-17 at Soldier Field on Oct. 7 in his NFL debut.
"I think every situation's different," Trubisky said. "For me personally, I wanted to be thrown in as quickly as possible, but I respected and appreciated the plan they had for me, and I think it worked out.
"You can't go back and change things but knowing what I know now, it worked for what we were trying to do here. For me the best experience is to actually go through it. But you can also gain a lot of experience from sitting and watching. It all depends on the person and how much you can benefit from each situation."
Trubisky was supposed to play behind Mike Glennon, but eight turnovers in a three-game stretch led to a quarterback change for the first Vikings game.
Although Trubisky has won just four of his 11 starts and has a passer rating of 78.5, he calls his forced playing time a success.
"I feel good about it," Trubisky said. "Just go back to two words: growth and development. Try to get better every day. I had a lot of fun."
In the first game with the Vikings, Trubisky went 12 for 25 for 128 yards and gave the Vikings the chance for the winning field goal by throwing a late fourth-quarter interception to Harrison Smith at the Bears 22-yard line.
"I think they'll be impressed (with Trubisky)," Fox said. "I think they'll see some of the things they saw in that first game. I think he's probably seen a little bit more defense now since that time.
"We're doing a little bit more with him. So they're a very, very good defense, they're No. 1 in probably four of the five main categories of defense. At their place on a fast track, that'll be a stiff challenge no doubt, no different than it was here months ago in his first start."
The Bears ran a scaled-down version of the playbook in Trubisky's early starts.
"We've expanded it, we definitely have," offensive coordinator Dowell Loggains said. "And he's doing more at the line of scrimmage now with protection checks and audibles.
"We're able to do some more check-with-me stuff. We're not where we'd like to be, still, yet. But he's done a really good job of handling all that stuff."
As the Bears have removed restraints on Trubisky, he's put up bigger and better numbers. In the last four games, Trubisky is 82 for 116 (71 percent) for 880 yards. He had completed 53 percent for an average of 162 yards over his first seven games.
After being taken 1-2 in the 2016 NFL draft, Rams quarterback Jared Goff and Eagles QB Carson Wentz made drastic improvement in Year 2. Trubisky, chosen second this year, anticipates something similar in 2018.
"I expect to make a big jump from Year 1 to Year 2," Trubisky said. "The experience I've got this year, I'm definitely going to carry that with me into the offseason, going into next year, and expect to have a lot of momentum and just a full head of steam going into next year."
Fox sees the same, although it's uncertain he'll even be the one coaching Trubisky.
"I think anytime it's a second go-around, regardless of what profession you're in, I think it's helpful," Fox said. "To do it the first time, you'll come back, you'll look at tape and think, 'Wow, I didn't really get that,' or 'Are you kidding me?' It's just a second go-around, regardless of what position you play. That's typical of any rookie at the completion of his first NFL season."
While the Vikings are playing for a first-round playoff bye, the Bears could be playing their final game under Fox. Trubisky isn't thinking about that now.
"Block it out, I don't really listen to anything," he said about the talk Fox will be fired. "It's not up to me."
NOTES: Bears guard Josh Sitton (ankle) and tackle Bobby Massie (knee) missed Wednesday's practice with injuries. Sitton's replacement, Tom Compton, returned to practice after missing last week's game due to a concussion.
___
For more NFL coverage: http://www.pro32.ap.org and http://www.twitter.com/AP_NFL