NL Cy Young winner Arrieta calls PED whispers "flattering"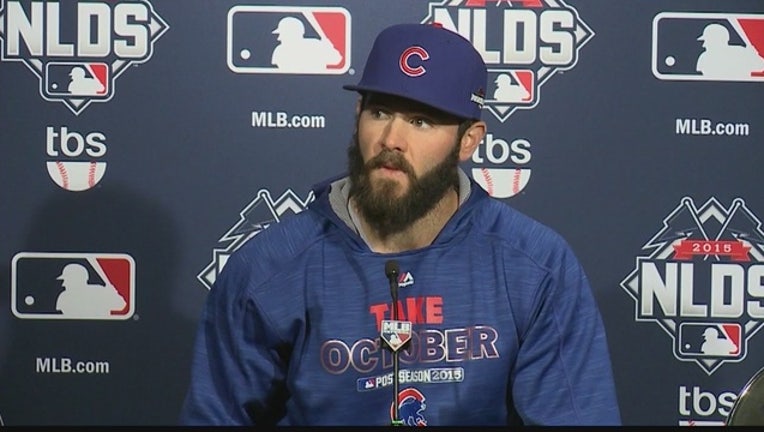 article
CHICAGO (AP) - Jake Arrieta says it is "flattering" that "some of the best players in the game" are spreading rumors that Arrieta is using performance-enhancing drugs.
The National League Cy Young Award winner and Chicago Cubs ace didn't name names Tuesday but said his teammates have heard rumors from other players that the right-hander has used PEDs to fuel his emergence with the Cubs. As manager Joe Maddon says, "we've all become suspicious" in baseball.
"I think it's funny because I've always been in good shape," Arrieta said. "I just sucked early in my career."
Arrieta went from hyped prospect to disappointing big leaguer while with the Orioles but has transformed into one of the game's best pitchers since a trade to Chicago in 2013. He has two no-hitters in his last 11 regular season starts, including last week against Cincinnati.
The 30-year-old Arrieta credited his career turnaround to a comprehensive workout program and eating well. Maddon added "command and confidence" to the mix.
"I threw 96, 98 (mph) when I was younger. And I still feel like I'll be able to do that for a long time," Arrieta said. "If people call into question my work ethic, that's fine, because I know what I'm doing behind the scenes.
"It is somewhat flattering, especially when some of those comments are coming from some of the best players in the game."
Arrieta is a strong supporter of the drug-testing policy adopted in conjunction with the players' union. Last week, Toronto first baseman Chris Colabello was suspended 80 games for a positive steroids test.
"It's apparent that guys are still trying to take things, and I think it's unfortunate," Arrieta said.
"I think guys will continue to do so unless the penalties are stiffer," he added. "I personally don't think guys should (get) multiple chances when they fail a steroid test."
Arrieta's numbers — 15-0 with an 0.53 ERA in his past 16 starts — are staggering. Especially since he was carrying a 7.23 ERA when Baltimore traded him to Chicago in a July 2013 deal that involved journeyman Scott Feldman.
"I eat plants and I eat lean protein. That's my gig, that's what I do," Arrieta said. "I watch what I eat and I train properly. My mom is (6-foot-1) and my dad is 6-4, so I'm going to be big, regardless.
"I could be 30 pounds heavier if I played football. But I play baseball and I do Pilates. I strength train with heavy weights occasionally and this is the result."
The Cubs have won Arrieta's last 17 starts, tying a franchise record. He'll face the Brewers on Wednesday night trying improve on a 24-game stretch in which he's 20-1 with an 0.86 ERA, 33 walks and 173 strikeouts.
"There's food and supplements that you can take legally that will better your body and help you stay healthy," Arrieta said. "Shortcuts are something that's always been around all sports, but as a union, we're trying to do the best we can to weed those guys out of the game."