NLDS: 'Been there, done that' Cubs vs. zero-series-won Nats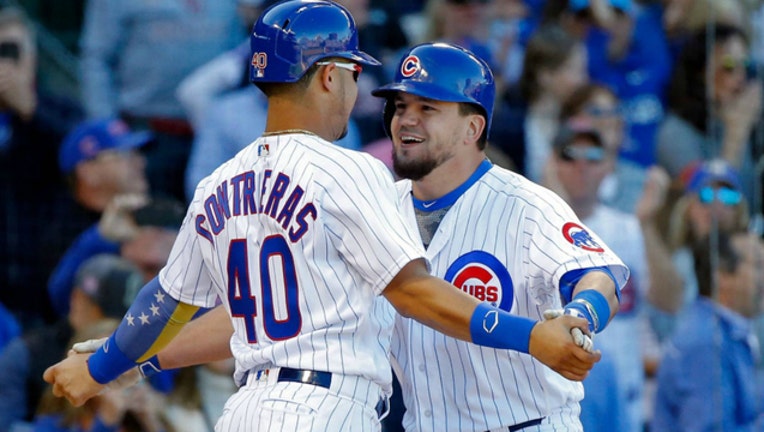 article
WASHINGTON (AP) - As Kris Bryant, Anthony Rizzo and the rest of the Chicago Cubs begin their bid for the franchise's first World Series championship in, um, one year - not quite the same panache to it as "more than a century," eh? - they'll take on Bryce Harper's Washington Nationals, a club with a brief history of postseason failures.
The "been there, done that," as Cubs manager Joe Maddon put it before his team's workout at Nationals Park on Thursday, can matter.
"Coming into this postseason, we have a 'knowing' that we didn't have last year," Maddon said. "I would want to believe that coming into this year, we have an eagerness about us without an anxiety about us. When you approach an 'unknowing' situation, you tend to be more anxious, as opposed to eager or excited about being in that moment, because: 'Hey, I kinda like this. We've done this before. I know that we can.'"
What the Cubs got done last season by coming back to edge the Cleveland Indians in the Fall Classic is, of course, the sort of thing the Nationals would love to accomplish.
Yet when their best-of-five NL Division Series opens Friday night, with Stephen Strasburg starting for host Washington against Kyle Hendricks, the Nationals will be seeking to advance past a round for the first time since moving from Montreal in 2005.
Does that difference in recent postseason success play a role?
"A little bit. Having been through it before, having played all the way through a Game 7 in the World Series, I think that does count for something," acknowledged Nationals closer Sean Doolittle, acquired in July as part of a bullpen makeover.
But, he added, "There's a lot of guys in here with a lot of playoff experience, a lot of guys that have won some World Series and won some rings. We do have enough experience that neither one of those teams is going to get caught off-guard by the emotions or by the energy of the situation."
Actually, only one position player who will be on Washington's NLDS roster has a ring: outfielder Jayson Werth, who won a championship with the 2008 Philadelphia Phillies and whose $126 million, seven-season Nationals contract is about to expire.
With him, Washington has won four NL East titles in the past six seasons, but all they have to show for it are NLDS exits in 2012, 2014 and 2015.
"Of all the years that I've been here," Werth said, "this is the year where we have the best chance, we're in the best shape, to keep playing and play as long as we can. ... I love our chances."
While the Cubs had to - and did - finish strong, going an NL-best 49-25 after the All-Star break to overtake the Milwaukee Brewers and win the NL Central, the Nationals ran away from a mediocre division they clinched nearly a month ago and won by 20 games.
"There's pros and cons to both. I think we got a chance to rest a little bit, and they had to, I guess, go full throttle through the majority of the year. But it also hurts us a little bit," Washington shortstop Trea Turner said. "We probably took our foot off the gas for a little and relaxed, which is not always a good thing."
Here are other good things to know about the NLDS between the Cubs and the Nationals:
BAKER'S OLD TEAM: Nationals manager Dusty Baker was in charge of the Cubs from 2003-06 - does the name Steve Bartman ring a bell? - and he spoke this week about having a little extra motivation against a team where his stay "ended on not very good terms." Said Baker: "Not a whole bunch fazes me after I left Chicago. It was a little rough." His two-year contract with Washington ends after 2017; the team told him it wouldn't discuss an extension until after the season.
HARPER'S STATUS: Harper, the 2015 NL MVP, missed about a quarter of the regular season with a hyperextended left knee, returning in the last week to go 3 for 18 in five games. "Came back as healthy as can be," he said.
ROTATIONS: Some questions remained about the teams' pitching staffs as of Thursday. Two-time Cy Young Award winner Max Scherzer was ruled out of starting Game 1 - and maybe Game 2, too - for Washington because of a bothersome right hamstring. And Maddon wouldn't even commit to having three-time World Series champion John Lackey in his bullpen, let alone the rotation.
MURPHY VS. CUBS: Maddon joked that he wishes Washington 2B Daniel Murphy still played for the New York Mets. Well, maybe it wasn't a joke. That's because back when he was in New York, Murphy dominated the Cubs in the 2015 NL Championship Series, hitting .529 with four homers and six RBIs, part of his record postseason run of six consecutive games with a longball.
LIND, FINALLY: Nationals backup 1B-LF Adam Lind heads to the playoffs for the first time in an MLB career that began more than a decade - and precisely 4,577 at-bats - ago. His 1,344 games were the most among active players without a postseason appearance.
___
Follow Howard Fendrich on Twitter at http://twitter.com/HowardFendrich
___
More AP baseball: https://apnews.com/tag/MLBbaseball