O'Brien says Texans have discussed signing Kaepernick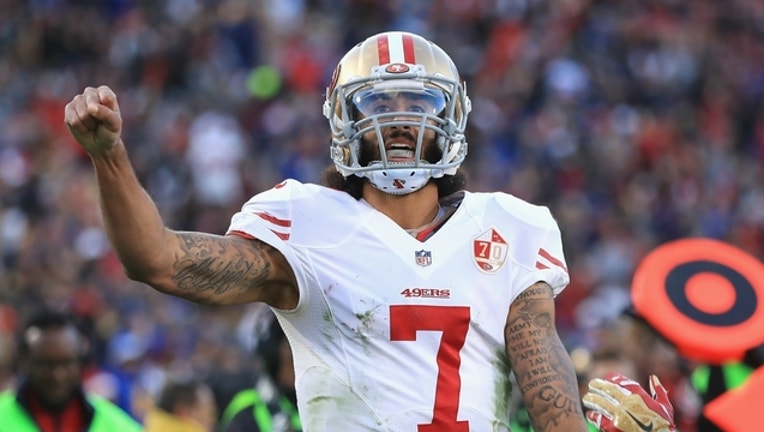 article
HOUSTON (AP) - Houston Texans coach Bill O'Brien says he and general manager Rick Smith have discussed signing Colin Kaepernick in the wake of last week's season-ending injury to Deshaun Watson.
When asked about Kaepernick on Monday, a day after Tom Savage struggled in a 20-14 loss to the Colts, O'Brien said: "We talk about the roster and what's out there every day Rick and I."
O'Brien was then pressed on whether they have specifically discussed about adding Kaepernick.
"Oh yeah, everybody gets discussed," he said. "Is that a problem? Isn't that the way most teams do it. People seem shocked by that."
Kaepernick, the former 49ers quarterback, began the national anthem protest movement by kneeling last season. He remains unsigned and has filed a complaint that team owners colluded against him because of the protests, which are aimed at police brutality against African-Americans and other social justice issues.
O'Brien was pressed several times Monday about whether the Texans would sign Kaepernick if it were his decision. He avoided answering the question directly, saying that his job is simply to "coach the football team."
After that he was asked if he believes signing Kaepernick would make that job easier.
"Uh, that's an interesting question," he said before pausing for a couple of seconds. "I would tell you that I like the guys that we have and we're going to continue to coach them and try to do a better job of coaching them."
The Texans have not been very active in anthem protests, but the majority of the team kneeled during the anthem before a game on Oct. 29 at Seattle after a report revealed that team owner Bob McNair said, "We can't have the inmates running the prison," during a meeting of NFL owners about players who protest by kneeling. No member of the team kneeled this week before Houston's annual salute to service game to honor members of the military.
Houston is looking for answers to get its offense back on track and try to make a push for a third straight playoff berth. The Texans fell to 3-5 with the loss to Indianapolis and are two games behind Tennessee and Jacksonville, who are tied for first place in the AFC South.
Savage started Houston's season opener but was benched for Watson after a terrible first half. He moved back into the starting role this week after Watson tore an anterior cruciate ligament Thursday. Savage looked much the same as he did in the opener on Sunday and failed to move the offense for the majority of the day.
After Watson had helped the Texans score 30 or more points in a franchise-record five straight games, Savage led the offense on just one scoring drive. That came midway through the fourth quarter. The Texans, whose first touchdown on Sunday came on a fumble return, had a chance to win on the last play, but Savage was sacked and fumbled.
Houston signed T.J. Yates and Matt McGloin on Friday to back up Savage, but his performance Sunday led to questions whether Kaepernick would be a better choice to run O'Brien's offense than any of those three.
O'Brien said he's studied Kaepernick since he was in college, but avoided any comparisons between him and the quarterbacks on Houston's roster.
"Colin Kaepernick's a good football player, hasn't played football in a while," O'Brien said. "But these things are discussed daily and they'll continue to be discussed."