Paralyzed Chicago Cougars hockey player Matt Olson to return home soon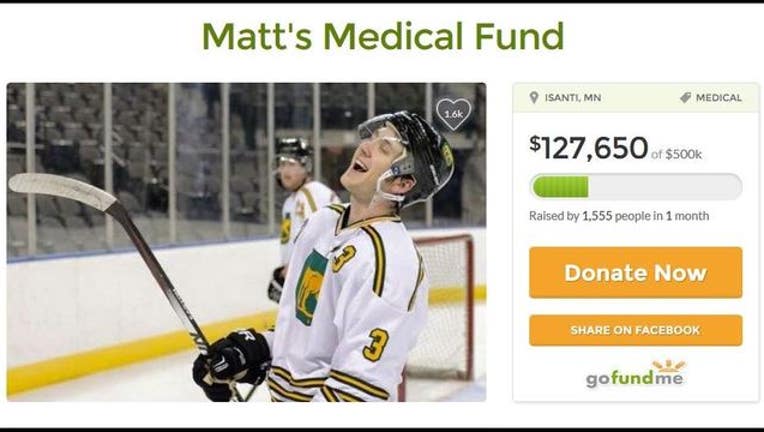 article
PARK RIDGE (FOX 32 News) Matt Olson, a 20-year-old Chicago Cougars hockey player who suffered a spinal cord injury during a game, is expected to return home to Minnesota soon.

   Matt Olson, a junior league defenseman with the Chicago Cougars, was hurt during a game Feb. 21 at the Sears Centre Arena in Hoffman Estates. He received a rare adult stem cell treatment at Advocate Lutheran General Hospital in Park Ridge, where he's been recovering since the injury.

   He's unable to move below the shoulders because of the severe spinal injury, but doctors are optimistic that he will recover.

   His family said in statement Thursday that he's doing well and will return to his home in Isanti, Minnesota, to continue his rehab.

   "In the next week or two, when Matt is ready, we will be heading back to Minnesota where Matt will continue his rehab," his parents, Sue and Doug Olson, said in the statement. "According to his Occupational and Physical Therapy teams, everything is going well, and other than a little bout with pneumonia, he is right about where they expect him to be."

   Olson's parents have lauded the Chicago Blackhawks and Minnesota Wild organizations for their efforts to help pay for his medical costs. Both teams will wear stickers on their helmets Tuesday to show support for Olson when they meet for a game in St. Paul, Minnesota.

   At a news conference on March 8, neurosurgeon Dr. John Ruge, said the stem cell treatment was made available to Olson "through the hockey community" that has rallied around him since his injury.

   The treatment has proved to be effective in stroke patients, but it was the first time doctors in the U.S. used it on a patient with a spinal cord injury. Doctors at the hospital hoped the experimental treatment would reduce or prevent Olson's injury from getting worse.

   "Words cannot express how thankful we are to the Chicagoland community for taking us in and treating us like family. The love and support has been nothing short of amazing," the Olson family said in the statement.

   A crowdfunding page for Olson has raised more than $126,000.