Parker looks to get career back on track with hometown Bulls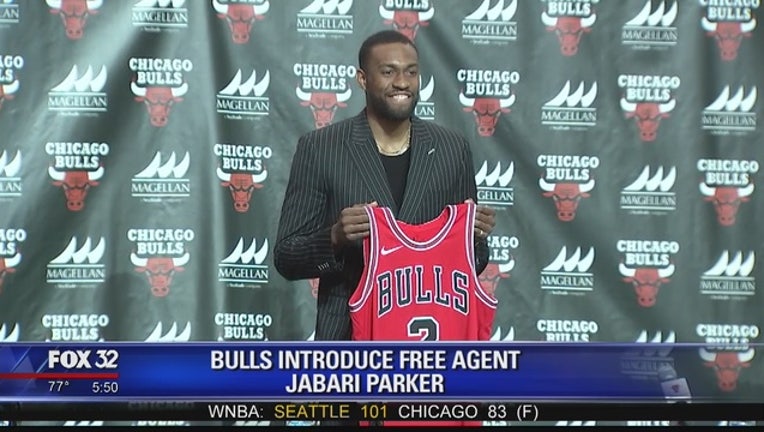 article
CHICAGO (AP) - Jabari Parker recalled playing on the court with the Chicago Bulls' logo as a young child.
It was at the James Jordan Boys and Girls Club where his dad was a supervisor and not the nearby United Center. But it sure felt big time to him.
"It was like our United Center, that gym," he said.
Now, the United Center is his home arena.
Parker agreed Saturday to a $40 million, two-year contract with the Bulls, hoping he can get his promising career back on track after tearing the anterior cruciate ligament in his left knee two times in four seasons with the Milwaukee Bucks.
"No better way to live a dream as a kid than playing down the street from where I grew up -- the James Jordan Boys and Girls Club," Parker said Wednesday.
The son of a former NBA player, Parker seemed destined for big things. He led Simeon Career Academy on Chicago's South Side to four state championships, graced the cover of Sports Illustrated, and when he committed to Duke, the announcement was televised nationally. A year later, the Bucks drafted him with the No. 2 overall pick, thinking he would help lead them to prominence in the Eastern Conference. But it didn't quite work out that way.
Parker tore his ACL for the first time just 25 games into his rookie season. He was having his best year in 2016-17, averaging 20.1 point and 6.2 rebounds, when he tore the ACL again that February. Parker played in 31 games last year, averaging 12.6 points and 4.9 rebounds.
Now, instead of playing in a dynamic combo with Giannis Antetokounmpo and the rest of the Bucks, Parker will try to help a rebuilding team. The Bulls see a talented and versatile 23-year-old who could give them a big boost, assuming he stays healthy.
"We're looking at it as a great opportunity for our basketball team to improve, for Jabari to be a part of this," executive vice president of basketball operations John Paxson said. 
With his ability to score inside and outside, Parker could give the Bulls another potent option to go with Lauri Markkanen and Zach LaVine in coach Fred Hoiberg's pace-and-space system. 
Defense could be an issue, particularly when Parker and LaVine are on the court together. But Hoiberg sees them fitting in "very well" because of their athleticism in a system that emphasizes more switching.
Parker insisted he can play at the level he did prior to his second ACL tear, saying he "pretty much" showed it last season, and that the setbacks he has experienced will make him a better player.
He also said he plans to reach out to former Bulls star and fellow Simeon product Derrick Rose about suiting up for the hometown team. He jumped to the defense of his fellow South Sider, who went from No. 1 pick to Rookie of the Year to All-Star to MVP before knee injuries derailed his run in Chicago.
"Derrick had no lows," Parker said. "He didn't. Because he still maintained. Derrick is a legend, no matter what. I don't like how you explained that. No rise and falls. Injuries are a part of life. Everybody has an injury, either athletics or normal life. Derrick is one of the best players to ever play the game and one of the best icons of Chicago. He accomplished his duty already."
Parker spoke near the Michael Jordan statue in the concourse of the United Center. And while he certainly understands what arguably the greatest NBA player ever meant to the franchise and the city, he was just born when the Bulls launched their second three-peat.
Parker has a strong link to Rose, from starring at Simeon to experiencing knee injuries and now playing for the home team. If he does re-establish himself with the Bulls, it would be something Rose never really was able to do once he tore the ACL in his left knee during the 2012 playoff opener against Philadelphia.
For Parker and his family, it was quite a moment. His mom, Lola Parker, was thrilled Jabari mentioned he wants to work with the Chicago Public Schools during the news conference.
"I'm excited," she said. "I'm proud that Jabari hasn't forgotten where he's from. We haven't sold our house. We always kept it because we're always in and out. It's pretty exciting for us."