Raiders select Illinois defensive end Jihad Ward in 2nd round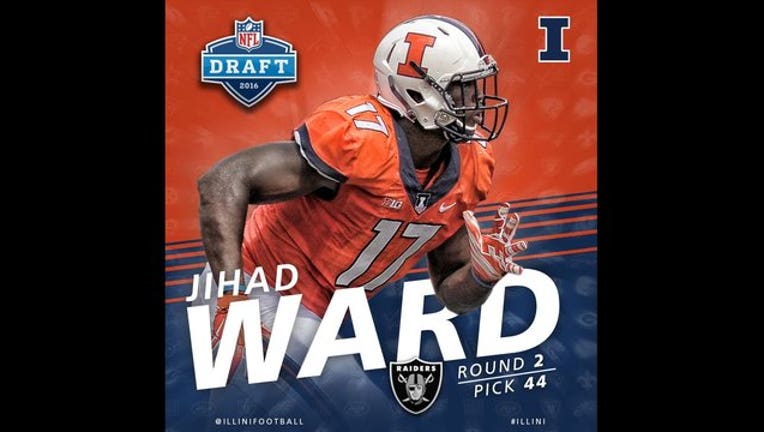 article
ALAMEDA, Calif. (AP) - Jihad Ward's path to the NFL included spending two years in junior college and a rare position change — moving from safety and wide receiver to the defensive line.
The Raiders plan to give Ward a more consistent environment and took what they hope is another step toward shoring up their defense at the same time.
Oakland selected Ward, a defensive end from Illinois, with the 44th overall pick in the NFL draft Friday, one day after using its first-round pick on West Virginia safety Karl Joseph.
"I was patiently waiting for the phone call," Ward said. "It didn't matter what round I was in. It could have been the third or the fourth. I just couldn't wait for the phone call because it's like a dream come true."
Ward had 104 tackles with 4 ½ sacks and 12 tackles for loss during two seasons with the Illini, though his numbers were down in 2015 after he underwent surgery to repair a torn meniscus in his right knee.
"The numbers don't lie but that's how you learn from situations," Ward. "Everybody knows I didn't have good numbers last season, everybody knows that, but it's all about getting better."
The 6-foot-6, 295-pound Ward suffered the injury during the first week of practice in August and was expected to miss the first month of the season recovering from surgery but wound up playing in all 12 games.
Although reports surfaced during the draft that he might be facing additional surgery on the same knee, Ward said he is completely healthy. At the same time, he didn't rule out the possibility of having his knee worked on again.
"I'm 100 percent clean on that one," Ward said. "I'm healthy. If I need to get checked out again, we can check it out. It depends on the team. I feel fine. If I need surgery or something like that, I'll get it."
Oakland added another defensive end when it drafted Michigan State's Shilique Calhoun in the third round with the 75th overall selection.
The Raiders' decision to draft Ward and Calhoun raises questions about the uncertain health of second-year defensive end Mario Edwards Jr., a second-round pick last year who suffered a neck injury late during his rookie season.
Edwards has been doing some rehabilitation work at the team's practice facilities, and coach Jack Del Rio and general manager Reggie McKenzie have spoken optimistically about Edwards' return. Still, it's not known if he will be ready for the start of training camp.
Ward could possibly work with Oakland's starting defense in Edwards' place if he's not back.
Ward started all 25 games with Illinois while splitting time at defensive end and tackle following his two-year stay at Global Institute of Technology in New York where he played mostly on offense.
The transition to defensive line seemed natural for Ward, who had physically outgrown the other positions he had been playing — including some tight end.
"I was just getting big," Ward said. "I started getting heavier and heavier. When you're in JuCo you have to find out what position that you're going to (play) in Division I. I liked the D-line better and we just stuck with it."
The 6-5, 250-pound Calhoun had 27 career sacks at Michigan State — second on the school's all-time list — including 10 ½ as a senior. Calhoun was also the Big Ten defensive player of the year in 2013.
Oakland has used its first three picks on defense after finishing 22nd overall last season.
___
AP NFL website: www.pro32.ap.org and www.twitter.com/AP_NFL