Stroman runs his winning streak to 7, helping the Cubs beat the Pirates 4-0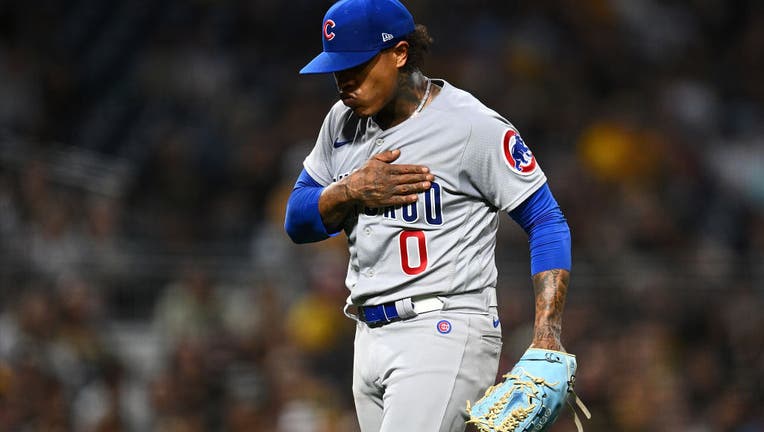 article
PITTSBURGH - Marcus Stroman doesn't pour over analytics. That's simply not his style. The Chicago Cubs ace likes to think he gets by on confidence and elite stuff.
He's got plenty of both at the moment.
Stroman limited the Pittsburgh Pirates to five hits over seven masterful innings in a 4-0 victory Tuesday night to push his personal winning streak to a career-best seven games, though he insists he's not keeping track.
"I'm not someone who overanalyzes lineups," Stroman said after improving to 9-4. "The last thing I want to do is be negative in any at-bat, in any moment. I don't (ever) want to think that the hitter that I'm facing is better than I am. So I just attack."
Stroman struck out five against one walk while shaving his ERA to 2.28, tops in the National League. He hasn't lost in well over a month, a stretch in which his game plan is pretty much to listen to whatever catcher Tucker Barnhart calls and go from there.
"(He) allows me to be creative, allows me to see the game and play the game," Barnhart said. "(It's) like you're in high school, you know ... like playing a video game."
Stroman used six efficient innings to beat Pittsburgh last week at Wrigley Field. He was even better at PNC Park. While the Pirates pecked away occasionally — putting at least one runner on base in five of Stroman's seven innings of work — they never really came close to breaking through.
Pittsburgh's best chance to make a game of it came in the seventh when Joe doubled with one out and Ji Hwan Bae walked two batters later. Pinch-hitter Cal Mitchell — called up from Triple-A Indianapolis earlier Tuesday — put together an eight-pitch at-bat that included a liner to the left-field corner that was foul by a foot or two. Stroman struck out Mitchell with a 93 mph sinker two pitches later to end the threat.
Stroman's surge began with a 10-1 win over Philadelphia on May 19. He has a 1.29 ERA during a span that has helped the Cubs steady themselves during an otherwise erratic stretch in which they have struggled to gain momentum.
"I'd say he's the MVP of our group so far," Cubs manager David Ross said.
Barnhart hit his first home run of the season for the Cubs. Mike Tauchman homered for the second time in three games and Ian Happ added two hits against his hometown team as Chicago won for the seventh time in eight games after posting their ninth shutout of the season, tied for the most in the majors.
"We're just playing good team baseball where all departments are carrying their weight and that puts for a good product and a good chance to win every single night," Ross said.
PUNCHLESS PIRATES
Ke'Bryan Hayes and Connor Joe had two hits each for the Pirates, but Pittsburgh's losing streak reached eight thanks to an offense that offered little support behind starter Johan Oviedo (3-7).
Rookie Henry Davis, the top pick in the 2021 draft who doubled in his major-league debut Monday night, went 0 for 4 as the designated hitter.
The Pirates called up Davis in hopes his arrival could help an offense that has fallen flat. Pittsburgh has yet to score a run with Davis in the lineup and has managed 17 runs in all during a skid that's dropped the Pirates from first to fourth in the NL Central and seen them shut out three times.
Oviedo was sharp in general, giving up two runs on five hits with three strikeouts and no walks. Yet his solid performance was undone — as Osvaldo Bido's was in an 8-0 loss on Monday night — by an offense that has fallen into a funk that has dampened the enthusiasm from a couple of brief stints atop an underwhelming division.
"Offense creates energy," Pittsburgh manager Derek Shelton said. "When you go through a stretch, especially with young players, it will speed up on you a little bit. I think that's where we're at right now."
TRAINER'S ROOM
Cubs: SS Dansby Swanson was hit in the wrist by a pitch in the fourth inning. He remained in the game but Ross said afterward that Swanson is being evaluated. RHP Codi Heuer (right elbow) is scheduled to pitch an inning for Triple-A Iowa on Wednesday.
Pirates: Held CF Bryan Reynolds out of the lineup due to lower-back tightness. Shelton said Reynolds had been dealing with the issue for about a week but does not anticipate Reynolds needing to go on the injured list. ... OF/DH Andrew McCutchen was a late scratch due to a sore right elbow.
UP NEXT
The series concludes Wednesday. Kyle Hendricks (2-2, 3.18 ERA) gets the start for Chicago against Pittsburgh's Rich Hill (6-6, 4.31).