Tight Blues-Blackhawks series shifts to Chicago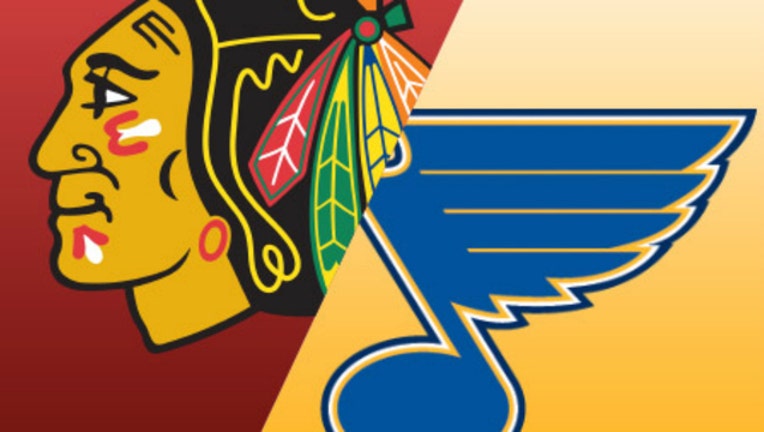 article
CHICAGO (AP) — St. Louis coach Ken Hitchcock planted the seed right after the Blues' dramatic loss in Game 2. When it comes to the officiating, Hitchcock said, the close calls go in the direction of the defending Stanley Cup champions.
That was news to Joel Quenneville, who is trying to coach the Chicago Blackhawks to their second straight title and fourth in seven seasons.
"Not at all," Quenneville said Saturday when asked if he felt the champs get more breaks from the officials.
Oh yes, the battle is on for every little inch in the tight first-round playoff series. After St. Louis won the opener 1-0 on David Backes' overtime goal off the skate of Blackhawks defenseman Trevor van Riemsdyk, Chicago rebounded with a 3-2 victory on Friday night that included two crucial coach's challenges that went against the Blues.
Game 3 is Sunday in Chicago (3 p.m. EDT, NBC). The Lightning also look for a 3-0 lead against the Red Wings, the Panthers play the Islanders in Game 3 of their deadlocked series, and Nashville goes for two in a row at Anaheim.
"Yesterday was about as dramatic as you could get and we're going to have to come back on a very short rest here, so this is short for both teams to be able to handle it and amp it up again for tomorrow because I don't see either team leaving anywhere right now," Hitchcock said.
It looked as if the Blues had a 2-1 lead in the third period of Game 2, but Vladimir Tarasenko's tiebreaking goal was disallowed when a challenge by Quenneville led to a lengthy review and an offside ruling on Jori Lehtera that was as close as they come. Then Hitchcock's challenge on Andrew Shaw's goal off a scrum in front was unsuccessful.
It was an uplifting victory for Chicago and a difficult loss for St. Louis. It remains to be seen if it has any effect on the rest of the series.
"It's frustrating, yeah, but I think once we woke up this morning, we already forgot about it and we're focused on tomorrow," Blues center Paul Stastny said.
The Blackhawks play their first home playoff game since they hoisted the Stanley Cup at the United Center last June. They are 28-6 at home in the postseason over the last three years.
"Coming out of these two games, we know we have our hands full," Quenneville said. "It's been an amazing pace, tight as can be, close as can be, not a lot of room would be expected in that area. I don't foresee much change."
___
Lightning at Red Wings, Tampa Bay leads 2-0, 7 p.m. EDT, CNBC
Tampa Bay's Tyler Johnson is doing it again.
With captain Steven Stamkos out one to three months after undergoing surgery to treat a blood clot near his right collarbone, the line of Johnson, Nikita Kucherov and Alex Killorn has stepped up in leading the defending Eastern Conference champions to a 2-0 series lead over the Red Wings.
"You're learning that last year's playoffs were not a fluke," Lightning coach Jon Cooper said after Johnson had two goals and two assists in a 5-2 win in Game 2.
Johnson had 13 goals in 26 playoff games last year. He has two goals and four assists so far in this postseason.
The Red Wings outshot the Lightning in each of the first two games, but Tampa Bay's Ben Bishop has outplayed Jimmy Howard in the goaltender matchup.
"They took care of their home ice," Detroit left wing Henrik Zetterberg said, "and we've got to go home and do the same."
___
Panthers at Islanders, tied 1-1, 8 p.m. EDT, NBCSN
It looks as if Islanders center John Tavares and Panthers goaltender Roberto Luongo could be headed for a nice little playoff duel.
Tavares is one of the hottest players in the league, with nine goals and nine assists in his last 12 games dating to the regular season. He had a goal and two assists in New York's 5-4 win in Game 1, and extended his goal-scoring streak to six in a row during Friday's 3-1 loss at Florida.
The captain is looking forward to the Islanders' first playoff game in their new home at Brooklyn's Barclays Center.
"We know what kind of environment our fans can create and we're counting on them and we want to feed off of them," Tavares said.
Luongo bounced back from a shaky playoff opener with 41 saves in Game 2 for his first playoff win in five years. The solid performance by the 37-year-old goaltender included a pair of big stops on Tavares during a power play for New York early in the third.
___
Predators at Ducks, Nashville leads 1-0, 10:30 p.m. EDT, NBCSN
Anaheim played the final two periods of its 3-2 loss in Game 1 with five defensemen after Josh Manson left with an upper-body injury. But Kevin Bieksa might be able to return Sunday after missing 10 straight games.
Bieksa had four goals and 11 assists in 71 games this season. He has 10 goals and 15 assists in 71 career playoff games.
"We'll see tomorrow," Bieksa said. "This is playoff time. There's been some information going around about some of the injuries on our team, and you're not going to get any out of me. If I play tomorrow, I play tomorrow."
While Anaheim is battling injuries with its blueliners, the defensemen for the Predators got off to a nice start in Game 1. Ryan Ellis and Roman Josi each had an assist. Josi played a team-high 28-plus minutes and Shea Weber logged four shots while playing a little more than 27 minutes.