Trubisky, Bears showing hope as they head into bye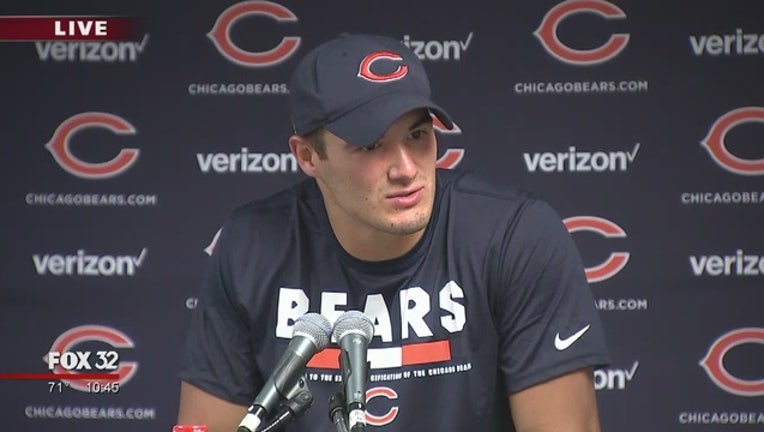 article
LAKE FOREST, Ill. (AP) - Had the plan unfolded the way the Chicago Bears envisioned, quarterback Mitchell Trubisky probably would still be holding a clipboard.
The No. 2 overall draft pick got thrust into the starting lineup sooner than anticipated. And with that, the adjustment accelerated, the learning curve ramped up, a few gears.
Though the results so far are mixed, there is hope for him - and the franchise, too.
The Bears (3-5) hit their bye and the halfway mark of the season showing signs they're starting to head in the right direction, though they are last in the NFC North.
They have matched their win total from last year's 3-13 nightmare, and their defense is starting to pile up the takeaways. Chicago has 11 on the season, eight in the past three games. The Bears put together back-to-back wins for the first time since 2015 before a tight loss to Drew Brees and the NFC South-leading Saints at New Orleans last week.
But as promising as that sounds, the Bears' long-term success largely hinges on their prized quarterback's development. With his arm strength and quickness, Trubisky gives Chicago hope, though he is far from a finished product.
"I just need to be more efficient and continue to take care of the football, but be aggressive at the same time," Trubisky said. "I need to make more plays for this offense while playing within the offense and being myself and continuing to be a leader. We need to score more points. You've seen us moving the ball and we just have to continue to not make mistakes and finish with points."
In the four games since he took over for the struggling Mike Glennon, Trubisky has completed 38 of 80 passes for 512 yards with a 66.2 rating. He has been sacked 11 times and has as many touchdown passes (two) as interceptions. He got picked off trying to hit tight end Zach Miller late in his debut against Minnesota, leading to a winning field goal for the Vikings. Against New Orleans, an apparent miscommunication with Tre McBride led to another interception that sealed the Saints' win.
But there have been those tantalizing flashes, like a 27-yard on-the-run touchdown pass to Dion Sims against Baltimore. And a 70-yard completion to Tarik Cohen against Carolina in an otherwise quiet game. Trubisky also has 110 yards rushing.
"When my feet are right and my eyes are right, I'm on the money," he said. "But when I change up or do the wrong footwork or my base isn't good because of the rush in the pocket, that's usually when the inaccuracies come."
A decimated corps of wide receivers, Miller's career-threatening leg injury against New Orleans, and a banged-up line add to the difficulties. Trubisky wasn't even supposed to be the starter, of course.
The Bears opened the season with Glennon as their No. 1 quarterback, thinking Trubisky would basically redshirt. After all, he started just 13 games at North Carolina. But Glennon struggled, so the Bears made the switch following a blowout loss at Green Bay in Week 4.
"You've got to trust your feet and trust your eyes," veteran backup Mark Sanchez said.
That trust comes with developing a familiarity with the system, timing with receivers, and knowing what works against certain defenses.
"He's doing a lot of this for the first time," Sanchez said. "If you think about it as a defensive coordinator, these guys stay up all night and they try to wreck your day on Sunday. These guys aren't knuckleheads. They know what the hell they're doing."
Most encouraging to quarterbacks coach Dave Ragone are Trubisky's work ethic, instincts and understanding of the game. They stand out more than the spotty completion percentage.
Ragone sees a quarterback with an unflinching demeanor who learns from his mistakes. One who can point out what works and doesn't work when he looks at the video. A guy who understands when to throw the ball away rather than force a pass. And who knows how to connect with his teammates.
"I think his football IQ, in terms of the feel of the game, he's a really good feel player," Ragone said. "He's done this multiple times. He'll leave (offensive coordinator Dowell) Loggains' and my side and go talk to his teammates. That's not forced. That's leadership. He's got an innate ability of when to do that, and all those things kind of add together in terms of the makeup of a quarterback. Things that don't go on a stat line.
"But as you're sitting there and you're truly judging a player and the totality of who he is and what he needs to do - or who he is to his teammates - in my opinion he's done a great job of understanding how to push, how to pull on his teammates. And they've obviously responded to him."
___
For more NFL coverage: www.pro32.ap.org and http://twitter.com/AP_NFL