Trubisky to open season as Bears' No. 2 quarterback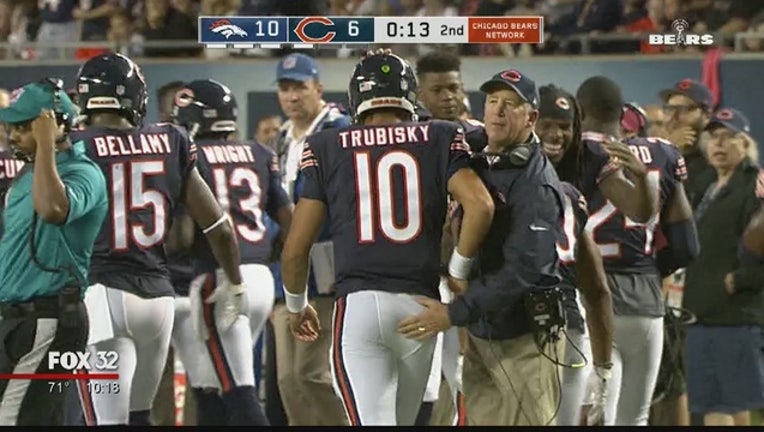 LAKE FOREST, Ill. (AP) - No. 2 overall draft pick Mitchell Trubisky will open the season as the Chicago Bears' No. 2 quarterback.
Coach John Fox said Trubisky will back up Mike Glennon when the Bears host the defending NFC champion Atlanta Falcons on Sunday.
The Bears had said they would treat this as sort of a redshirt season with Trubisky behind Glennon and veteran Mark Sanchez.
But after starting 13 games at North Carolina and working primarily out of the shotgun, the rookie has come along quicker than anticipated.
"How fast they absorb and how fast they can connect to the pro game as well as to your offense - I think he surpassed everybody's feeling, all the coaches, the personnel, I know for myself, and I think his teammates," Fox said on Wednesday.
"I think we were asked to evaluate him all the way through. Everybody was pretty impressed how fast he picked things up."
General manager Ryan Pace once again insisted Glennon is the starter. But the question remains is for how long.
Trubisky dazzled at times in the preseason and sparked a debate in Chicago over who should start.
That probably won't end anytime soon, particularly if Glennon struggles early on. After all, the Bears made a big move on draft night when they traded up a spot with San Francisco to take Trubisky.
They did that after Glennon signed in March to replace Jay Cutler as the starter. Now, at least some fans in Chicago are wondering why the job isn't Trubisky's.
"(Glennon is) a very smart, intelligent player," Pace said. "There's a lot that went into that evaluation. He has a lot of experience that we're leaning on. He was voted a captain for a reason by that locker room. We're ready to watch it unfold."
The Bears were decimated at quarterback last season on the way to a 3-13 record and last-place finish in the NFC North. Things got so bad that they had to go with Matt Barkley because Cutler and Brian Hoyer were injured.
Pace believes he addressed the position for the short term and long term by bringing in Glennon and Trubisky. The Bears didn't envision Trubisky settling in as quickly as he has.
He appears poised and rather comfortable taking snaps under center after playing in a spread offense in college. He is able to adjust at the line, pick up blitzes. And his arm strength and athleticism are impressive.
"It's just happened faster than anticipated, but he deserves a ton of credit because he works his tail off in virtual reality and studying his playbook and watching his iPad," offensive coordinator Dowell Loggains said. "All those things, he earned the spot, he put himself in position to be successful, really."
As for Glennon, he will be tested right from the start against a team that blew a 25-point lead in an overtime loss to New England in the Super Bowl. It's a big opportunity for a quarterback who barely played behind Jameis Winston the past two years in Tampa Bay.
Now, there is another highly touted prospect right behind him.
"(Trubisky) just had more command and conviction out there, you could tell," Glennon said. "He was more comfortable in the huddle, getting to the line of scrimmage. It takes a little time as a rookie to adjust to that and I thought starting at the end of OTAs is when I started seeing that."
Putting Trubisky in the No. 2 spot also raised questions about Sanchez's role. But the Bears insist there is one for him, that they value his leadership. They believe he can help Glennon and Trubisky.
"We were honest and upfront with Mark about the reasons we value him," Pace said. "It starts with he's a good player. But it also goes into all the intangibles he brings, what he brings to our locker room and what he brings to the quarterback room."
___
For more NFL coverage: http://www.pro32.ap.org and http://www.twitter.com/AP_NFL