US looking to clean up defense on set pieces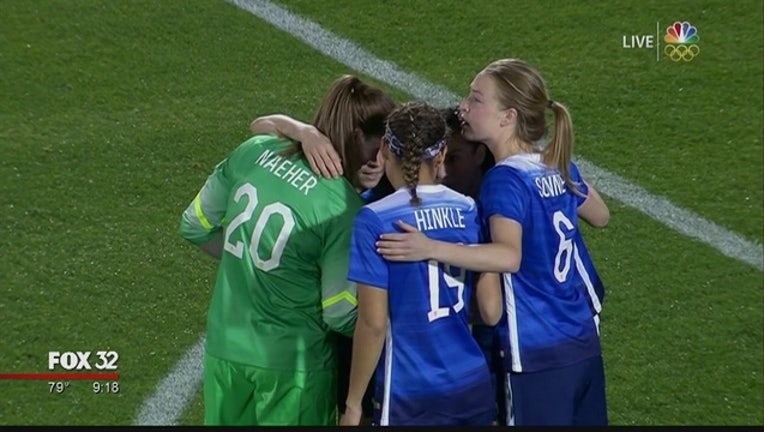 article
CHICAGO (AP) - The corner kick traveled with the United States halfway across the country, and it likely will stick around for a few more days.
The U.S. men's national team is looking for tighter defense on set pieces after Colombia scored its first goal of Copa America on a corner in the first half of its 2-0 victory over the Americans on Friday night in California. Facing a must-win game against Costa Rica on Tuesday night at Soldier Field, the U.S. could make an early exit from the tournament with a similar lapse.
"Of course, it's always bad to get (caught) on set pieces, but we get prepared now to do it better the next time," defender John Brooks said Sunday before practice.
There was no score between the U.S. and Colombia when Cristian Zapata eluded defender Geoff Cameron and volleyed Edwin Cordona's corner past goaltender Brad Guzan for a 1-0 lead. U.S. captain Michael Bradley was guarding Daniel Torres when Zapata looped around the pair to get open for his first goal in 42 international appearances.
Cameron said after the game that Mexican referee Roberto Garcia instructed him to put his hands down while guarding Zapata, but Cameron took responsibility for the play and said he could have done better.
Colombia added a second goal on James Rodriguez's penalty kick after DeAndre Yedlin was whistled for a hand ball. That was more than enough to create a few anxious days for the Americans before their matchup with Costa Rica.
"Obviously we know we have stuff we need to fix," Yedlin said. "But I think there are also a lot of positives in last game that we can even keep getting better. We just got to focus on the next game and take it step by step."
Defense on set pieces likely will be a topic of conversation in the Americans' preparation for their second Copa game. Forward Clint Dempsey said studying what happened can help on both sides of the field.
"On the corner kick, you can look at that, see how you can be tighter, how you can get around picks to make sure you don't get blocked off," he said. "How we can maybe do a little bit better job on our set pieces, so we look forward to the game."
Costa Rica and Paraguay played a scoreless draw in their Group A opener on Saturday night in Florida. Costa Rica's Kendall Waston received a red card in the 94th minute for a reckless tackle on Nelson Valdez, shelving the key defender for the game against the U.S.
Colombia and Paraguay also play Tuesday night at the Rose Bowl. The top two teams in the group will advance to the next round.
"We always feel confident in our abilities as a team," Dempsey said. "We've been in situations where our backs have been against the wall, and this time it's no different."
___
Jay Cohen can be reached at http://www.twitter.com/jcohenap