White Sox great Minnie Minoso passes away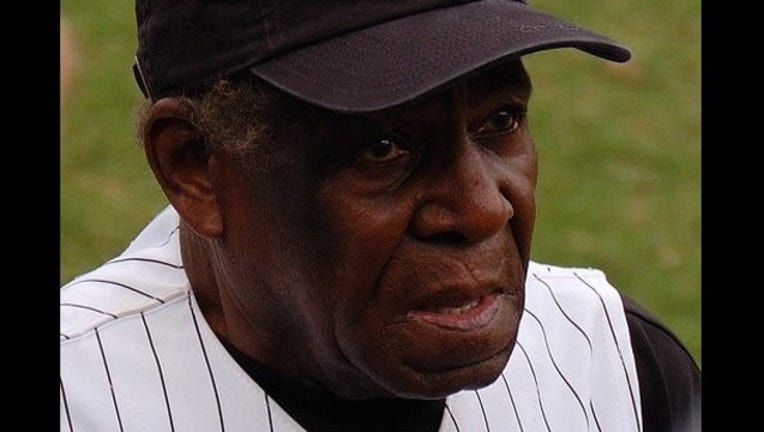 article
Minnie Minoso, the first black player for the Chicago White Sox, passed away Sunday morning. He was 90.
The outfielder was born in Cuba and played 17 seasons in the MLB. He became the first black player in White Sox history on May 1, 1951. He was denied entry into the Hall of Fame last year.
Minoso, who lived in the 3700 block of North Lake Shore Drive, was discovered in the driver's seat of his vehicle in the 2800 block of North Ashland, according to police and the Cook County medical examiner's office. He was pronounced dead at 1:09 a.m.
An autopsy Sunday found Minoso died of complications from COPD and his death was ruled natural, according to the medical examiner's office. Area North detectives are conducting a routine death investigation, police said.
The "Cuban Comet" blazed a trail for Latin American players in the big leagues starting in the 1950s. Minoso drove in 100 runs four times for the Sox and hit .300 or better six times.
"Our organization and our city have suffered a heart-breaking loss today," White Sox chairman Jerry Reinsdorf said in a statement issued by the team. "We have lost our dear friend and a great man. Many tears are falling."
Minoso was denied entry into the Hall of Fame in December, failing to receive the necessary votes from the 16-member Golden Era Committee. Minoso received eight of the 12 votes needed.
"Minnie may have been passed over by the Baseball Hall of Fame during his lifetime, but for me and for generations of black and Latino young people, Minnie's quintessentially American story embodies far more than a plaque ever could," President Obama said in a statement.
"Michelle and I send our thoughts and prayers to his family and fans in Chicago, Cleveland, and around the world."
Minoso played for the Sox from 1951-57, '60-61, '64, and briefly as a player-coach in '76 and '80. He received nine of the 12 votes needed when the Golden Era Committee, which replaced the former Veterans Committee elect candidates not eligible by the Baseball Writers Association of America, first met in 2011. The committee meets and votes every three years.
"I'm very disappointed Minnie and Billy [Pierce] didn't get in because they clearly deserve to get in," Reinsdorf said at the time. "I don't know what player out of the era of the 1950s and early '60s would be more deserving than Minnie.
"You look at the stats and the only people that did better than Minnie did in every category are already in the Hall of Fame."
Minoso's White Sox uniform number 9 was retired in 1983, and his statue was unveiled at U.S. Cellular Field in 2004. His passing comes months after Ernie Banks' death in January. Banks was "Mr. Cub." An emotional Minoso, who attended SoxFest in December, struggled to express his feelings about Banks.
"With the passing of Minnie Minoso, the City of Chicago has lost a legend on and off the field," Mayor Rahm Emanuel said in a statement. "He went from playing in the Negro leagues to reaching the very top of the major leagues, becoming the first African American to play for the White Sox in 1951. His heroics, combining speed and power, brought joy to generations of fans on the South Side and his infectious enthusiasm forever solidified his place as a Chicago icon for the ages. I send my deepest condolences to his family, his friends, and his legion of fans. Soon it will be spring, the Sox will take the field, and 'The Cuban Comet' will be looming large in spirit. Thank you, Minnie for the many great memories."
The White Sox organization referred to him Sunday as "Mr. White Sox."
"When I die, I want to be playing baseball," Minoso once said. "Truly. They don't bury me without my uniform. If I die, I die happy because I was wearing No. 9 for the White Sox."
The same is said of Minoso. As a player, Reinsdorf once said this of Minoso: "I always thought I was looking at a Hall of Fame player. He did everything. He could run, he could hit with power, he could field, he could bunt, he could steal bases. He did everything. He was a complete player. He was one of the most exciting players I've ever seen play, in the mold of a Jackie Robinson."
Said team executive vice president Ken Williams: "I am saddened by the news of Minnie's passing, but when I think of him, laughter and joy come to mind. He was just that way. I only wish he would have lived long enough to see his plaque go up in Cooperstown. He will be missed."
Cubs chairman Tom Ricketts issued this statement: "We are deeply saddened by the passing of Minnie Minoso. Having recently lost one of our all-time greats Ernie Banks, we share the heartache with the White Sox organization and fans everywhere who were blessed to enjoy the talent, heart and passion of Mr. White Sox. He will be forever known as an electric offensive player and great ambassador for the game of baseball."
Minoso was around the ballpark and clubhouse often. Reaction in Sox clubhouse at their spring training facility in Glendale, Ariz. was of sadness. Cuban star Jose Abreu declined to speak until Monday. Catcher Adrian Nieto, who was born in Cuba, said Minoso will be missed.
"He was always there at games and always gave me and Abreu advice," Nieto said. "I'll never forget the piece of advice he gave me and Abreu: 'Just think you're the best but don't say it or walk around like you think you are.' I'll definitely take that for the rest of my career."
Minoso leaves behind his wife of 30 years, Sharon, sons Orestes Jr. and Charlie, and daughters Marilyn and Cecilia, according to a statement from the Chicago White Sox.
Funeral arrangements are still being determined, according to the team.