Another heatwave rolls into Chicago as calendar turns to meteorological fall
CHICAGO - Some of us are still recovering from last week's brief but brutal heatwave, and now we have to brace for another one.
This next heatwave will coincide with the arrival of meteorological fall. We should be fairly comfortable through Thursday in terms of temperatures but then soar to near 90 by Friday. The real heat hits over the weekend and could continue through at least early next week.
Our Fox Model has highs in the lower to middle 90s from Saturday through Tuesday. Higher humidity will accompany the hotter temperatures. This steamy start to September won't be as torrid as last Wednesday or Thursday, but it will be around 15 degrees above average. No records are expected to fall with this heatwave, but that wasn't the case with another September heatwave that hit six years ago.
From Sept. 20 to Sept. 26, 2017, the Chicago area saw record-breaking heat for seven straight days. Those seven consecutive days recorded highs of 92 degrees or hotter. It was only the second time in 50 years that Chicago had seen a streak like that. The highs each day were anywhere between 14 and 23 degrees above average. Until that year, there had never been seven straight days with highs of 90 degrees or hotter entirely during the month of September.
So let it serve as a reminder that September can be awfully steamy. High temperatures during the month have hit 100 degrees or more. Here are three record highs during September that have eclipsed the century mark:
101 degrees on September 1, 1953
101 degrees on September 2, 1953
100 degrees on September 7, 1960
Our Fox Model and longer-range temperature outlook from the Climate Prediction Center have been in agreement about the impending early fall heatwave.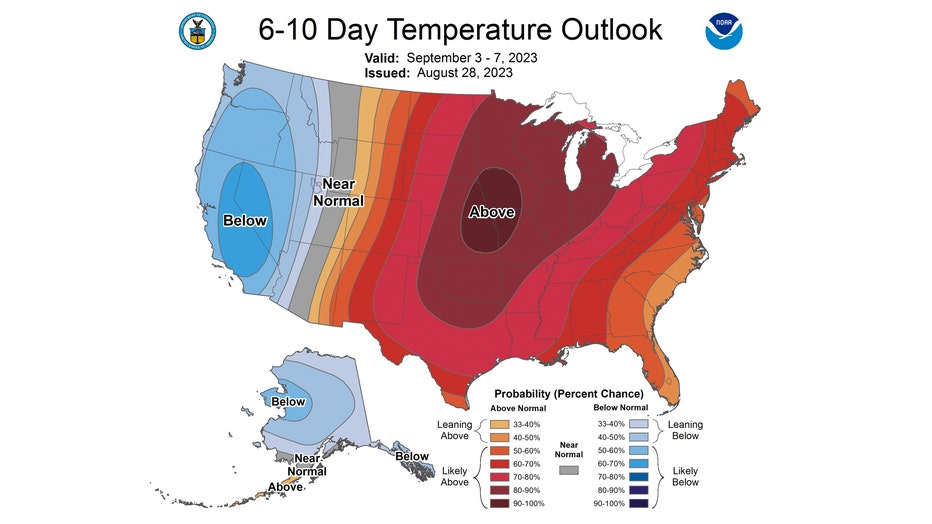 The 6-10 day temperature outlook has us "likely above" normal overall from Sunday through the following Thursday. We have a high probability of seeing temperatures soar well past average during this period. The probability is between 80% and 90%.
The signal is still strong for a hot early fall pattern in the 8-14 day temperature outlook. We are again looking to be "likely above average" overall. The probability of this is around 80% to 100%. The forecast is for the period from next Tuesday through the following Monday.
Hang in there if you aren't a fan of the heat. The average high on Sept. 1 is 80.2 degrees, but it falls to 69.8 degrees by Sept. 30. Cooler air will eventually come.