Severe storms sweep through Chicago area
CHICAGO - A tornado warning was issued Tuesday afternoon for parts of Will County.
The warning, which was in effect until 3:30 p.m., covered Joliet, New Lenox, Mokena and other parts of the southwest suburbs, according to the National Weather Service.
Between a quarter- and half-inch of rain could fall over the Chicago area by the evening. The chance of precipitation in Chicago is forecast at 60%.
The strongest winds, between noon and 6 p.m., could gust at 40 mph, the weather service said. There is also a limited risk of half-dollar-size hail.
The high temperature Tuesday may rise to 87 degrees, but forecasters warned swimmers and boaters to avoid Lake Michigan. Life-threatening waves could rise to 3 or 5 feet.
The Chicago area and northwest Indiana are under a severe thunderstorm watch until 9 p.m., according to the National Weather Service.
The National Weather Service said afternoon storms could generate damaging ping-pong size hail as well as winds strong enough to bring down tree limbs.
FOR THE LATEST UPDATES, DOWNLOAD THE FOX 32 WEATHER APP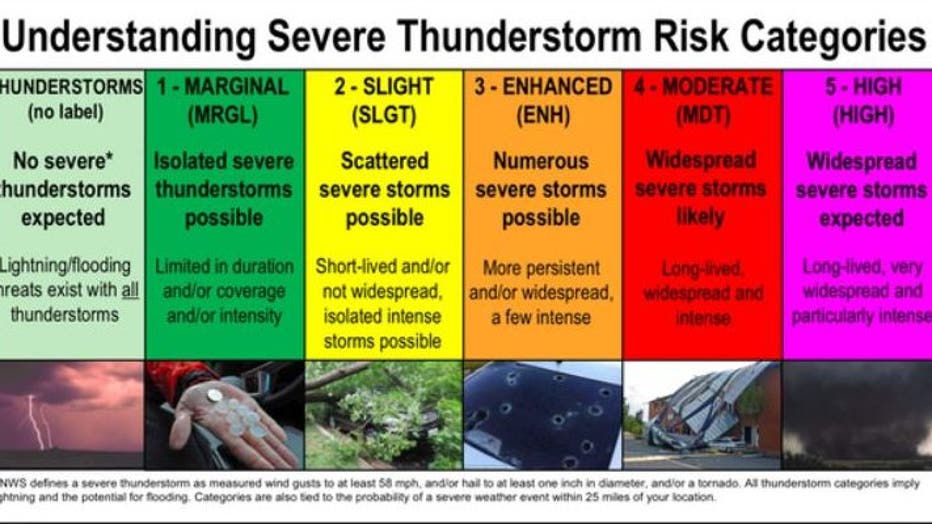 Graphic via the National Weather Service
The latest Global Forecast System model shows limited chances of rain after Tuesday.
The Sun-Times Media Wire contributed to this report.