Chicago area hit with snow ahead of 'arctic blast'
CHICAGO - Over two inches of snow fell over an already blanketed Chicago Thursday afternoon in the third winter storm in a month.
Thursday's snow was a far cry from the five inches forecasters said could fall, but it did enough damage to cancel almost 300 flights at O'Hare and Midway airports. At O'Hare, 197 flights had been cancelled as of 8:25 p.m., while 101 were canceled at Midway.
The storm will be followed by a deep freeze that'll stretch into next week. Temperatures might not rise above the single digits, and wind chills may reach minus 30 degrees in what city officials called an "arctic blast."
By 6 p.m., about 2.4 inches of snow had fallen on Midway International Airport, according to the weather service, though only 1.4 inches fell at O'Hare. Meanwhile, Chicago deployed more than 200 snow plows for a difficult evening commute, made worse by strong winds up to 45 mph.
Transition from rain to snow
The early afternoon saw a brief period of rain followed by brief but very heavy periods of snowfall, according to weather service meteorologist Lee Carlaw.
Along with quickly dropping temperatures, wet spots from the earlier rain could freeze and create slick surfaces.
Another danger is heavy wind and potential 45 mph gusts shortly after the storm. The wind will whip around the snow, limiting visibility for motorists, especially in open areas.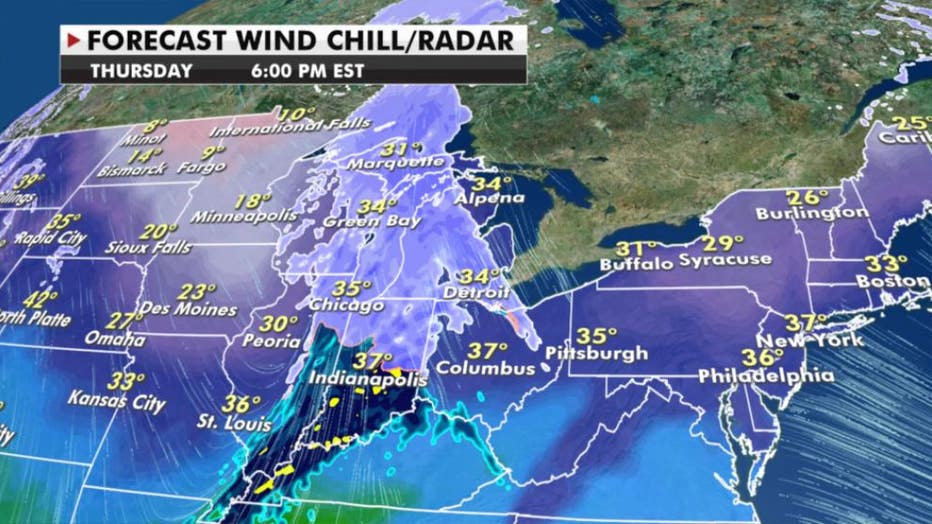 Wind chill conditions for Thursday. (Fox News / FOX News)
Deep freeze
When the snow tapers off Thursday evening, a cold front will send temperatures plummeting into the teens and single digits, with sub-zero lows expected overnight.
Friday's high temperature will only reach into the teens, while the wind will make it feel more like zero degrees or colder. Overnight, the wind chill could drop to minus 20 degrees.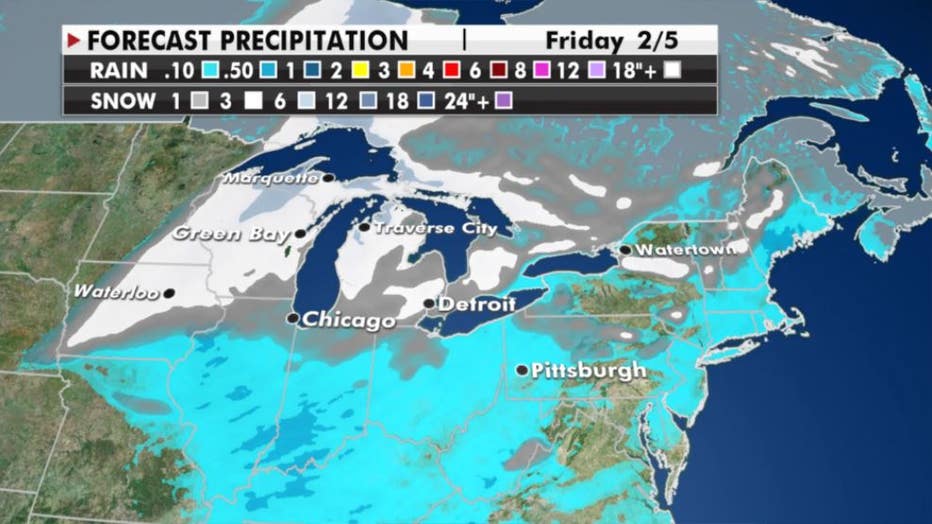 Expected precipitation totals through Friday. (Fox News)
Similar temperatures were expected Saturday and into next week.
"It's going to be an uncomfortable cold snap," Carlaw said. But he noted it wouldn't be a record-breaker.
DOWNLOAD THE FOX 32 WEATHER APP FOR ALERTS
More rounds of snow coming
More snow was expected Saturday night, with several inches possible, and additional snow systems could hit the area next week.
"We're in an active pattern," Carlaw said, adding that the area could expect snow every 12 to 18 hours into Monday.
That snow, however, was expected to be fluffier than the heavy, wet snow expected Thursday, Carlaw said.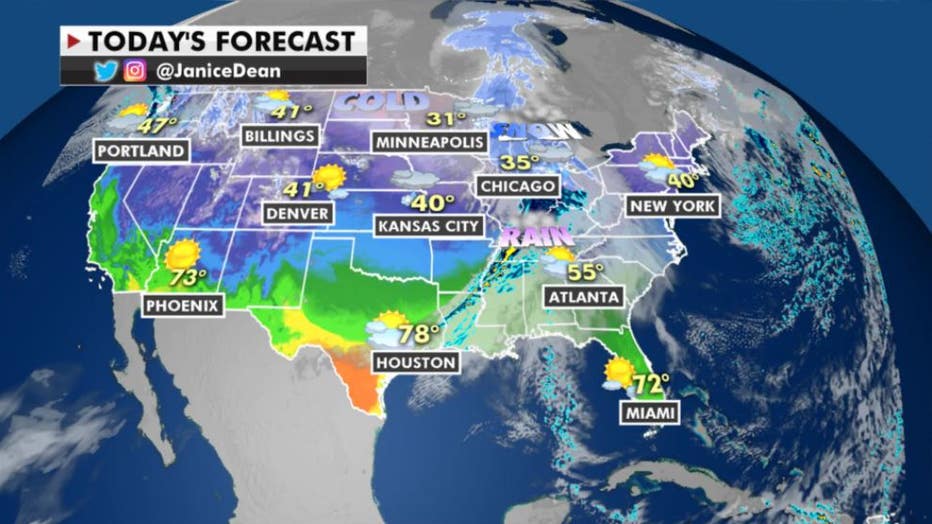 The national forecast for Thursday, Feb. 4 (Fox News / FOX News)
Chicago's COVID-19 test sites close
During the winter weather, Chicago's coronavirus testing sites will remained closed due to "inclement weather."
City-operated testing sites will remain closed from Friday until Wednesday, according to a notification from the city.