1 killed, 7 wounded in weekend shootings across Chicago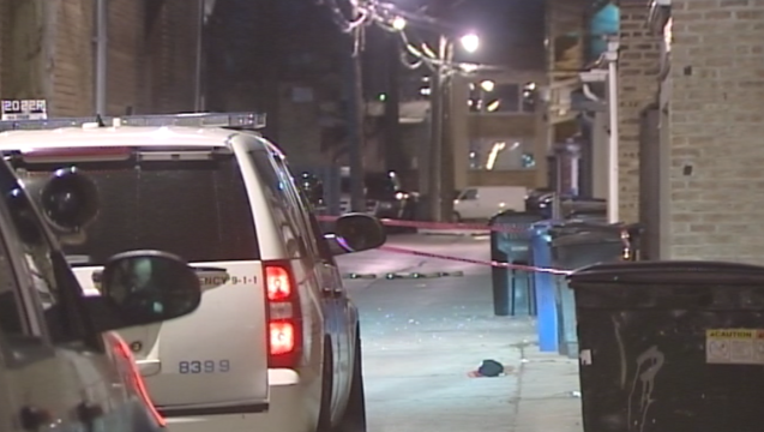 CHICAGO (Sun-Times Media Wire) - A man was killed and seven other people have been wounded in shootings across the city since 5:30 p.m. Friday, according to Chicago Police.
The fatal shooting happened Saturday morning in the University Village neighborhood. Officers responded about 9:50 a.m. and found the 30-year-old slumped over inside a running vehicle in the 1300 block of West Hastings. He suffered a gunshot wound to the head and was pronounced dead at the scene at 10:07 a.m., police and the Cook County medical examiner's office said. His identity has not been released.
The weekend's most recent shooting happened about 1:40 a.m. Sunday on the North Side, when officers responded to a call of a person shot and found a 21-year-old man lying in an alley in the 5600 block of North Western, police said. The man was shot in the head and taken in critical condition to Saint Francis Hospital in Evanston.
Shortly after midnight, a 33-year-old man was shot in the Portage Park neighborhood on the Northwest Side. He was involved in an argument with another male in the 4900 block of West Roscoe when the suspect pulled out a gun and shot him in the buttocks, police said. The man took himself to Loyola University Medical Center in Maywood, where he was listed in good condition.
About 11 p.m. Saturday, a 24-year-old man was in a vehicle traveling south in the 800 block of South California in the West Side Lawndale neighborhood when another vehicle pulled alongside him and someone inside fired shots in his direction, police said. The man was shot in the left hand and was treated at Rush University Medical Center, where his condition was stabilized.
Earlier Saturday night, a 17-year-old boy was shot in both hands in a South Side Hyde Park neighborhood drive-by attack. The boy was walking on the street about 9:25 p.m. in the 5300 block of South Maryland when someone fired shots from a passing vehicle, police said. He was taken to Comer Children's Hospital, where his condition was stabilized.
About 2:45 p.m., a 25-year-old man was driving in the 10300 block of South Western in the Beverly neighborhood on the Far South Side when he was shot in the arm, police said. He took himself to MetroSouth Medical Center in Blue Island, where his condition was stabilized.
Late Friday night, a man was wounded in another Lawndale neighborhood shooting. The 23-year-old said he was on the sidewalk about 11:10 p.m. in the 3900 block of West Grenshaw when someone pulled up in a vehicle and offered him cash to buy drugs, police said. They started arguing about the authenticity of the money, and the person produced a gun and shot the man in the knee. He took himself to Mount Sinai Hospital where his condition was stabilized.
The weekend's first shooting happened Friday evening when someone shot a man in the Back of the Yards neighborhood on the South Side. The 23-year-old showed up at Mercy Hospital about 5:45 p.m. with multiple gunshot wounds, police said. Investigators think he was wounded when carrying out a robbery about 15 minutes earlier in the 4800 block of South Wolcott. He was transferred to Stroger Hospital in critical condition.