18-year-old charged with killing man in Washington Park shootout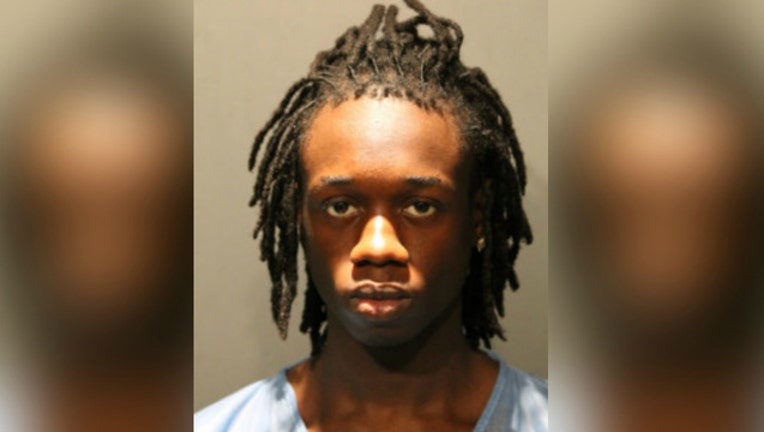 article
CHICAGO (Sun-Times Media Wire) - An 18-year-old man was ordered held without bail Tuesday for allegedly killing a rival during a shootout in the parking lot of a South Side currency exchange over the weekend.
Kashai Jones, who was wearing hospital pajamas in court, was shot in the leg by the 36-year-old victim, Deitrick Stogner.
There is an "issue about who shot first," Jones' attorney, Davor Sicel, told Judge Laura Sullivan.
But it was Jones, a purported gang member, who started firing first, Assistant Cook County State's Attorney Jamie Santini said.
Stogner and three of his friends had driven to a currency exchange, in the 100 block of West Garfield, shortly before 1:30 p.m. Saturday.
Stogner and two of his buddies went inside the business and were walking back to their car when Jones and three others pulled up in car, Santini said.
Jones got out of the front passenger seat of the vehicle and started shooting his Glock 9mm semi-automatic handgun, Santini said.
Stogner was hit in the stomach as he and his friends tried to escape the hail of bullets.
Before falling, Stogner was able to get his 9mm to return fire, striking Jones in the knee, Santini said.
The injured Jones fled, throwing his weapon away at a nearby Checkers hamburger stand, Santini said.
A witness who saw the murder attempted to help Jones when police arrived and took Jones to Stroger Hospital, where he was eventually arrested.
Witnesses identified Jones as Stogner's killer and surveillance footage shows Jones shooting toward Stogner and the others, Santini said.
The guns Jones and Stogner are accused of using in the shootout were recovered.
Jones, of the 1700 block of East 70th Street, is a senior at Simeon Career Academy, where he has a C-plus average, Sicel said.