2 charged in series of Lansing burglaries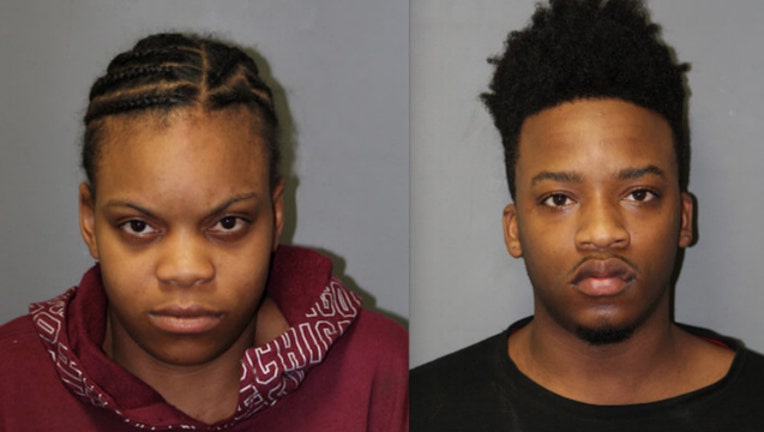 SUN-TIMES MEDIA WIRE - Two people were charged in connection to a series of burglaries in the last two months in south suburban Lansing.
Officers conducted a search warrant Tuesday morning at a home in the 1000 block of State Line Road in Calumet City, according to a statement from Lansing police. They were investigating a series of Lansing burglaries that seemed to be related because of their methods of entry, times of occurrence and targeted items.
Prior to the search warrant, investigators had learned of a female suspect who was using stolen credit cards from one of the burglaries at local businesses, police said. Information from other burglaries led investigators to the home in Calumet City.
Inside the home, officers found proceeds from multiple burglaries, suspected marijuana and a loaded pistol, police said. A male resident was taken into custody pending further investigation, but the female suspect, identified as 23-year-old Dashelle Dodson, was not home.
Later that morning, Dodson was found returning to the home and was taken into custody, police said. Investigators were able to recover proceeds from numerous other burglaries and return them to the property owners.
Dodson gave a statement admitting she was involved in numerous residential burglaries, using stolen credit cards and ownership of the weapon and marijuana found inside her home, police said. The male who was taken into custody was released without charges.
On Wednesday, 20-year-old Clyde Butler, of Chicago, was arrested in connection to the burglaries while he was at the Cook County Courthouse for another criminal case, police said. He was taken to the Lansing Police Department, where he gave a statement admitting he was involved in multiple burglaries. Additional burglary proceeds were recovered and returned to the owners.
Dodson and Butler were both charged with multiple counts of residential burglary, police said. Dodson was also charged with a weapons offense.
They were both ordered held without bail on Thursday, according to Cook County court records. They were expected to appear in court again Jan. 11.