2 men shot to death in Brainerd hours after attending funeral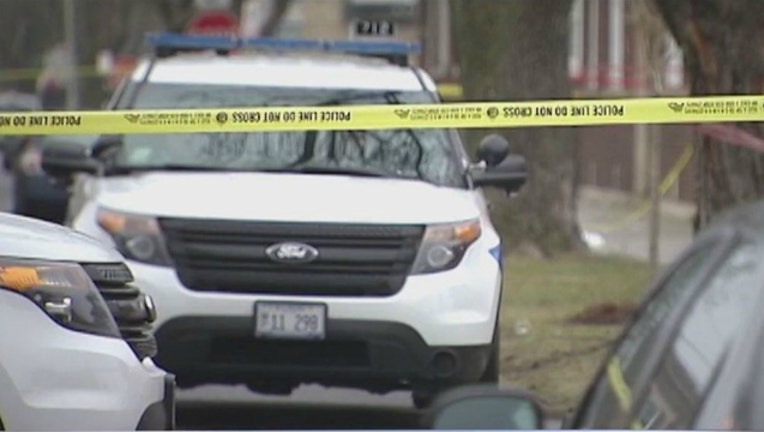 article
CHICAGO (Sun-Times Media Wire) - Two men were shot to death early Sunday on a porch in the Brainerd neighborhood on the South Side, hours after they attended the funeral for another victim of Chicago gun violence.
Officers responding at 1:13 a.m. to a call of shots fired in the 9000 block of South Marshfield found the men, ages 34 and 42, unresponsive, according to Chicago Police.
One had been shot in the head, the other in the neck, police said. They were pronounced dead at the scene. The Cook County medical examiner's office has not released their names.
Neighbors whose homes were surrounded by crime scene tape stood on porches and in their front yards as detectives investigated. The men, one covered by a white sheet and the other covered by a blue sheet, could be seen lying on a bungalow's porch among at least 15 evidence markers.
Dontell Petty, 37, was one of more than a dozen people gathered in the street outside the tape.
He identified the 42-year-old as his cousin Antwon Brooks, a graduate of Calumet High School who had a son and daughter, both in their 20s, and four grandchildren.
"He was a good, caring daddy," Petty said, adding that the other man was known as "Shoeshine."
Petty said he grew up in Brainerd with Brooks — who he called "Ice" because he was "slick as ice" — but has lived in Oshkosh, Wisconsin for about 10 years. He and his girlfriend drove from Wisconsin to Chicago for a Saturday afternoon funeral, and while they were en route, they picked up Brooks in Racine, where Petty said he lived off-and-on for about a year.
Petty, Brooks and "Shoeshine" all attended the funeral for 43-year-old Anreco D. Nichols, who was gunned down June 5 inside his home in the 8100 block of South Harvard.
Petty said they were all "longtime neighborhood friends" and added that he and Brooks also attended the funeral for Pamela Johnson, who was fatally struck by a truck on Lake Shore Drive when she and her boyfriend tried to run away from an armed robbery on May 29.
After Saturday's funeral, Petty said he, Brooks and "Shoeshine" were with a group at Gil's Tieke Lounge, when Petty and his girlfriend left to buy cigarettes and beer.
"It was 20 or 30 minutes later, I was into my second beer, that's when I got the bad news," Petty said, adding that a friend called to tell him about the shooting.
He said he didn't know the owners of the bungalow or why his cousin was on the porch.
"How they found him right there, that's f****d up," Petty said.
At the crime scene, a woman wailed and screamed as investigators removed the white sheet from one of the victims.
"That's my baby! That's my baby," she cried as she collapsed in the street, flanked by silent supporters who hugged her and rubbed her back.
Petty darted back and forth around the tape, trying to get a look at the crime scene.
"He was a decent guy, a good daddy, but he was in the wrong place at the wrong time," he said about Brooks.
"We just left a funeral, and now I gotta go to another one."