23 shot, 3 killed, in city weekend gun violence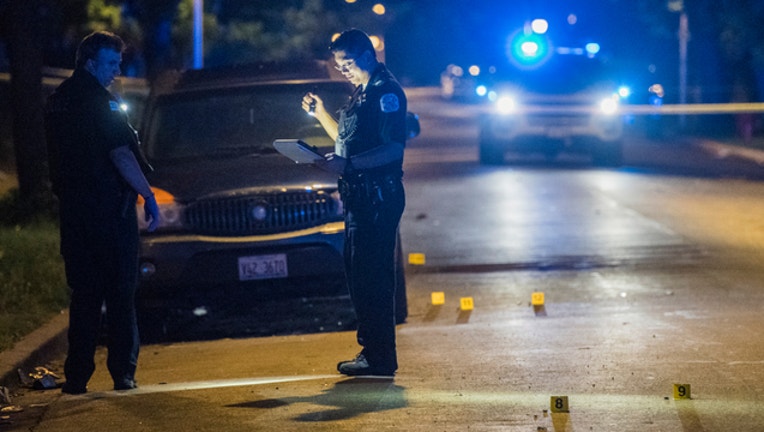 article
CHICAGO (SUN TIMES MEDIA WIRE) - Several children fell victim to Chicago's weekend gun violence, which left three people dead and 20 others wounded.
A 14-year-old boy was fatally gunned down early Saturday in Washington Park on the South Side.
Lucian Lamarion Devious Paige was walking on a sidewalk about 3 a.m. in the 5600 block of South Wabash Avenue when someone in a passing car shot and killed him, Chicago Police and the Cook County Medical Examiner's Office said.
A mass shooting late Sunday wounded six people, including a 5-year-old girl, in East Garfield Park.
About 10 p.m., three girls were sitting in a parked vehicle with a relative in the 3400 block of West Walnut Avenue when they were struck by gunfire from someone in a passing car. The shooter was targeting three different people on a sidewalk, police said.
The girls, ages 5, 14 and 15, were taken to hospitals in various conditions, police said. The three people on a sidewalk were taken to hospitals with gunshot wounds.
The first shooting of the weekend wounded a 14-year-old boy who had just finished buying clothes with his family from a seller on Lower Wacker Drive in the Loop.
About 6 p.m. Friday, the boy was struck in the leg as he was walking up a set of stairs from Lower Wacker to a bustling rush-hour area near Wabash Avenue, police said. His condition stabilized at Northwestern Memorial Hospital.
Among the adult victims over the weekend were two men who died in separate South Side shootings.
About 5:30 p.m. Saturday, Deandre Bennett, 34, was shot in his neck by someone he was arguing with in the 7900 block of South Greenwood Avenue in East Chatham, according to authorities.
Bennett was taken to the University of Chicago Medical Center, where he died at 8 p.m., the medical examiner's office said. Bennett lived in the same block as the shooting.
The last fatal shooting of the weekend happened Sunday just minutes before the sunrise in the Marquette Park neighborhood on the South Side.
About 5 a.m., Deantate Neshone Littlejohn, 32, was driving in the 6600 block of South Western Avenue when someone shot him several times, authorities said. He drove three blocks south before crashing into a pole. Littlejohn was taken to a hospital, where he died.
He lived in the West Englewood neighborhood, according to the medical examiner's office. Area Central detectives were conducting a homicide investigation.
Saturday shootings killed two people and wounded seven. At least 13 people were shot Sunday, one of them fatally.
The weekend, which began 5 p.m. Friday and ended 5 a.m. Monday, was relatively less violent than last weekend, which left 39 people shot and 4 dead.