5 family members found dead in Buffalo Grove home identified, cause of deaths revealed
CHICAGO - Buffalo Grove police shared new details Thursday on the shocking discovery of five people found dead in their suburban home the day before.
Officials confirmed the individuals were family members and described the incident as domestic-related.
"It appears that the cause of death for those decedents are all sharp force injuries," said Lake County Coroner Jennifer Banek during a press conference Thursday.
At 11:12 a.m. Wednesday, police were called to the home in the 2800 block of Acacia Terrace to check on one of the female occupants. Officials said one of the woman's coworkers requested a well-being check when they couldn't get ahold of her.
SUBSCRIBE TO THE FOX 32 YOUTUBE CHANNEL
No one answered the door so officers forced their way inside to find five people – including two young children – and the family pet dead.
"It's something that nobody should ever see," said Buffalo Grove Police Chief Brian Budds. "Nothing really prepares you for that. It was a horrific sight."
The Lake County coroner identified the decedents as: 67-year-old Lilia Kisliak, 39-year-old Andrei Kisliak, 36-year-old Vera Kisliak, 6-year-old Vivian Kisliak, and 4-year-old Amilia Kisliak.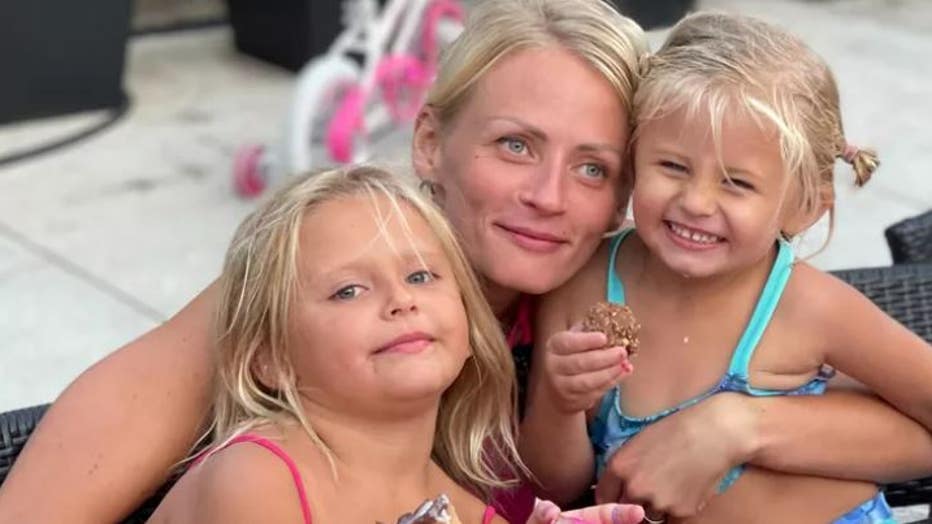 Vera, Vivian and Amilia Kisliak (Photo courtesy of Natasha Kuzmenko)
"There were no survivors and we were not made aware of any information that indicated otherwise," said Budds.
All five autopsies revealed the family members died from sharp force injuries, the coroner said.
An animal was also found dead in the home.
Budds, on the job less than a month, declined to say who inflicted the injuries and what kind of weapon was used.
"On behalf of the men and women of the Buffalo Grove Police Department, along with the entire Village board and staff, our sincerest and heartfelt condolences go out to the families of the victims of this tragic incident. Today is a very sad day for our community as we continue to process this unthinkable event," said Budds.
Neighbors were shocked to hear about the deaths on their normally quiet block. The Kisliak home is sprawling and modern. Their backyard boasts an in-ground pool and playset. The residence is lined with security cameras, and expensive cars sit parked in the driveway.
But behind closed doors, Andrei and Vera Kisliak were embroiled in court battles.
While Budds said the deaths were domestic-related, he would not answer questions about protection orders that had been sought by Vera Kisliak in August and September of this year. In late September, court records also show that Andrei Kisliak violated an order of protection.
2 CHILDREN AMONG FIVE PEOPLE FOUND DEAD IN BUFFALO GROVE HOME
Lake County court records show Vera Kisliak had filed for divorce in July.
Andrei Kisliak has a history of traffic violations in Lake County including an arrest in 2018 for DUI.
Earlier this month, a foreclosure petition was filed on the Kisliak residence, according to Lake County court records.
One neighbor said the family moved into the home about five years ago, and that the young children attended school with his sons.
Another neighbor said she had worried about what was going on in the home following a recent police visit to the residence. She finally got the courage to ask the mother of the two young children who lived there if everything was OK.
Yes, the woman replied as the two walked back from seeing their children onto a school bus.
"They were so sweet," the neighbor said. "The older sister had a big personality. Very loud. The younger sister was very shy but so sweet."
"They were so innocent," she added. "Such sweet girls. Babies. Babies. Just babies. How could anyone do this to their family?"
Budds would not comment on neighbors' reports that police had been called to the home recently. A local resident told the Sun-Times that she called police the end of August because she was alarmed at how Andrei Kisliak was treating his children.
Another neighbor described news of the deaths as "devastating."
"There's five dead bodies over there," he said.
The mother would be regularly seen walking with her kids and their dog around the neighborhood in the summer.
"She was a really good mom," said the neighbor who talked to the mother recently, "Always taking her kids to the park and doing things."
On Thursday, a memorial began to form outside the home with neighbors stopping to mourn.
"It shouldn't happen, it shouldn't happen to no one in this world," said Lola Podolsky, neighbor. "I try and explain [to my son] why we are here but I just show him, there are beautiful angels."
Vivian Kisliak, 6, was a young student at Ivy Hall Elementary School, Superintendent Kathryn Sheridan of Kildeer Countryside School District 96 confirmed. The child was described by administrators as "happy and cheerful." They say she loved unicorns and dancing.
Counseling services are being made available to staff and students in the wake of this tragedy.
The investigation is ongoing.
Sun-Times Media Wire contributed to this report.