5 teens charged with felonies after North Side carjacking of woman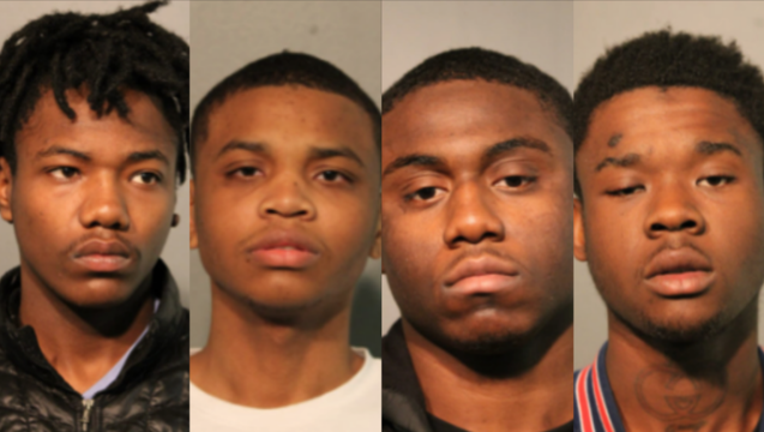 article
CHICAGO (Sun-Times Media Wire) - Two days after being arrested at the end of a police chase down Lake Shore Drive, four teenage men and a 16-year-old boy were charged Saturday with the armed carjacking of a woman in the Edgewater neighborhood in the North Side.
The five teenagers were arrested early Thursday after the midnight pursuit that began when officers discovered a group of people stole the woman's sports-utility vehicle midnight in the 5800 block of North Winthrop Avenue and sped down Lake Shore Drive, according to Chicago police. The chase ended near the South Side Oakland neighborhood once the suspects tried to escape on foot.
The four adults face two felony counts each of a vehicular hijacking with a gun, while the boy was charged with one felony count of an armed carjacking by someone under 21 and one misdemeanor count of criminal trespass of a vehicle, police said. Their next court appearance was scheduled for Saturday.
Police identified four of the suspects as 18-year-olds Raynell Lanford of West Garfield Park, Javion Bush of the South Side Gresham neighborhood and Jamar Jarvis of South Shore and 19-year-old Jamaal Ashshaheed of the Southwest Side's Scottsdale neighborhood. The 16-year-old's name was not released because he is a minor.
The carjacking happened when five males swarmed the 47-year-old woman at 12:03 a.m. Thursday as she was walking in the 5800 block of North Winthrop Avenue after parking her sports-utility vehicle, police said.
One of them pointed a handgun at her and demanded her SUV before snatching the keys from her hand, police said. They then sped off in the vehicle. The woman was not injured.
Officers in a nearby area spotted the SUV and began pursuing it, with backup cars tagging behind, police said. The carjackers ditched the SUV once they approached the 5500 block of South Lake Shore Drive near 40th Street and attempted to run away.
They were soon caught and taken into custody, police said. Both the weapon and SUV were recovered.
Police said Thursday that detectives were investigating the suspects' possible connections to other recent carjackings in the North Side, but did not say Saturday that they were involved in other vehicle thefts.