9 burros beloved by visitors burned in state park wildfire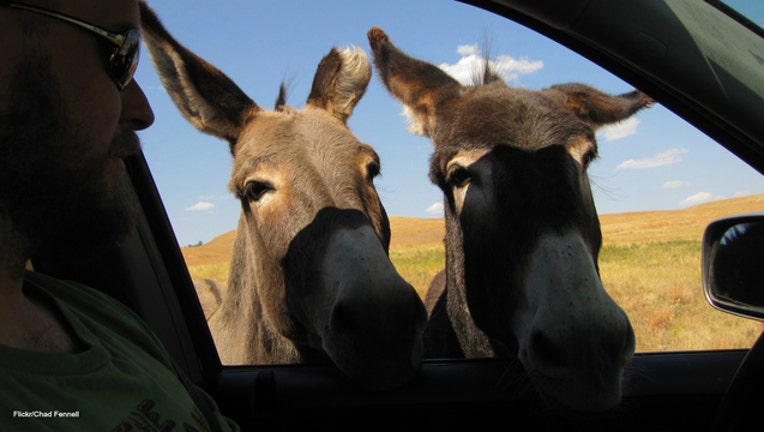 article
Nine burros that are a favorite of visitors to South Dakota's Custer State Park have been burned in a wildfire and it's not known if all of them will survive, a park official said Saturday.
The park reported Saturday morning that all nine burros had been found - a day after three of them were reported missing and feared dead in the wildfire that has consumed more than 84 square miles (218 square kilometers). But all nine were burned and are being treated by a veterinarian. Some were not injured as badly as others, but their chances of survival and the severity of their injuries might not be known for some time, said park visitor services program manager Kobee Stalder.
"It's a very sensitive situation at the moment," Stalder said. "We're treating them and we are trying to do everything we can to help them, and it's kind of a waiting game."
Stadler said the burros are getting antibiotics and pain medication, as well as food and water.
The burro herd was affected by the fire more than any other herd in the park. By Friday, the majority of the park's popular bison herd, which numbers about 860, had been located and appeared to be doing fine. The majority of elk herds were also found and pronghorn antelope are now starting to come out of the woods and have been seen grazing, Stadler said.
He said that for the wildlife, "their animal instincts kick in and they know to evade the danger area." Still, the full effects of the fire might not be known for weeks.
"Obviously we'll still be assessing all of our herds over time," Stadler said. "But at first glance, we are very fortunate. ... Some animals have some minor burns and things like that, but overall health is good."
The park is just south of Mount Rushmore National Memorial in the state's southwest. It's a top tourist destination, featuring hills with ponderosa pine and prairie. Visitors often drive through to see the roaming bison, also known as buffalo, and other wildlife.
Since the fire started Monday from a downed power line, park fans have been going to social media to get updates on the fire and ask about wildlife. Many people posted messages of concern about the missing burros, which Stadler called a visitor favorite.
The burros' lineage dates back to the 1930s, when the animals were used to give pack tours up to the top of a peak in the Black Hills park. The number in the herd ranges from year to year, and every November, some burros are sold at auction to control the population. They are purchased by farmers, ranchers or even sentimental tourists. Stadler said a dozen burros were sold at last month's auction.
Officials said that as of Saturday, the wildfire was 90 percent contained.
___
Follow Amy Forliti on Twitter: http://www.twitter.com/amyforliti . More of her work at: https://apnews.com/search/amy%20forliti