A look at bills Illinois lawmakers passed this session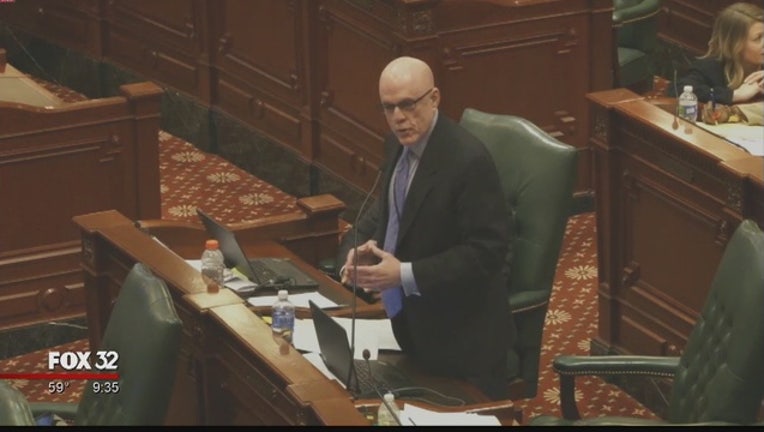 article
SPRINGFIELD, Ill. (AP) - Illinois' 11-month budget impasse dominated talks around the Capitol and the state during the legislative session that concluded Tuesday. But lawmakers also considered a number of non-budget measures and sent them to the governor. Here's a look at a few of those proposals:
MARIJUANA
A bill that would decriminalize possession of small amounts of marijuana is headed to the governor, who said he may be comfortable with the proposal because it includes some of his recommendations. The measure would impose fines between $100 and $200 for possession of 10 grams or less of marijuana but no jail time. The bill also determines standards for what's too high for a person to drive.
Republican Gov. Bruce Rauner also said he supports a plan that would extend the state's medical marijuana pilot program to July 1, 2020. The current program is set to end in 2017. The plan would also add post-traumatic stress disorder and terminal illnesses to the list of approved conditions to use the drug.
Bills: SB228 and SB10
___
AUTOMATIC VOTER REGISTRATION
Lawmakers approved a plan that would automatically register people to vote when they fill out paperwork with state agencies for various reasons. People would have the option to opt out of the automatic signup.
Bill: SB250
___
WOMEN'S RIGHTS
A measure eliminating the state sales tax on tampons, menstrual cups and other feminine hygiene products got approval from lawmakers. The Legislature also approved plans that would ensure pregnant women receive information from doctors about all treatment options, especially during emergencies, better reporting of sexual assault crimes and giving sexual assault victims four weeks of work leave.
Bills: SB2746, SB1564, SB3096, HB4036
___
UNDOCUMENTED IMMIGRANTS
The Legislature sent a clear message that the word "alien" should be eliminated from state laws by approving a measure that would replace the title with the term "undocumented immigrants."
Bill: HB5945
___
DRINKING WATER
Illinois lawmakers want the state's Environmental Protection Agency to regularly report lead levels in state drinking water in light of the Flint, Michigan water crisis. Under the resolution, the agency would post results online and present a final report to Rauner and the Legislature by Dec. 31.
Resolution: HJR153
___
GUN TRAFFICKING AND FIREARM PERMITS
A plan criminalizing gun trafficking got unanimous support from lawmakers. Under the proposal, people would face prison time for buying a gun in another state to sell it illegally in Illinois.
Another bill heading to Rauner's desk would prevent a person with a restraining order from possessing a gun permit. Lawmakers also passed a bill that strengthens reporting of people to state police when a court finds that they're mentally ill.
Bills: HB6303, HB6331 , SB2213
___
CRIMINAL JUSTICE
The Legislature approved a number of proposals that would expand the rights of juveniles in the criminal justice system and make it easier for former convicts to get jobs. Children younger than 15 would be required to have a lawyer during interrogations for murder and sex offense cases under one proposal. Other measures would eliminate a fee for expunging or sealing criminal records, and remove barriers for convicts to get professional licenses so they can get jobs.
Bills: SB2370, HB6328, HB5973
___
STINGRAY DEVICES
State lawmakers approved a plan that would restrict law enforcement's use of cell-site simulators, also called Stingrays, which mimic cell towers so police can track phones in criminal investigations. Under the measure, police have to get a warrant before they use the devices and they have to delete data from people who are not subject to an investigation.
Bill: SB2343
___
POLICE DOG RETIREMENT
Retired police dogs would have a better shot at adoption under a bill heading to the governor this summer. Under the measure, the dogs would be offered to an officer or employee or given to a no-kill shelter. Currently, it is up to the village manager, mayor or police chief to determine how retired police dogs are handled.
Bill: SB3129