Arizona women recount ordeal after driver allegedly exposed himself to them
MESA, Ariz. - An Apache Junction man is accused of indecently exposing himself to other drivers along US 60 in Mesa.
The victims, who are shaken up by the whole incident, say the suspect then followed them. The ordeal was caught on camera.
We spoke with the victims of the incident. We have decided to keep them anonymous for their safety.
"Once he proceeded to get behind us, that's when it got scarier because at first, I thought this was just a joke. He's just messing with us. He's going to go away," said the first victim.
The first victim was driving home from work with the second victim when a black car almost swerved into them.
"The whole time, he was looking at us. I could see in the rearview mirror. He would come up close to our car and then be staying back, and then coming closer."
When they looked to see who was behind the wheel, they saw the suspect, since identified by police as 25-year-old Manuel Torres. The two women say Torres was driving while also exposing himself.
"He had a smile on his face the whole time," said the second victim.
"Like, it was a joke to him, and we weren't going to do anything about it," the first victim added.
The two victims tried to drive away, but they claim Torres started following. They decided to film him for police evidence, but they say that didn't scare him.
Then, they called a friend to meet in a nearby apartment complex.
"As soon as I see my friend park and I see that he was going to proceed to pull up next to them, that's when I stepped right in front of them, took action," said the friend. "I threw the rock as hard as I could through the windshield at him, and he accelerated and took off."
Documents we obtained show Mesa Police used traffic cameras to find the license plate number, and in a photo line-up, the victims were able to positively identify the suspect.
"Instantly I could tell, as soon as I saw his face, that it was him," said the second victim. "My stomach dropped. It was like I was just seeing him again."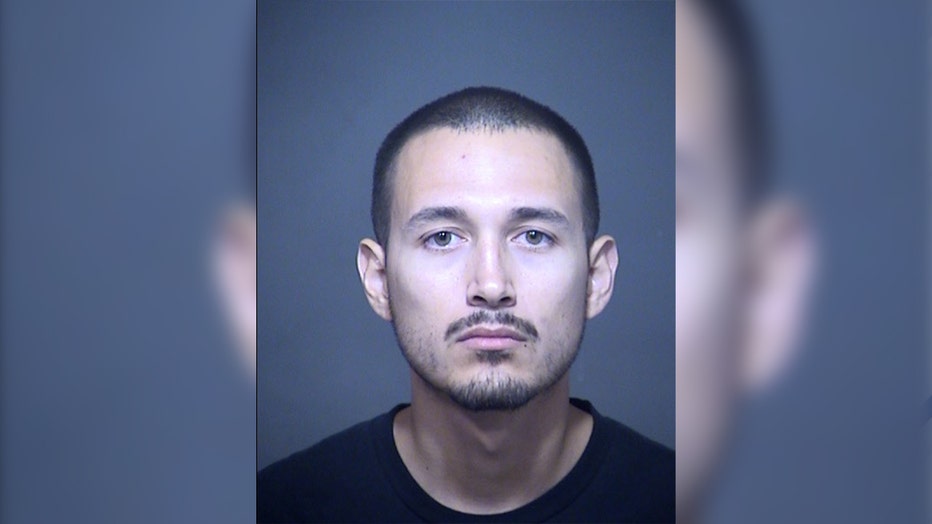 Torres was eventually released on his own recognizance.
According to police, Torres has a prior history of sexual offenses, including in 2016, when he was arrested for filming a customer in the changing room of a party supply store. A year later, he was sentenced to probation for 15 years.
"People like this need to be brought to justice, and they need to know that this kind of stuff is not OK," said the victims' friend.
"He should definitely be monitored a lot better, so that it doesn't happen again," said the second victim. "What if there was children in the car? What if caused me to crash? What if I hit another person?"
Earlier this week, detectives requested the county revoke Torres' probation, and that he be held in custody instead of out on the streets.
Maricopa County has since agreed to revoke his probation and issued a $10,000 felony bond warrant.
Torres was arrested at his mother's house in Chandler on June 21 and will remain in police custody.
If you feel you are being followed, head to a police station or a populated area, and call 911 while on the way.