3 boys arrested in murders of 3 teens in Marion County, Florida sheriff says
MARION COUNTY, Fla. - Update (April 9): The Marion County Sheriff's Office said a 16-year-old boy suspected in the shooting deaths of three teenagers was taken into custody over the weekend. Tahj Brewton was detained Saturday in Lake County on several outstanding warrants, according to a Facebook post.
MCSO said the homicide investigation is ongoing and additional charges are expected.
Original story
Marion County Sheriff Billy Woods said Friday that two boys – aged 12 and 17 – have been arrested in the alleged murders of three teenagers in a rural part of Marion County and that detectives were looking for a third suspect – a 16-year-old boy who is considered to be armed and dangerous.
Sheriff Woods said the two boys were arrested on Thursday under suspicion of first-degree, pre-meditated murder.
The 12-year-old was arrested at his home and the 17-year-old, identified as Robert Robinson, was already in juvenile custody after being arrested earlier by a different agency. Robinson was also booked under suspicion of robbery.
FOX 35 has decided not to name or show photos of the 12-year-old suspect because of his age.
Sheriff Woods also implored the community to help law enforcement find 16-year-old, Tahj Brewton.
"You know where he is, and you need to turn him in," he said. "Now, I will get him. I will find him. And justice will be completed."
$10,000 REWARD
Late Friday, MCSO revealed that up to a $10,000 reward was being offered for information that would lead to the arrest of Brewton.
In a Facebook post, MCSO said Brewton should be considered armed and dangerous.
RELATED: Florida teen murder suspects reveal to investigators how fatal shootings unfolded: affidavits
He reportedly has active juvenile custody orders for multiple felony offenses in unrelated cases, including carjacking with a firearm, aggravated assault, grand theft of a motor vehicle, fleeing or attempt to elude a law enforcement officer, and tampering with an electronic monitoring device.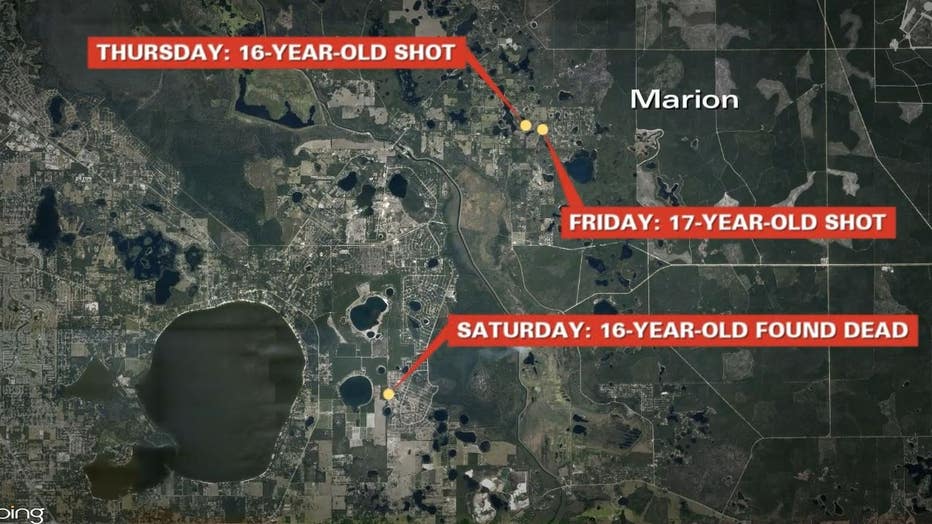 TIMELINE: MARION COUNTY TRIPLE HOMICIDE
Last week, three teenagers – two 16-year-old girls and a 17-year-old boy – were found with deadly gunshot wounds in separate locations in Marion County over the span of three days. 
Thursday, March 30: Deputies responded to a road near Forest Lakes Park in Ocklawaha, Florida, and found a 16-year-old girl shot on the side of the road. She was taken to the hospital where she later died. She was identified as Layla Silvernail.
Friday, March 31: Deputies responded to SE 94th Street and SE 188th Court and found a 17-year-old boy with gunshot wounds laying on the side of the road. He was pronounced dead at the scene. He was not identified by authorities as his family's request.
Saturday, April 1: Deputies responded to the area of Malauka Loop and Malauka Loop Trace and found a car partially submerged in a lake and a 16-year-old girl with gunshot wounds in the trunk of the car. The girl was pronounced dead. She was not identified by authorities at the request of her family.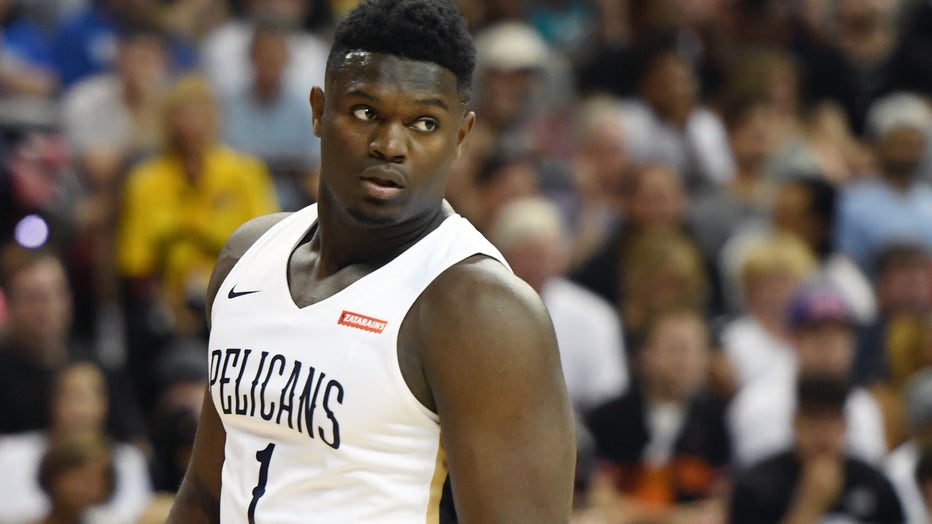 Sheriff Woods said at some point all six individuals were in the same vehicle and believe that the shootings happened around the same time.
Two witnesses, according to court paperwork, told deputies that they heard the sound of gunshots and saw a vehicle drive into a dumpster, where Silvernail was eventually found.
Is there a motive in the Marion County shootings?
Sheriff Woods has described the shooting as an isolated incident and cautioned that there was not a larger threat to the community nor was there a serial killer on the loose. He also shot down rumors that there was a fourth victim.
During his Friday press conference, Sheriff Woods said a possible motive in the shootings was robbery.
All six individuals – suspects and victims – knew each other and possibly were connected through unorganized neighborhood gangs. Woods previously referred to them as a possible "hybrid" or "wannabe gang."
"The investigators were able to determine that this group of juveniles were involved in committing burglaries and robberies, which they referred to as 'a lick,'" he said, adding that detectives had no info that the shootings were because of a rivalry between the two groups.
"Each and every one of them, in some shape, way or form, was associated with a gang," he said.
"They fled the scenes, but left a lot of evidence in their wake," Sheriff Woods said.
Anyone with information on the teen's whereabouts was asked to contact the Marion County Sheriff's Office.