Authorities probing ex-Chicago schools CEO's Detroit tenure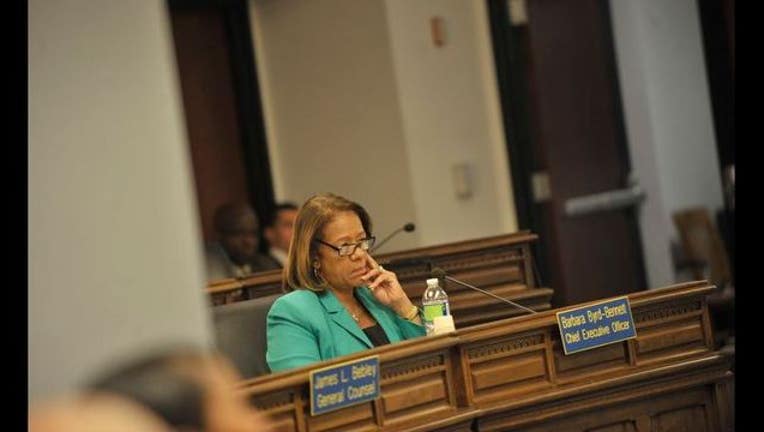 CHICAGO (AP) — Authorities are investigating Detroit Public Schools contracts awarded by a former official who has pleaded guilty to her role in a kickback scheme while she was CEO of Chicago's school system, DPS said Thursday.
Barbara Byrd-Bennett was chief academic and accountability auditor for Detroit schools before going to work in Chicago. She pleaded guilty this week to helping steer $23 million in no-bid contracts to education firms for $2.3 million in kickbacks and bribes while at Chicago Public Schools.
During Byrd-Bennett's tenure in Detroit the district awarded contracts worth about $3.4 million to Synesi Associates, one of the companies named in the Chicago indictment along with its co-owners, according to the Chicago Sun-Times (http://bit.ly/1LmDg2v ).
The district also gave another contract to another company owned by Gary Solomon and Thomas Vranas, PROACT Search, to fill positions once Byrd-Bennett left her $18,000-per-month post.
DPS spokeswoman Michelle Zdrodowski said the district "is committed to transparency" in its business operations.
"As with any matter where there are allegations of misconduct, the district investigates internally and works cooperatively with the law enforcement agency handling such matters," Zdrodowski said in a statement. "In the case of Ms. Byrd-Bennett, we are continuing to work closely with law enforcement officials."
She declined to comment further.
Chicago Mayor Rahm Emanuel promoted Byrd-Bennett to CEO of the nation's third-largest school district in 2012. She stepped down in June as news of the investigation surfaced.
The 66-year-old was charged with 20 counts of mail and wire fraud, each carrying a maximum 20-year prison term.
The indictment claimed Solomon and Vranas offered Byrd-Bennett a job and a large one-time payment disguised as a signing bonus once she left CPS in exchange for her using her influence to steer a no-bid contract to their firm, SUPES Academy. The contract was for training principals and other administrators.
Byrd-Bennett entered a guilty plea Tuesday for one count of fraud. As part of her plea deal, prosecutors recommended she serve 7 ½ years in prison and said they will drop the other counts.
Solomon and Vranas entered pleas of not guilty on Wednesday.