Bartlett fire: Crews battle warehouse blaze that has been burning for over 24 hours
BARTLETT, Ill. - Firefighters in Bartlett continue to battle a massive warehouse fire Friday.
By noon, it had been burning for more than 20 hours.
The building – a document storage facility located at 1200 Humbracht Circle in the Brewster Creek Business Park – is a total loss.
The Bartlett Fire Protection District was initially called to the scene at 9:48 a.m. Thursday.
"As the crews responded and pulled up on the scene, they were met with employees running out of the building stating there were boxes inside the building that were on fire," said Bartlett Fire Chief William Gabrenya.
Everyone inside the building made it out safely.
During the two-alarm fire, crews from neighboring departments responded to assist.
Gabrenya said the building's sprinkler system was keeping the fire in check, but not for long.
"As the crews went in to attack the fire, the rack system that holds all the paper storage in the building started collapsing," said Gabrenya. "The fire was able to intensify at that point."
When those 40-foot, floor-to-ceiling racks collapsed, Gabrenya said the sprinkler system was taken out.
Not only were crews facing challenges caused by the cold weather, but they were also forced to stay further back than usual, because the remaining walls of the building were unstable.
"Because these walls are collapsing on us, we don't want to get any firefighters in that collapse zone so we are using all aerial operations," said Gabrenya.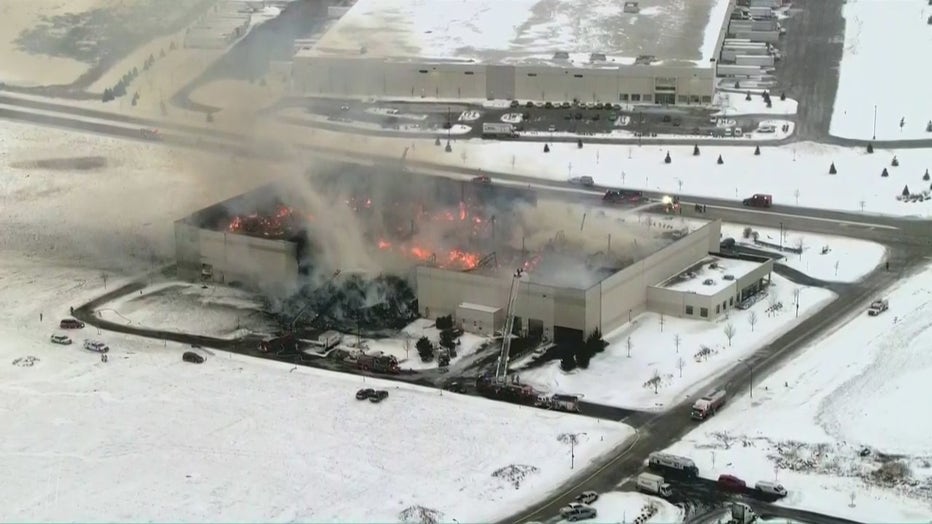 He estimates the building is about 250,000 square feet.
At one point, they had 100 firefighters responding to the blaze
A records management company Access occupies the warehouse. According to its website, it specializes in the management and storage of critical documents.
An Access spokeswoman told FOX 32 the following: "At this time, we are restricted from entering the premises by emergency and fire personnel, but are actively working with local authorities to determine the cause of the fire. Additionally, a recovery team is onsite to assess the situation, determine any impact, and take necessary actions."
Gabrenya said it's too early to determine the cause of the fire.
Gabrenya said in order to put out the fire, they will need heavy machinery to pull out the racks while they pour 5000 gallons of water per minute on the flames.