Braun wins Indiana Senate race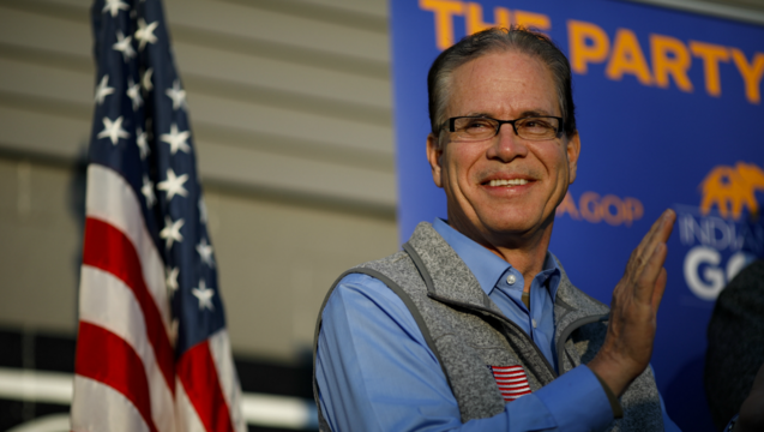 article
INDIANAPOLIS (AP) -- Republican Mike Braun, a multimillionaire businessman who campaigned as a political outsider, ousted Democratic Sen. Joe Donnelly on Tuesday after a race in which both tried to appeal to Donald Trump supporters.
It's a victory few would have predicted last year when Braun, a two-term state lawmaker, announced he would run in the GOP primary against two congressmen.
But by leveraging his own fortune to loan his campaign more than $10 million, he was able to deluge his Republican rivals under a wave of TV advertisements.
"I've been animated by the belief that Hoosiers deserved better than the representation we've received from politicians in Washington, that people who have built their lives in the real world of business could create better lives for Hoosiers and Americans," Braun said. "The theme of my campaign is that we need to take to Washington what works in the real world."
Trump won Indiana, Vice President Mike Pence's home state, two years ago by 19 points and was personally invested in Braun's race, campaigning aggressively against Donnelly, who he called "Sleepin' Joe."
Ever since Trump's victory, Donnelly tried to walk a delicate line, celebrating areas where he agreed with the president while promising he also wouldn't be a rubber stamp. Rarely did he mention that he's a Democrat.
But as the race tightened, he also adopted some of Trump's rhetoric, angering members of his own party by attacking socialists and the "radical left," while calling for a border wall with Mexico.
In his concession statement, Donnelly said he was honored to serve the state.
"It has been one of the greatest honors of my life to represent Indiana in the Senate," Donnelly said. "I wish Mike the best, and I hope he makes every single Hoosier proud as our senator."
Donnelly had a target on his back ever since he unexpectedly won in 2012 after his opponent Richard Mourdock made incendiary comments about abortion and rape.
Republicans say the first-term senator talked a good game with his pro-Trump message. But they argued he was against Trump when it counted, noting he opposed the GOP-led tax cut, legislation to repeal the Affordable Care Act and the confirmation of Supreme Court Justice Brett Kavanaugh.
"Career politicians like Joe Donnelly will say anything to keep their jobs," Braun said in one of his final campaign ads.
Mark Allan, 50, is a truck driver from Indianapolis who voted for Braun. He likes the way Trump is leading the country, particularly when it comes to immigration and foreign policy, and wanted to cast a ballot for someone who will vote for the president's priorities.
"I don't think there's anything wrong with Donnelly, but he's been on both sides of the fence," Allan said. "We need to keep the Senate Republican to support the agenda of Donald Trump."
The outcome of the race offers a strong indicator of where Indiana is headed politically. The state formerly elected conservative Democrats as governor and in significant number to Congress.  But after voting in 2008 for former President Barack Obama, who campaigned for Donnelly Sunday in Gary, Indiana has swung to the right.
On Tuesday, it shifted in that direction even further.
Just look at Braun's own political background. Although insisting he's a lifelong Republican, Braun voted in Democratic primaries for years, before switching over to the GOP before he was elected to his first of two legislative terms in the Indiana House.
Braun, who is worth somewhere between $37 million and $95 million, says Trump's success inspired him to run. On Tuesday he won after adopting a similar outsider businessman template.
"He didn't need this. I didn't need it either, by the way," Trump said at a rally for Braun near Indianapolis last week. "But we're having fun. You know why? We're winning."