Byrd-Bennett's co-defendants don't follow her lead on plea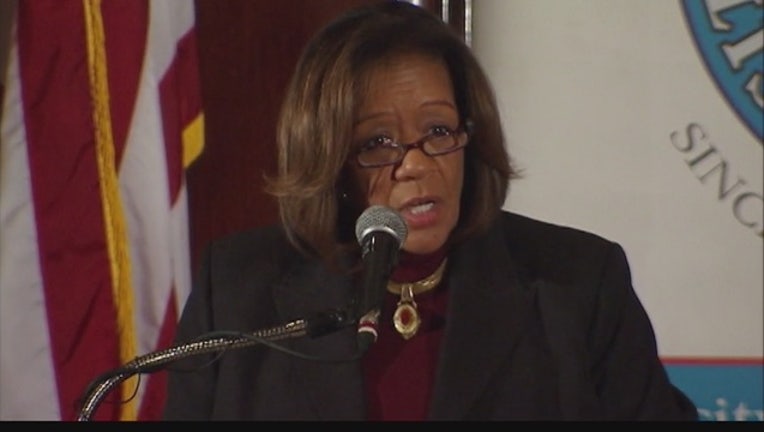 article
CHICAGO (STMW) - A day after former CEO Barbara Byrd-Bennett admitted her guilt in a kickback scheme to steer millions in no-bid contracts to her former employers, those men, now her two co-defendants, entered not guilty pleas Wednesday in federal court.
Like Byrd-Bennett, Gary Solomon and Thomas Vranas were charged last week in a 43-page indictment with multiple counts of wire fraud and mail fraud. The owners of the now-defunct SUPES Academy and Synesi Associates also face charges of bribery and conspiracy to defraud the United States, the Chicago Sun-Times is reporting.
Both pleaded not guilty to all counts, the worst of which carry up to 20 years in prison. Solomon, 47, of Wilmette, and Vranas, 34, of Glenview, answered the judge's questions but otherwise did not speak during the 20-minute hearing. They did not look at each other in the courtroom.
Both remain free pending the outcome of the case, albeit with conditions.
Solomon must undergo any medical or psychiatric treatment recommended by court personnel. U.S. District Judge Edmond Chang said that is "warranted" based on a pretrial report. He is the same judge who on Tuesday accepted Byrd-Bennett's plea agreement, in which prosecutors promised to drop 19 of the 20 counts she faces in exchange for her ongoing cooperation in the case. The 66-year-old Emanuel appointee could face about seven and a half years in prison if she "fully and truthfully" cooperates with prosecutors, likely at least against Solomon and Vranas.
Vranas must surrender any firearms, a Taser he owns and his firearm owner identification card.
Solomon's attorneys, Anthony Masciopinto and Shelly Kulwin, declined to comment on treatment their client may require. They told reporters after the hearing that Solomon's relationship with the Chicago Public Schools predated Byrd-Bennett's relationship with his company. They said his case is "distinct" from Byrd-Bennett's, and they said he is cooperating with prosecutors.
"There's a dialogue that's been transpiring, which is common, and we'll see what happens," Masciopinto said.
Vranas' attorney, Michael Monico, declined to comment at all.
Solomon was once the dean of Niles West High School in Skokie, but he was forced out after he was accused by his bosses of "immoral and unprofessional" conduct, including allegations he kissed a female student; covered up students' drug and alcohol use; and sent "sexually suggestive, predatory" emails to students with eating disorders, court records show. He also used highly racist terms to refer to African-Americans in an email to a former student, and wrote that black people "will never set foot in his house," the Sun-Times has reported.
Vranas was a student at Niles West. Both men later worked together at the Princeton Review before starting their own education services companies in the north suburbs.
Solomon owned two-thirds and Vranas the other third of the two companies also charged, SUPES, a training company, and Synesi, which sought to improve schools. Both companies employed Byrd-Bennett as a master teacher and coach. Both are now defunct, Masciopinto told the judge, entering not guilty pleas for the companies.
Their third company, the headhunting PROACT Search, is not defunct, Masciopinto added afterwards, though the Sun-Times learned that parts of all three were sold over the summer to the operator of four Chicago charter schools.
Solomon and Vranas are accused in the indictment of offering Byrd-Bennett 10 percent of any contracts she could send their way while working at Chicago Public Schools beginning in mid-2012. Some of the proceeds were earmarked as college funds for her adored twin grandsons. Solomon told her he put $127,000 into each account, but prosecutors said she never actually saw any money.
On Tuesday, Byrd-Bennett admitted she hid their agreement from CPS; had a false termination letter sent to CPS; introduced company and district employees; and tipped her hand on requests for proposal yet to be issued by the school district.
The bribery counts also allege that Solomon and Vranas focused first on deals for SUPES, but that Byrd-Bennett wanted Synesi kickbacks, too.
"This would be the same for Synesi when I make it happen, yes? Let me know," she emailed Solomon in December 2012, according to the indictment. That same day, Solomon replied that she'd get the money as a signing bonus upon her return to SUPES and Synesi. "If you only join for the day, you will be the highest paid person on the planet for that day."
By the time the federal investigation came to light this past April, costing Byrd-Bennett her $250,000-a-year job, CPS had awarded SUPES $23 million in no-bid contracts and had paid out all but $7.7 million.