Chicago man, 18, charged with murder in shooting death of Officer Andres Vasquez-Lasso
CHICAGO - An 18-year-old man has been charged in the shooting death of a Chicago police officer in the city's Gage Park neighborhood.
On March 1, 2023, Chicago police were responding to a domestic call of a man chasing a woman with a gun.
Steven Montano is the man accused of gunning down Officer Andres Vasquez-Lasso around 4:45 p.m., as Montano was being chased by the officer in the 5200 block of South Spaulding Avenue — across the street from Sawyer Elementary School.
Vasquez-Lasso, 32, was shot several times, police said. He was taken in "extremely critical condition" to Mount Sinai Medical Center, where he died and where a large group of officers somberly gathered through the night before his body was taken by procession to the Cook County morgue on the West Side.
Despite his wounds, Vasquez-Lasso was able to return fire and shot Montano in the head, according to police. Montano was transported to Stroger Hospital in critical condition.
Maria Davila said she was watching a movie on her phone in her home when the shooting happened. It was nice out and kids were hanging out at the school playground across the street. She heard a loud noise and "thought it was fireworks at first."
Davila went to the window and saw a man down in a parking lot next to the playground, holding his chest and shouting, and another man — Vasquez-Lasso — lying closer to the playground and not moving. The dozen or so kids at the school were hiding beneath playground equipment.
"Shoot me, shoot me," Davila said the man on the ground yelled at a second officer who was standing between him and Vasquez-Lasso.
One of the bullets traveled into Davila's bedroom.
"I go to my room and I see the window broken."
She says CPD came into her home and retrieved the bullet for evidence.
On Thursday night, vigils were held on both the near South Side and far Southwest Side to remember and honor Officer Vasquez-Lasso.
An autopsy has classified his death as a homicide due to multiple gunshot wounds.
Background of suspect
Police have provided little information about Montano, saying only that he had a record of one prior arrest. Records show Montano was arrested near two handguns last summer after running from a stolen car that was wanted in a shooting.
Montano was charged at the time with a misdemeanor count of resisting or obstructing a peace officer, which was dropped months later. The arrest report notes that felony charges were denied by prosecutors, though it doesn't provide further details. A teenage boy was charged in the shooting, and another man was hit with gun charges, according to police.
A stolen Honda Accord had been used in the shooting in the 2600 block of West 23rd Place around 8:10 p.m. on July 28. A 27-year-old man suffered two gunshot wounds to his left leg, the report states.
The victim and witnesses reported that the Accord was occupied by three people, and the driver was seen wearing a mask while fleeing the scene, the report states. Later that night, officers tried to stop the car near 26th and Whipple streets, but it took off and led cops and state troopers on a chase.
The Accord was pulled over in the 7400 block of South Parnell Avenue, at which point Montano and the two other suspects ran off, the report states. Montano was found under a porch in a backyard in the same block and taken into custody.
Two loaded handguns were found nearby "in the direct path of the offenders [sic] from the vehicle," according to the report, which identified Montano as a member of the Latin Kings street gang.
A helicopter was overhead during the arrests but didn't capture on video Montano holding any guns, sources said. One of his co-defendants, Rodrigo Ramirez, was seen throwing guns on the ground.
A 15-year-old boy was charged with felony counts of aggravated battery with a firearm and aggravated unlawful use of a weapon, as well as a misdemeanor count of criminal trespass to a vehicle. Ramirez, 22, was charged with felony counts of aggravated unlawful use of a weapon and attempting to flee, along with a misdemeanor count of resisting or obstructing a peace officer.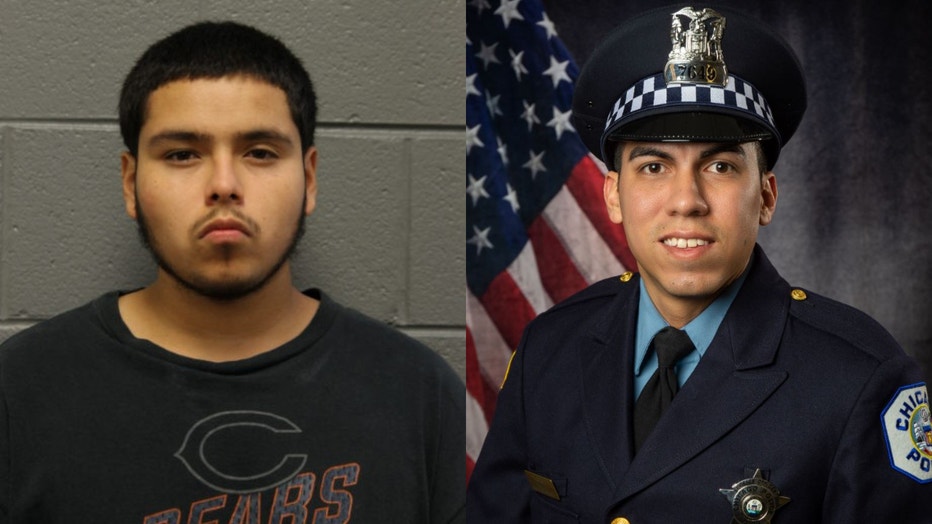 Steven Montano and Officer Andres Vasquez-Lasso
The state's attorney's office said in a statement that Montano was not charged with a felony "because the evidence does not support a charge of gun possession."
"Based on his age and lack of criminal history at that time, [he] was offered an alternative to traditional prosecution, which included 25 hours of independent community service," it said. "Defendant completed the 25 hours … and the case was dismissed on 11/17/22."
The owner of the stolen Honda said she found it "creepy" that one of the suspects in the theft of her car is now accused of killing a police officer. "The youth in Chicago get away with this stuff, and they do it again and again and again," she told the Sun-Times.
The woman, who did not want to be named, said she "woke up in the morning, and my car was gone."
When she got it back from police, "Bullet holes were in it."
'He was always smiling'
Officer Andres Vasquez-Lasso was married and had a young daughter. They had just moved into a home in Marquette Park a little over a year ago, according to a neighbor, Sara Montemayor.
"I just saw them the day before out walking their dog. I know the grandma is over a lot to help out with the daughter" said Montemayor, 34. "It's hard knowing that happened to a neighbor."
Vasquez-Lasso was shot just 2 1/2 miles from his home. On Thursday morning, four police officers from the Chicago Lawn Police District arrived at the scene of the shooting with flowers for a memorial.
"We're out here to pay our respects to our brother in blue," said one of the officers, who declined to give her name.
She said the four of them worked an earlier shift than Vasquez-Lasso and only knew him in passing, but knew he was bright and on the rise.
"He was always smiling," the officer said.
The mother and father of another Chicago Lawn Police District officer arrived to light a candle for Vasquez-Lasso. They said their son knew him.
The mother said they felt they had to come out because "for me, they're all my sons. They're all important to me, and I carry them in my heart and in my prayers."
The couple lives nearby, and when she heard the sirens and the helicopters and saw the news, she feared the worst.
"It was terrifying," she said.
She said she called her son and was relieved when he picked up the phone, but was devastated to hear what had happened and to know what had happened to another mother.
"We have sons that every day put their life on the line. We know that they leave, but we don't know if they're going to come back," she said.
An officer from the neighboring Deering Police District drove by as well. He wasn't working and wanted to come by to pay his respects. The officer joined the force only a little before Chicago Police Officer Ella French was killed in 2021.
"Stuff like this, it's scary," he said. "Policing is real."
Sun-Times Media Wire contributed to this report.