Chicago mayor, Home Run Inn partner to deliver pizza delight on CPS' first day back
CHICAGO - Educators across Chicago were elated to welcome students back to the classroom Monday following summer break.
To celebrate their return to school, Mayor Brandon Johnson and Home Run Inn — in collaboration with other city departments — organized an exciting giveaway for students at dismissal.
To kick off the academic year, Home Run Inn pizzas were distributed to more than 6,000 students at 25 elementary schools on the city's South and West sides.
"We are so excited to have our students back in the building. We are truly a family here at Jackie Robinson," said Nichole Madera, case manager and instructional coach at Jackie Robinson Elementary School. "We're super happy to get this year started off with a bang."
As the final bell rang Monday at Jackie Robinson Elementary School, Mayor Johnson handed out the first batch of pizzas alongside officials with the Chicago Police Department and the Chicago Fire Department.
SUBSCRIBE TO FOX 32 CHICAGO ON YOUTUBE
"Investing in our young people, investing in families, and strengthening our education system, that is the pathway to success. That's what sets us apart from other places in the country," said Johnson.
The Pre-K through 3rd grade students were also met by pom-pons, posters, and smiling parents.
"Preparing for the first day of school actually became easy due to the fact that the community all around Chicago has stuck together and really given back which really helped me out as a single mother," said Ranisha Hankins, parent.
In addition, staff members at the 25 schools were given a free pizza at any Home Run Inn location for their hard work.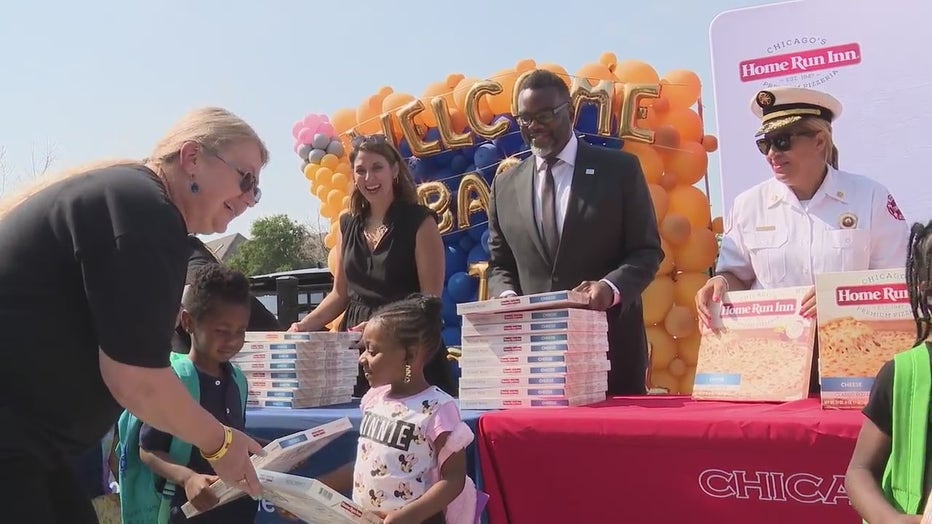 "Our children are our future, and I cherish the opportunity to start the school year off right by handing out one of Chicago's signature dishes to thousands of our youth. Thank you to CPD, CFD, DFSS, CPS, and Home Run Inn for making this event possible and making our kids' first day a little brighter," Johnson said in a statement prior to the event.
CPS CEO Pedro Martinez added, "We're grateful to Home Run Inn and all our City partners for joining us as we welcome back our families, staff and importantly, our amazing scholars. Starting the year off strong depends on our schools as well as our parents and community members, as exemplified in this generous gift and partnership."
Gina (Perrino) Bolger, who is Home Run Inn's Senior Vice President and a fourth-generation family member, said: "Home Run Inn is thrilled to play a part in brightening the lives of students as they gear up for an exciting new school year."
Similar celebrations were held citywide.
Back-to-school bashes were held at Beidler Elementary School on the West Side, Brighton Park Elementary School, and Kenwood Academy High School in Hyde Park.
"I really hope they just have a very positive experience where they grow, not only academically, but they also grow socially with their peers, and also just realize how amazing they are and that they can do anything," said Madera.
Also on Monday, the CTA provided free bus and train rides to Chicago students, along with a parent or guardian.
Last year, the program provided free rides to nearly 49,000 students and their accompanying adults.