Chicago officials: 'No actionable intelligence' of looming threats ahead of Tyre Nichols video release
CHICAGO - With tensions high in Memphis, Tennessee, officials in Chicago pledged on Friday to protect the city while insisting there are no looming threats ahead of the release of police bodycam footage showing the death of Tyre Nichols.
According to a joint statement from the Chicago Police Department and the Office of Emergency Management and Communications, city officials said they are closely monitoring the release of the Memphis Police Department body camera video Friday night showing the law enforcement interaction that led to the 29-year-old's death.
"There is no actionable intelligence in Chicago at this time and resources will be adjusted as necessary as this situation develops," a joint statement said.
CPD and OEMC added the departments regularly conduct preparedness exercises to appropriately respond to any potential threats, with the most recent occurring this week.
RELATED: TYRE NICHOLS' MOTHER URGES PEACEFUL PROTEST: 'I DON'T WANT US BURNING UP OUR CITIES'
The footage is expected to be released by the Memphis Police Department around 7 p.m. ET Friday.
Ahead of its release, Memphis Police Chief Cerelyn Davis also cautioned people not to react violently after viewing it.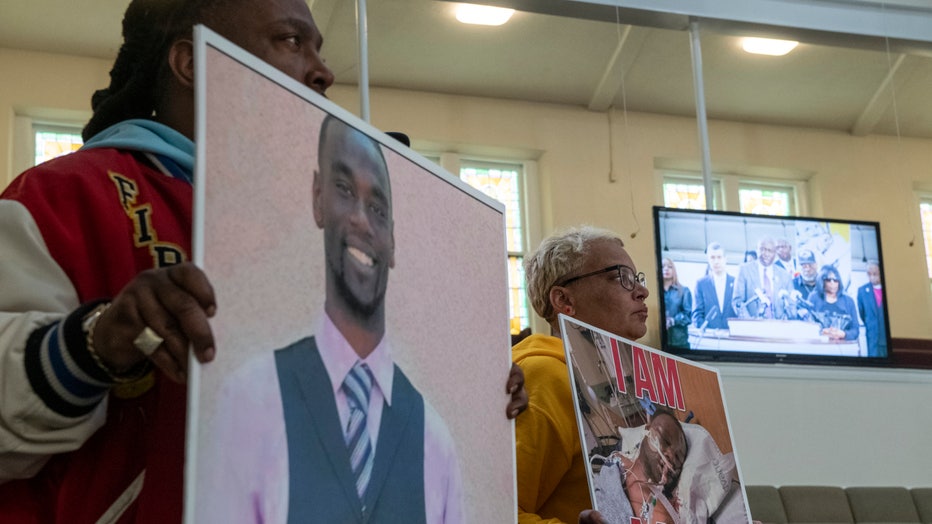 Activists hold signs showing Tyre Nichols as attorney Ben Crump is seen speaking on a monitor during a press conference at Mt. Olive Cathedral CME Church addressing video footage of the violent police encounter that led to Nichols death in Memphis, T
"This is not just a professional failing, this is a failing of basic humanity toward another individual," Davis said Wednesday, saying the five officers and others who were involved in his death "failed our community, and they failed the Nichols family. That is beyond regrettable."
"I expect our citizens to exercise their First Amendment right to protest, to demand action and results. But," she continued, "we need to ensure our community is safe in this process."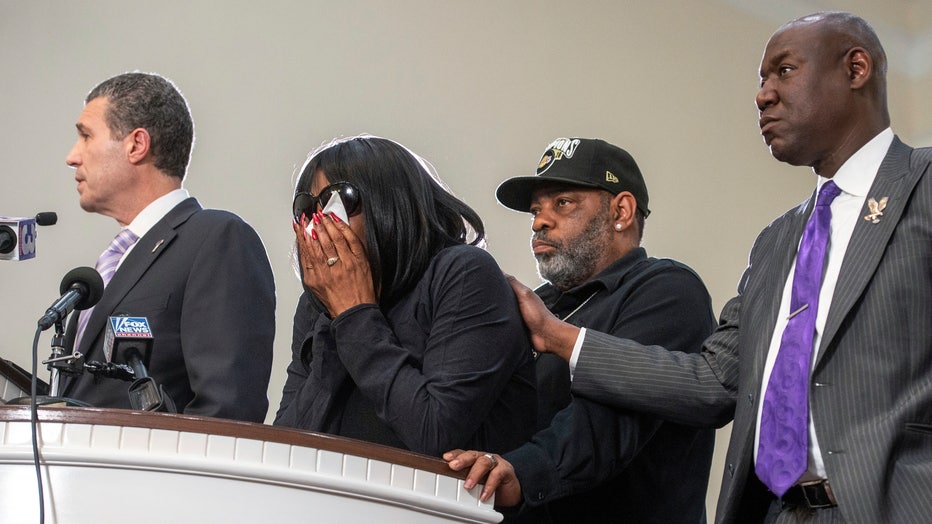 RowVaugn Wells, second from left, becomes emotional during a press conference at Mt. Olive Cathedral CME Church after she viewed footage of the violent police interaction that led to the death of her son Tyre Nichols Memphis, TN on January 23, 2023.
Tyre Nichols' mother, RowVaughn Wells, urged Americans to "protest in peace" during a candlelight vigil Thursday night, hours after the five former Memphis officers allegedly involved in the Jan. 7 altercation were charged with murder and other crimes.
RELATED: FOUR OF FIVE MEMPHIS POLICE OFFICERS CHARGED WITH KILLING TYRE NICHOLS RELEASED FROM JAIL
As of Friday morning, four of those five officers posted bond and were released from jail.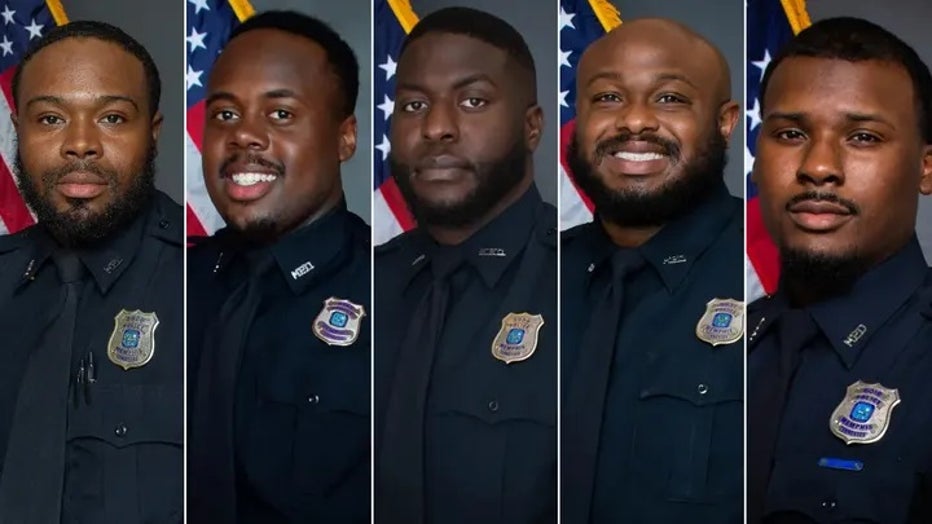 Memphis Police Department Officers Demetrius Haley, Tadarrius Bean, Emmitt Martin III, Desmond Mills and Justin Smith were terminated on Jan. 18 for their role in the arrest of deceased Tyre Nichols. (Memphis Police Department) 
SUBSCRIBE TO FOX 32 CHICAGO ON YOUTUBE
The officers implicated in Nichols' death – Tadarrius Bean, Demetrius Haley, Emmitt Martin III, Desmond Mills Jr. and Justin Smith – are each facing seven felony charges, including one count of second-degree murder, one count of aggravated assault, one count of official oppression and two counts each of aggravated kidnapping and official misconduct.